AUNTS + CLASSCLASSCLASS present TIME SHARE 2013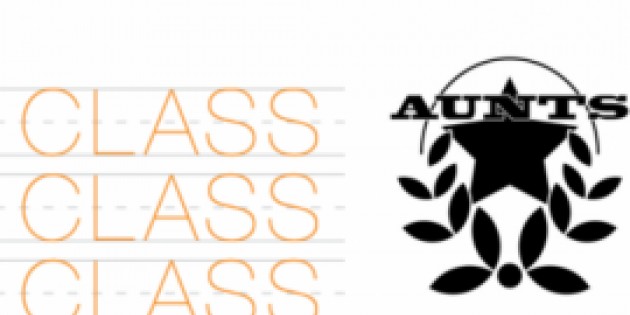 Two venerable DIY dance forces join powers
For Immediate Release: April 1st, 2013
Dance/Theater/Video/Performance Art/Installation
Laurie Berg and Liliana Dirks-Goodman (AUNTS) and Laurel Atwell, Tess Dworman and Tatyana Tenenbaum (CLASSCLASSCLASS) are pleased to present:
AUNTS CLASSCLASSCLASS
Time Share
Two venerable DIY dance forces join powers to create Time Share, a pop-up venue linking artistic process and community. The temporary performance and research hub, located in the repurposed garden level of an old hospital on the Williamsburg/Greenpoint border (St. Nick's Alliance/Arts@Renassaince), will host a variety of low-cost movement classes, performances, lectures, and community dinners. The space will also feature a permanent "free boutique" that functions as a depot for non-monetary exchange of clothing and recycled materials. Taking advantage of each organization's ability to shape-shift and respond to the needs of its community, AUNTS & CLASSCLASSCLASS will not attempt to replicate this structure in the future. Time Share is a three-month experiment that says, "this isn't a hole, we made it."
SCHEDULE OF EVENTS - - -
CLASSES: Classes will include improvisation, voice & movement, non-gender ballet, spontaneous choreography, sensory experience, feldenkrais method, meditation, performative practices and bodywork. Teachers: Hadar Ahuvia, Maximilian Balduzzi, Maggie Bennett, Lorene Bouboushian, Ethan Cowan, Carly Czach, Liliana Dirks-Goodman, Melanie Maar, Juliana May, Steve May, Rebeca Medina, niall noel, Sari Nordman, Marissa Perel, Katy Pyle, Jen Rosenblit, Michele Torino, and Larissa Velez-Jackson.
Daily Monday-Friday from 10am-12pm & 12:30-2:30pm; May 20-June 28; classes
DINNER & DISCUSSION: Monthly panel discussions organized by writers Buck Wanner, Siobhan Burke, and Tara Willis followed by community dinners: guest chefs design a template, community fills in with side dishes.
Wednesdays, May 15th, June 12th & July 17th from 6-8pm (Panel) 8pm (Dinner)
AUNTS Chain Curation: Classic AUNTS-style event. If you've been there before, you'll be back. If you haven't yet... artists include: Sarah McSherry, Stormy Budwig, The AO Movement Collective, Matt Romein and Sophie Sotsky, Emily Wexler, Sophia Cleary, Maggie Bennett, Anna Martine Whitehead, Asher Woodworth, Althea Baird, Melinda Ring, Melinda Buckwalter, Jen Harmon, Clarinda Mac Low, Larissa Velez-Jackson/Yackez, Ryan David O'Byrne, Anna Azrieli, Marin Sander-Holzman, Marissa Perel, Tara Sheena, and more.
Saturdays at 8pm; May 11th – June 8th Admission by donation to FreeBar or Free Boutique
AUNTS Artist Residencies: Weeklong all-access space residencies culminating in weekend showing for the general public.
Rebecca Brooks (June 10-15), Artist #2 (June 17-22), Lily Gold (June 24-29), Anna Martine Whitehead/Tei Blow and Sean McElroy (July 11-13), Mariana Valencia and Tess Dworman (July 15-20), Tara Jane O'Neil and James Kidd (July 22-27)
BIOS - - -
AUNTS, an underground platform for dance, creates events in unconventional spaces with multiple performers, overlapping performances, open dance parties, multi-disciplinary, body/non-body based, time oriented, finished/experimental/unfinished/process art. AUNTS has partnered with public venues such as the famous Clipper City schooner at the South
Street Seaport, littlefield, and OfficeOps; art organizations such as The Chocolate Factory, Dixon Place, Movement Research, TAMTAMTAM in Berlin, Germany, The American Dance Festival and Chashama; as well as many repurposed spaces including The Secret Works Loft, St. Cecilia's Convent and The Event Center.
"Keeping the spirit of experimentation alive."
- Gia Kourlas, Time Out New York
"resists formal didacticism in favor of creating the social conditions for spontaneous, simultaneous creative expression." - Andy Horwitz, Culturebot
CLASSCLASSCLASS
CLASSCLASSCLASS nurtures a continued future of dance pedagogy in New York City by engaging and developing a new generation of dance and performance artists as they teach their craft, while simultaneously making the act of taking and teaching class affordable to all. CLASSCLASSCLASS has partnered with Movement Research, Gibney Dance Center, BRAZIL, Rod Rodgers Dance, Center for Performance Research and Chez Bushwick to offer low cost dance classes throughout the boroughs of Manhattan and Brooklyn.
"A communal movement practice without sticking to one aesthetic or ignoring the conceptual and intellectual dimensions." -Claudia La Rocco, The New York Times
FUNDING SOURCES - - -
These events are sponsored, in part, by the Greater New York Arts Development Fund of the New York City Department of Cultural Affairs, administered by Brooklyn Arts Council (BAC); and The Yellow House Fund.
LOCATION & CONTACT - - -
Arts at Renaissance
2 Kingsland Ave (@ Maspeth Ave)
Garden Level
Brooklyn, NY 11211
718-388-5454 ext. 169
L to Graham Ave/B43 Bus