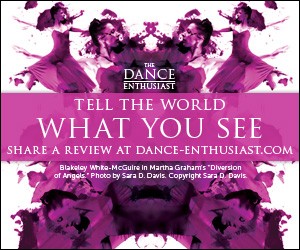 Advocacy Alert: Join Us in Arts Advocacy‏
Company:
Dance/NYC

Dear New Yorker:
 
As 2013 comes to a close, and we prepare to welcome a new mayoral administration and City Council, opportunities abound to speak up, make our case, and be heard. I write today to invite you to join Dance/NYC to act on these opportunities.
 
Talking Transition has been pioneering the first open transition in NYC, transforming the transition process between election day and the new mayor's inauguration into an opportunity for New Yorkers to share their voices. Please read more about Talking Transition and post your ideas here. Use hash tag #TalkingTransition in your social media.
 
The New York City Council is gaining momentum for the inclusion of a comprehensive cultural plan in the New York City charter. It held a hearing on the topic last week, and Dance/NYC joined to offer testimony. Visit with your representatives to discuss the plan. Follow the conversation and weigh in online @NYCCouncil #NYCCulturalPlan.
 
Dance/NYC is working to shape public dialogue and build tools to help you unpack opportunities and make your case. Our latest research, State of NYC Dance 2013, demonstrates the significance of City support, which is 46% of the total government funding to nonprofit dance, and the contributions of our art form to the City. And this new Huffington Post blog spotlights some of the issues on the table.
 
The value of these tools will be generated by their application and by our working together as one. As arts and culture are priorities for you and all New Yorkers, I am confident they will be priorities in the future of our great City.
 
Visit DanceNYC.org for regular advocacy updates.
 
Onward for our great City,
 
Lane and the team at Dance/NYC
 




Lane Harwell, Executive Director

PS. Register now for our 2014 Symposium, when we will deep dive into pressing issues.
 
Opportunities for the Arts in Our New Mayor's One New York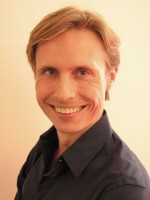 In this new entry in the Huffington Post, I call on New Yorkers who make and support the arts to act on opportunities at the core of de Blasio's vision for New York and framework for addressing inequity, One New York, Rising Together. I believe the advancement of the arts and culture sector, now and always, depends on oneness, by which I mean our alignment with the issues at the table citywide. One New York, Rising Together invites our consideration of this alignment and commits to embracing input.

Read more from Executive Director Lane Harwell in the Huffington Post
 
Testimony on a Comprehensive Cultural Plan
On behalf of more than 1,200+ local dance makers and companies, Dance/NYC advocates for the centrality of dance to any cultural planning for the City of New York, which has earned its reputation as a global dance capital. At the same time, it offers that all of us in arts and culture are stronger when we are working together and with all New Yorkers. A comprehensive plan would not look at arts and culture in isolation but as being reciprocally linked to society; the arts and New York are one.
 
For recent Dance/NYC testimony, visit DanceNYC.org/advocacy
 
State of NYC Dance 2013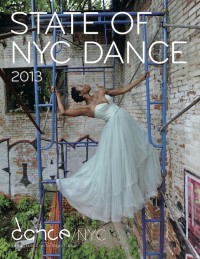 This report does more to reveal the activity, economics, and workforce of New York City dance makers than any prior Dance/NYC research. For the first time, it tracks dance trends in the New York State Cultural Data Project over time, showing us where the art form has gone and may be headed. By integrating a sample of local dance makers sponsored by Fractured Atlas, it speaks in more inclusive terms about our evolving creative ecology.
 
Read the full report at DanceNYC.org
 
Read more in the Wall Street Journal 
Dance/NYC
218 E. 18th Street, 4th Floor
(btw 2nd and 3rd Ave.)
New York, NY 10003-3694
Visit Dance/NYC, the New York City Arts Coalition and the
Arts NYS Coalition to monitor the New York developments.