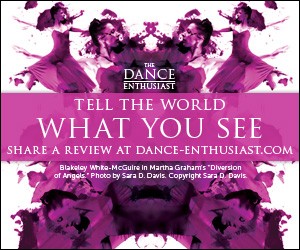 AiRealistic presents "Breaking Surface"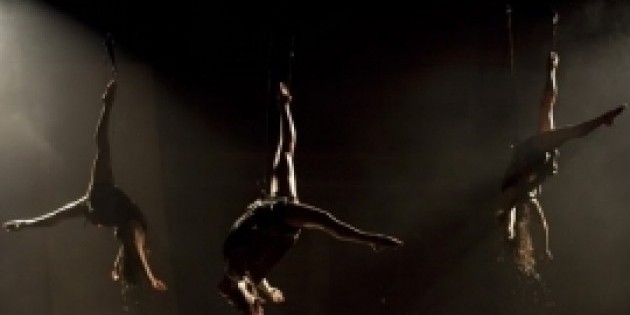 An evening of flying dance-acrobatics taking wing over water (TNC, March 19 - 23)
WHAT: AiRealistic presents "Breaking Surface" Evening of flying dance-acrobatics takes wing over water.



WHERE AND WHEN: March 19 to 23, 2013 Theater for the New City, 155 First Ave. (at E. 10th Street)
Presented by AiRealistic
March 19, 20 and 21 at 7:00 PM;
March 22 an 23 at 8:00 PM
Tickets: Tuesday, March 19: Pay what you can. March 20 to 23: 5 general admission, 0 premium seating
Box office: Smarttix, (212) 868-4444, www.smarttix.com
Company's website: www.breakingsurface.org
Running time: 1:15
CRITICS ARE INVITED on or after MARCH 20.
NEW YORK -- "Breaking Surface" is an acrobatic aerial dance theater work staged in and over a thirty-by-twenty five foot shallow pool of water. Conceived and choreographed by Gwyneth Larsen and William Mulholland, it tells a story of love, relationships and the boundaries we create, using airy, sensual, elegant imagery, dance, flight and acrobatics. It will be presented March 19 to 23 at Theater for the New City, 155 First Avenue (at E. 10th Street) by AiRealistic, an aerial theater company that was "born out of a love of physical expression and an incessant urge to take wing." It is performed by an ensemble of seven dancer/performers.
"Breaking Surface" ushers the audience into the world of a man whose imagination is so active that his ideas can't physically stay on the pages of his book. A muse enamored with possibility leads him to a watery adventure that builds on that moment of agony– or delight– when we have committed ourselves to the unknown but have yet to take the first step. The muse and the man explore the nature of love relationships as one of two complex worlds coming together. He dances with a weighted chair and the pages of his book flicker and drift away, to be reborn as a fleet of miniature paper boats. This flotilla consolidates into a single vessel that disgorges the entire cast in a shipwreck, whereupon the man discovers a new world where gravity has been overthrown. Throughout, the exploration of movement is deeply linked with the idea that man's imagination cannot be physically explained on the ground. It peeks into a playful world of childhood fantasy, where human bodies defy gravitational laws. Three women wake slowly to explore the boundaries of flight: whirling, spinning and drumming the water in a ferocious, sensual dance. The evening culminates in a "group fly," a playful, sensual, flighted dance. Music includes water sounds and instrumental music by Trevor Exter, John Morgan Kimock and John E Oyzon.
The production will be presented March 19 to 23 after a two-week workshop at Theater for the New City to rehearse and calibrate its complex rigging, technical effects and stunts. An earlier, half-hour version of the piece was mounted as a work-in-progress in June, 2011 in the downstairs theater at the Brooklyn Lyceum. Alexandra Cheney wrote in the Wall Street Journal, "The procession of scenes depicts two people searching for something – not necessarily each other – and the dynamics of coming to terms with not finding what you may be looking for. Mulholland uses his gymnastic prowess to soar over and glide around a chair, which is weighted down with 80 pounds of theater weights. Three women then descend into the space, strapped into...harnesses, which allows the women to dance and perform aerial tricks simultaneously....When it was all over, the dancers and aerialists stood in the makeshift pool dripping wet, breathing heavily–and soaking in the cheers from the crowd."