Ailey Extension Online: Hearts of Men Workshop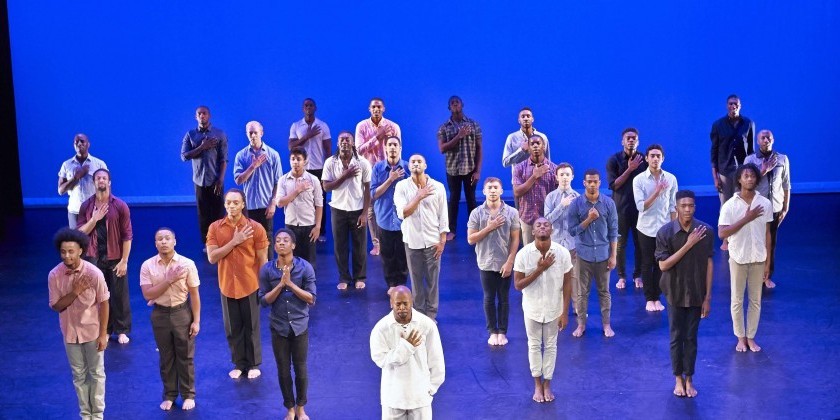 Company:
Ailey Extension Online
Earl Mosley, together with Dudley Williams, Clifton Brown, Matthew Rushing, and Brian Harlan Brooks created Hearts of Men as a safe space where male dancers could come together to share life experiences through the power of movement. 
This weekend program is a virtual experience to engage through community, movement, and dialogue. Available to all who identify as male, whether age 13 or 90, via Zoom. 
We highly encourage families to participate together. This program creates the space to build with each other while forging life-long, healthy, and supportive relationships as a dance community. 
As the late great Dudley Williams, a dancer with Martha Graham Dance Company and Alvin Ailey American Dance Theater, said about this uplifting program, "I can't explain it, you just have to feel it and see it, but it's extraordinary." 
Friday, May 21
7:30-8:30pm | My Brother's Keeper: Virtual Panel
Join Ghian Foreman, Rahim Jenkins, Earl Mosley, Matthew Rushing, and moderator Brian Harlan Brooks for a conversation inspiring health and healing among men of color. Speakers will discuss topics as they directly affect men including joy, activism, and more.
Sign Up for the Free Panel
Saturday, May 22
4:00-5:00pm | Sharing Our Stories: Improv Lab with Maleek Washington
This workshop serves as a safe haven for men to explore improvisatory elements to stimulate reflection, critical thinking, and encourage imagination. Special attention is placed on the individual trait to challenge the mind and body while embracing a certain freedom of movement. 
Learn more about Maleek: www.maleekwashington.com/biography
5:15-6:15pm | Masterclass with Earl Mosley
Join Diversity of Dance founder and director Earl Mosley for a movement masterclass founded in modern, contemporary, and the Horton technique.
Learn more about Earl: www.diversityofdance.org/founder
6:15-6:30pm | Reflection
Sunday, May 23
4:00-5:00pm | Masterclass with Rennie Harris
Join Rennie Harris, acclaimed choreographer and founder of Rennie Harris Puremovement, for a movement masterclass founded in hip-hop dance and culture.
Learn more about Rennie: www.alvinailey.org/rennie-harris
5:15-6:15pm | Sharing Our Space: Expression and Performance
This performance workshop aims to create an environment to encourage the unique qualities and individuality within each person. Earl Mosley will lead participants to initiate confidence and effortless expression through individual talents including but not limited to movement, voice, fine art, spoken word, and more.
6:15-6:30pm | Reflection