Ailey's New York City Center Season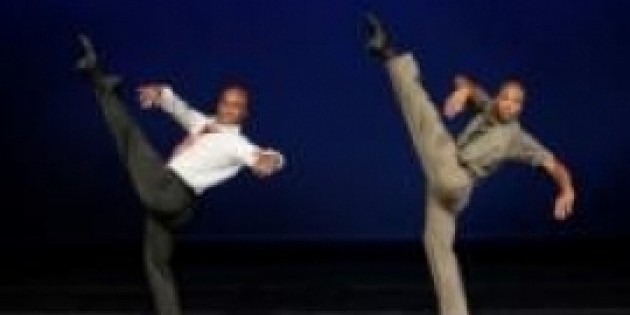 Continues with Premieres and Farewell to Renee Robinson
WEEK AHEAD: Ailey's New York City Center Season Continues with Premieres and Farewell to Renee Robinson




After three decades lighting up the stage, this week marks the final seven appearances of Renee Robinson, who will be leading all performances of Alvin Ailey's modern dance classic, Revelations, until she takes her final bow with Alvin Ailey American Dance Theater in a farewell program on Sunday, December 9th at 7:30pm.

In addition to the world premiere of Another Night by in-demand young choreographer Kyle Abraham on Wednesday, December 5th, other upcoming performance highlights include a program of Ailey Classics, Petite Mort by JiAí Kylián, and Ronald K. Brown's Grace. Click here for complete season release.

THIS WEEK'S PERFORMANCE HIGHLIGHTS:

Alvin Ailey American Dance Theater's Antonio Douthit and Glenn Allen Sims in Alvin Ailey's Opus McShann.

AILEY CLASSICS – NEW PRODUCTION PREMIERE

THURSDAY, DECEMBER 6th

Ailey Classics, the vibrant anthology of highlights from founder Alvin Ailey's prolific 30-year career, returns to the Ailey repertory in a new production this season. The program includes excerpts of audience favorites and classics from Memoria, Night Creature, Phases, Opus McShann, Love Songs, For 'Bird' - With Love, Hidden Rites, Cry and the beloved classic Revelations, performed in its entirety.

Alvin Ailey American Dance Theater's Glenn Allen Sims and Linda Celeste Sims in JiAí Kylián's Petite Mort.

pETITE mORT – cOMPANY prEMIERE

FRIDAY, december 7th

The Company premiere of Petite Mort marks the first work by renowned European choreographer, JiAí Kylián, to appear in the Ailey repertory. Petite Mort - a ballet of visual surprises that showcases the sensuality, humor and technical prowess of Ailey's dancers - is set to two of Mozart's most popular piano concertos. This theatrical work blends a classical sensibility with a bold, modern wit with fencing foils and elaborate ball gowns in an unforgettable duel featuring six couples.

UPCOMING HIGHLIGHTS:

Alvin Ailey American Dance Theater in Ronald K. Brown's Grace.

GRACE– new production prEMIERE

tuesday, december 11th

Ronald K. Brown's landmark Grace, created for Alvin Ailey American Dance Theater in 1999, returns to the repertory in a rapturous, spiritually-charged new production. Infused with Brown's signature blend of modern dance and West African idioms, this moving journey acknowledging the grace that surrounds us all is set to Duke Ellington's classic "Come Sunday," Roy Davis' hit "Gabriel," and the powerful rhythms of Fela Kuti's Afro-Pop.