Alessandra Ferri to receive award from Italian Int'l Dance Festival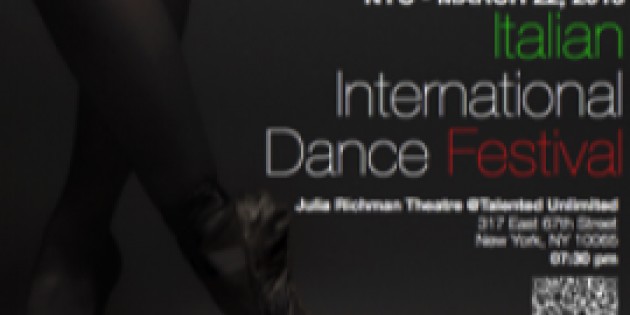 Latest News from Italian International Dance Festival
ALESSANDRA FERRI WILL BE PRESENTED WITH AN AWARD BY THE ITALIAN INTERNATIONAL DANCE FESTIVAL AT ITS GALA PERFORMANCE FRIDAY MARCH 22, 7:30 PM
Julia Richman Theater, 317 East 67th Street (near Second Avenue)
Latest News from Italian International Dance Festival
** Internationally acclaimed dramatic ballerina ALESSANDRA FERRI , former principal dancer with the Royal Ballet, American Ballet Theatre, and the La Scala Theatre Ballet, will attend the Italian International Dance Festival's gala performance, Friday March 22, 7:30 PM, where she will receive the "IIDF - A Heart for Art Extraordinary Dancer Award." Recipients of other awards are famed jazz teacher LUIGI, receiving a "Lifetime Achievement Award" (two of his solos will be performed on the program) and ELENA ALBANO for her illustrious career teaching modern dance at the Centro Studi Coreografici Carcano Theater in Milan, receiving the "IIDF A Heart for Art Teaching Award," presented by Virginie Mecene, director of the Martha Graham School.
Performers for the evening include
* Atzewi Dance Company from Modena
* Aconcoli Dance di Elena Albano from Milan
* NY-based Caliince Dance performing a work by Antonella Perazzo of Rome
* NY-based Mare Nostrum Elements, co-directed by Nicola Iervasi of Calabria
* Michael Mao Dance in an excerpt from Mao's work set to the "Requiem," by Verdi, joining the worldwide celebration of the great composer's 200th birthday anniversary this year
* Talent Unlimited High School dancers in a tarantella by Nicola Iervasi
* Two Luigi solos: New York New York (recording by Liza Minelli) danced by Jessica Black, and
"Solitude, music by Duke Ellington, danced by Erika Black.
IIDF: Artistic Director is Antonio Pio Fini of Calabria; Creative Director/Host is Tabata Caldironi of Milan; Executive Dirctor is Gianluca Blandi of Calabria.