Alison/Chase Performance Debuts New York City Season
Company:
Alison/Chase Performance
An iconic figure in contemporary dance, choreographer/director Alison Chase introduces her eight-member dance theater company Alison Chase/Performance to New York City audiences in a three-night performance series January 9-11 at Columbia's Miller Theatre. Winning international acclaim for her unique ability to blend narrative, kinetics, and visuals into rich metaphoric worlds, Chase presents a diverse program featuring the world premiere of the multimedia production Drowned, the New York City premieres of Devil Got My Woman and Red Weather, plus her classic work Tsu-Ku-Tsu.
What: NYC Season of Alison Chase/Performance
When: Friday–Sunday, January 9-11 at 8:00pm
Where: Miller Theatre, 2960 Broadway, NYC, Train 1 to 116th Street
Tickets: General $25. To purchase, www.alisonchase.org.
Media Contact: April Thibeault, AMT PR, 212.861.0990, april@amtpublicrelations.com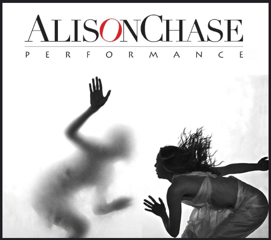 "I derive tremendous inspiration working with collaborators of different genres who share a dedication to in-depth experimentation," says Chase. Thanks to her committed ensemble of dancers, she now has a platform to explore interdisciplinary work utilizing film, photography, and live music. "I am lucky enough to work with dancers who give me the freedom to direct them into new choreographic adventures - to play with phrasing, pacing and partnering, and subsequently create refined, clean, natural movement."
Opening the program is the world premiere of Drowned, both a concrete narrative and a visual meditation that explores the shady line between life and death  rage and love, and the harmony and chaos of life. Set to an original score by Grammy Award-winning composer Paul Sullivan, this collaborative, large-scale work features projected photography by Sean Kernan, video by Derek Dudek, and choreography by Chase. Developed over the course of four years, "our respective art forms began seeping into each other with a constant give and take," explains Chase. Kernan comments, "all my walls have been pushed out and the boundaries of video, still and performance are dissolved as much as possible, enlarging the playing field of each art form." Both breathtaking and ominous, the piece floats from a watery deluge to sandy, barren landscapes, from worshipful adoration to erotic longing.
The remaining program includes the New York City premieres of Red Weather (2013) and Devil Got My Woman (2010) followed by a Pilobolus classic, Tsu-Ku-Tsu (2000). Set to fierce, Japanese drumming, it is physical dancing at its best. The athletic partnering and explosive lifts juxtaposed with intense balancing acts compose an astounding, fast paced work. As the New York Post, observed "…the dancers seem to absorb the very ethos of the rhythm and their merging bodies even their impersonal style of corporeal architecture are shown to thrilling effect."
As the former co-founder and artistic director of the revolutionary dance companies Pilobolus (1973-2005) and Momix, Chase created more than 50 works for the stage that have been seen by audiences around the world for over 35 years. She helped change the direction of American dance by creating works that used the human body in unpredictable ways and a uniquely recognizable and inventive corpus of dance pieces. Chase brings a highly kinetic element to dance, adding film, aerial performances, and multidimensional storytelling to create a signature style. The Village Voice cites it as "grace meets physical agility to create movement that is lyrical as it is astonishing."
About Alison Chase/Performance
Founded in 2009 by Alison Chase, Alison Chase/Performance is a dance theater company dedicated to the development of dramatic forms of physical expression, breaking down the barriers between the traditionally separate fields of dance, theater, and performance art—bringing together accomplished dancers and actors, musicians, and artists to create innovative works for the stage and site-specific locales. The company creates both repertory dances and full-length multi-media dance theater pieces for proscenium and black box theaters, as well as site-specific installation works. Through performances, educational outreach programs, creativity and movement classes, Alison Chase/Performance seeks to engage and inform audiences in communities throughout Maine, New England, and beyond. The company is based both in Brooksville, Maine, and New York City, and draws on partnerships with the Collins Center for the Arts in Orono, Maine and the Garde Arts Center New London, CT. For more information, visit alisonchase.org.
Program (subject to change)
Drowned (2014) *world premiere*
Choreographer: Alison Chase
Performers: 7
Music: Paul Sullivan
Costumes: Alison Chase/Performance
Photography: Sean Kernan
Videography: Derek Dudek                                                             
Drowned tells the tale of an uncorrupted body that is found on the beach by village girls. They carry him back to their village, where he becomes an idol to adore, an altar to decorate, a lover in dreams, a disrupter of all life, and finally a sacrificial animal that brings peace. Like a fable that might have been told around a fire, Drowned explores the shady line between life and death, between rage and love, between harmony and the chaos of life.
Devil Got My Woman (2010) *New York City premiere*
Choreographer: Alison Chase
Performers: 2
Music: Paul Sullivan 
Set: Mark Kinschi and Mia Kanazawa
Costumes: Alison Chase/Performance                                                                                     
A light, fast-paced contemporary tale of love gone astray: Downtown sophisticate pursues naive young man...and his skeletal orange house, which soon becomes an object of contention between the couple. Seduced and ultimately deceived, he is left empty handed and broken hearted.
Red Weather (2013) *New York City premiere*
Choreographer: Alison Chase
Performers: 7
Music: Rob Flax
Costumes: Alison Chase/Performance
An abstract crowd is fractured by the social and psychological fault lines of embedded relationships. Subdivisions within the larger group are revealed as connections and emotions come in and out of focus. A solo violin accompaniment with wordless vocalization builds towards an exuberant, almost frenetic climax.  
Tsu-Ku-Tsu (2000)
Choreographer: Alison Chase
Performers: 7
Music: Leonard Eto
Costumes: Angelina Avellonea۬  
The balance and order of a regal procession gives way to full-throttle pandemonium of tumbling, leaps and rebounds, set to a reverberating original score from famed taiko drummer Leonard Eto. The warrior rhythms echo like thundering cannons as bodies combine and lock into striking sculptural shapes to mesmerizing effect.