American Dance Guild Festival at 92Y: 33 Artists plus tributes to Modern Masters‏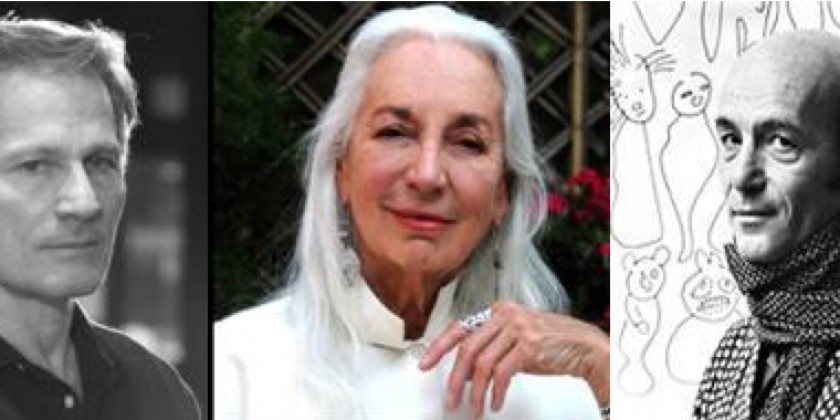 Company:
American Dance Guild; 92nd STREET Y HARKNESS DANCE CENTER
AMERICAN DANCE GUILD FESTIVAL '13 - NOV. 8-10  
 "CROSS-POLLINATION" WITH
92nd  STREET Y HARKNESS DANCE CENTER
33 Artists From Around The Globe Plus Tributes To Modern Masters
Lar Lubovitch, Marilyn Wood, and Remy Charlip

L-R – Lar Lubovitch, Marilyn Wood, Remy Charlip
New York, NY, October 22, 2013 – The rich diversity of contemporary dance will be on view this fall with the return of the American Dance Guild's annual Performance Festival, November 8-10 at the 92nd Street Y. Thirty-three artists/companies will be participating, with special tributes to modern dance luminaries Lar Lubovitch, Marilyn Wood, and the late Remy Charlip.
"It's a kind of homecoming," said Gloria McLean, President of the American Dance Guild. "The histories of the Guild and 92nd Street Y have been intertwined since the fifties when Lucile Nathanson, then head of the dance program, began holding conferences that sparked the formation of the Guild in 1956. Current director John-Mario Sevilla invited this co-production within his Dig Dance: Weekend Series to mark our shared legacies. We've named this year's Festival 'Cross-Pollination' as a means to underscore that connection."
The program features:
         Lar Lubovitch, the award-winning NY-based choreographer whose internationally acclaimed company celebrates its 45th anniversary at the Joyce in October, will present the duet for two men from Concerto Six Twenty-Two (1986).
         Marilyn Wood, Director of the International Center for Celebration, returns to New York from her home in Santa Fe, to offer a reflection through images and text of her "Celebration Art." Ms. Wood will share her unique legacy of transforming urban spaces into sites of collaborative community inter-arts performance festival events, inspiring artists and communities around the world, from the Seagram's building in NYC to the Adelaide Opera House. (Saturday and Sunday matinee).
         Remy Charlip, the inimitable dancer, artist, author, inventor of Air Mail Dances, who died in 2012, will be represented through four short works, including Ten Imaginary Dances (performed by David Vaughn), Falling Dance (made from Remy's drawings interpreted by Aileen Passloff, danced by Arthur Aviles), Supreme Court, (duet for Lance Westergard and Patrick Scully), and Twelve Contra Dances (danced by soloists of H.T. Chen & Dancers) (see schedule).
         In addition, a rare performance by soloist Margaret Beals; Anna Sokolow's "Kaddish" danced by Deborah Zall; works by Isadora Duncan, presented by Catherine Gallant and by Jeanne Bresciani; reconstruction of Martha Graham's "Imperial Gesture" by Graham dancer Kim Jones.
In all, thirty-three choreographers, including Maya Dance Theatre from Singapore, Bill Evans, Tina Croll, Nai-Ni Chen Dance Company, and many more -- from emerging to mid-career –will present their work, reflecting the American Dance Guild's unique position as both a promoter of the new and preserver of the living history of modern dance as an art form.
Performances will take place Friday, Nov. 8 and Sat., Nov. 9 at 8pm, with two shows on Sunday, November 10, 2013 at 3pm and 5pm* at the 92Y's Buttenwieser Hall, 2nd floor, 1395 Lexington Avenue, New York, NY. (*NOTE TIME CHANGE FOR PERFORMANCE SUNDAY EVENING).
Each evening, videos of works by the featured guest artists will be shown. On Friday at 7:30 there will be a special presentation by CELIA IPIOTIS, Executive Director and creator of Eye on Dance, featuring a conversation with Remy Charlip. Celia returns on Sunday evening at 5pm to present a pre-performance archival interview with Anna Sokolow and Sophie Maslow.
VENUE: 
92nd Street Y Harkness Dance Center
1395 Lexington Avenue, NY, NY 10128
ALL TICKETS $20
Tickets are available online at 92Y.org by telephone at 212-415-5500, or at the box office.
FESTIVAL PROGRAM: (not in performance order)
Friday, November 8, 2013 – 8 pm
7:30 - Special presentation by CELIA IPIOTIS, Executive Director and creator of Eye on Dance - archival interview with Remy Charlip plus videos of guest artists.
Choreographers/Artists include:
Lar Lubovitch, Remy Charlip/David Vaughan, Remy Charlip/H.T. Chen & Dancers, Margaret Beals, Susan Bernhard, Nai-Ni Chen Dance Company, Isadora Duncan/Catherine Gallant, Martha Graham/Kim Jones, Yuki Hasegawa
Saturday, November 9, 2013 – 8 pm
Choreographers/Artists include:
Lar Lubovitch, Marilyn Wood, Remy Charlip/Scully/Westergard, Yung-Li Chen, Bill Evans, Adriane Fang, Maya Dance Theatre, Mary Seidman, Nancy Zendora
Sunday, November 10, 2013 – 3 pm matinee
Choreographers/Artists include:
Remy Charlip/Aileen Passloff/Arthur Aviles, Marilyn Wood, Michael Cerwinski, Kate Davis, Kaoru Ikeda, Belinda McGuire, Gloria McLean, Rebecca Rice, Maxine Steinman, Keith Thompson
Sunday November 10, 2013 – 5pm
5:00 - EYE ON DANCE - archival video of Anna Sokolow & Sophie Maslow hosted by Celia Ipiotis.
Choreographers/Artists include:
Remy Charlip/Scully/Westergard, Isadora Duncan/Jeanne Bresciani, Anna Sokolow/Deborah Zall, Jean Churchill, Tina Croll, Teresa Fellion, Elizabeth Shea, Jenny Showalter, Sasha Spielvogel
Photo credits:
Lar Lubovitch by Nan Melville
Marilyn Wood by Eliza Thomas
Remy Charlip by Lois Greenfield