American Dance Guild's Tribute to Frances Alenikoff's Eden's Expressway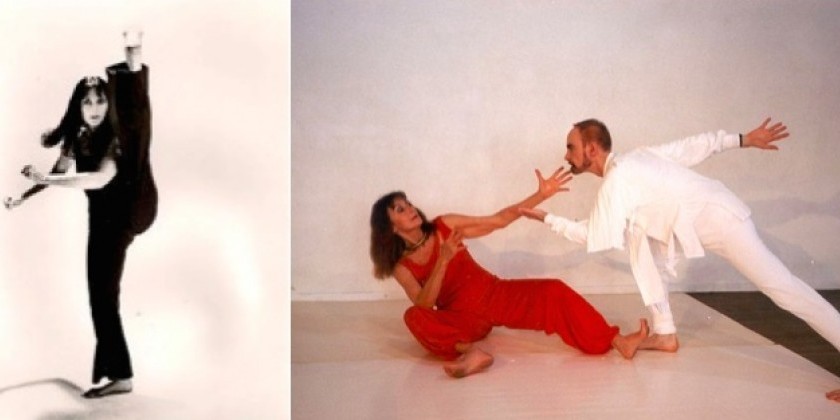 Company:
AMERICAN DANCE GUILD

AMERICAN DANCE GUILD BARE BONES 2015
CHOREOGRAPHY SHOWCASE IN TRIBUTE TO FRANCES ALENIKOFF

12 New Works and Special Guests
June 19 and 20 - Eden's Expressway in Soho – 8pm
 
New York, NY.  May 28, 2015 – THE AMERICAN DANCE GUILD, on Friday, June 19 and Saturday, June 20, will host a choreography showcase featuring 12 new works in tribute to independent dance artist Frances Alenikoff in the space she created, Eden's Expressway at 537 Broadway in New York City.  All performances are at 8pm. Tickets are $15, cash only at the door.   Seating is limited.  For reservations:  212-874-6947.
Special guest Kenneth King, choreographer and writer, will perform a new work made especially for the occasion titled, Frances' Unfinished Dance, built around a prose poem of Ms. Alenikoff.  Another highlight will offer "remembered segments" of Ms. Alenikoff's solo dance The One of No Way, presented by an illustrious trio of guest artists, Deborah Jowitt, Wendy Perron and Ze'eva Cohen, each of whom learned the piece from the choreographer in separate and unrelated experiences. These two works will be presented both nights along with films of Frances Alenikoff dancing.
The June Alenikoff showcase will feature new choreography by seasoned and emerging choreographers: Sue Bernhard, Tina Croll, Ara Fitzgerald, Zach Ingram, Kaoru Ikeda, Columbine Macher, Gloria McLean, Laura Shapiro, Catherine Tharin, and Nancy Zendora.
In remembering Ms. Alenikoff, Kenneth King said, "Frances toured extensively with her multimedia concerts. She taught, performed, and choreographed as far away as Hong Kong and Alaska, and was pulled into dancing in an ecstatic Vodoun ceremony in Haiti while on a group tour organized by Jacques d'Amboise, to the consternation of the tour guides and the delight of the natives."
Wendy Perron, in Dance Magazine (2012) said, "Alenikoff had a distinctive way of moving — slippery, impulsive, erratic — that came from years of improvisation and vocal experimentation. She could be brazen while dancing: She would lick her own fingers, then break up into a friendly cackle. She was a sorceress onstage."
The Guild is pleased to celebrate this unique independent artist and the space she created, Eden's Expressway, which has been a hub of activity for other independent dance artists for four decades and is now managed by Movement Research.
 
ABOUT FRANCES ALENIKOFF:
Frances Alenikoff, who died in 2012 at the age of 91, had a rich and variegated career as a choreographer and vibrant solo performer. She formed Aviv Theater of Dance and Song in 1959, focusing on Israeli, Hasidic, Russian and Afro-Caribbean dance (she had studied at Katherine Dunham's school).  She was a founding member of Dance Theater Workshop in the 1960s and in the 1970s created the Frances Alenikoff Dance Theater to present solos for herself, many of which utilized her talent as a visual artist and experimented with multimedia. In the 1990s, she began to collaborate with Kenneth King on duets for the two of them, performing well into her 80's.
The American Dance Guild is dedicated to supporting artists and bringing the dance community together. ADG has served dancers, dance educators, choreographers, and audiences since 1956. ADG works to disseminate develop and document the dance and choreography of our time, honoring our elders and nurturing new talent.
 
PROGRAM (not in program order):
Friday, June 19 at 8:00 pm
Frances Alenikoff w/ Cohen, Jowitt, Perron
Kenneth King
Tina Croll
Columbine Macher
Laura Shapiro
Nancy Zendora
Films of Frances Alenikoff: "Shaping Things"
Saturday, June 20 at 8:00 pm
Frances Alenikoff w/ Cohen, Jowitt, Perron    
Kenneth King
Sue Bernhard
Ara Fitzgerald
Kaoru Ikeda
Zach Ingram
Gloria McLean
Catherine Tharin
Films of Frances Alenikoff: "Re-Membering"
*Photos of Frances Alenikoff courtesy of Francesca Rheannon. Photo R - Frances Alenikoff with Kenneth King.