American Repertory Ballet Announces "Fall Kick-Off" Performances
Company:
American Repertory Ballet
Photo Credit © George Jones
At Rider University's Bart Luedeke Center
American Repertory Ballet Announces Fall Kick-Off Performances at Rider University's Bart Luedeke Center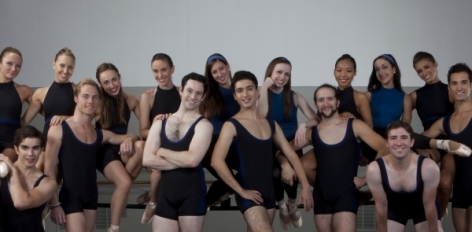 LAWRENCEVILLE, NJ - American Repertory Ballet will kick off its 2013-14 season at Rider University's Bart Luedeke Center Theater in Lawrenceville, NJ on September 20 and 21 at 7:30pm. ARB's Fall Kick-Off production features Artistic Director Douglas Martin's critically acclaimed Rite of Spring, Patrick Corbin's lyrical Caress, ARB Resident Choreographer Mary Barton's vibrant Five Men and a Concerto, and an excerpt from Martin's Romeo and Juliet. The program presents repertory appealing to a wide variety of tastes, showcasing the diverse range of American Repertory Ballet's dancers and choreographers.
Martin's Rite of Spring is a unique take on Stravinsky's influential and provocative score. It is at once a celebratory ode to the advent of spring and a statement on the theme of ritualistic behavior and sacrifice, with a twist. Martin's Rite is set in a 1960's office. As dance critic for The Star-Ledger Robert Johnson says, "Part sentimental tribute and part screwball comedy, Martin's 'Rite' avoids primitivist clichs and, in gender parity, it manages to find a concept still radical enough to make audiences squirm."
Patrick Corbin's Caress, set to Kate Jewel's 8 Movements, has also been met with critical acclaim. Dance critic Jerry Hochman of CriticalDance and Ballet-Dance Magazine described the work "vibrant, inventive, and multi-faceted." "Each of the segments had its particular choreographic and emotional virtues," he adds, "and I found Mr. Corbin's choreography to be vibrant, inventive, and multi-faceted."
Resident Choreographer Mary Barton's Five Men and a Concerto is set to lively music by Vivaldi, showcasing the technique and athleticism of ARB's male dancers. An excerpt from Douglas Martin's new Romeo and Juliet, set to Prokofiev's passionate score, will round out the program. The full production of his Romeo and Juliet will premiere on October 11 at the State Theatre, with live music played by the Rutgers Symphony Orchestra under the direction of Kynan Johns. In response to a preview performance this past spring, Broadway World's Marina Kennedy wrote, "ARB's production of Romeo and Juliet was an outstanding example of dance being perfectly adapted to dramatic interpretation, with the ARB dancers in full command of their art."
Tickets to American Repertory Ballet's Fall Kick-Off performances are now available through Rider University's box office and online. The box office hours are Monday through Friday 1:00-4:00pm, and the phone is (609)-896-7775. Tickets can be purchased 24-hours per day online at www.rider.edu/arts and will be available at the door one hour before performances. Prices are as follows: 0 for adults, 0 for seniors, and for students with valid Rider University identification card.
Bart Luedeke Center
Rider University
2083 Lawrenceville Road
Lawrenceville, NJ 08648
About American Repertory Ballet and Princeton Ballet School
American Repertory Ballet's mission is to bring the joy, beauty, artistry and discipline of classical and contemporary dance to New Jersey and nationwide audiences and to dance students through artistic and educational programs. The organization is comprised of: American Repertory Ballet, the preeminent contemporary ballet company in the state; Princeton Ballet School, one of the largest and most respected non-profit dance schools in the nation; and the Access and Enrichment initiatives, ranging from the long-running and acclaimed DANCE POWER program to the popular On Pointe series. The professional company is a classical and contemporary ballet company committed to presenting ballets from the 19th and 20th century alongside new and existing works by choreographers from today. Founded in 1963, the company is currently under the artistic leadership of Douglas Martin, former principal dancer with the Joffrey Ballet. The company's rich history of repertory includes established masterpieces by distinguished American choreographers such as George Balanchine, Gerald Arpino, Alvin Ailey, Paul Taylor and Twyla Tharp; cutting edge works by choreographers such as Val Caniparoli, Kirk Peterson, Dominique Dumais, Harrison McEldowney, Amy Seiwert, Susan Shields and Melissa Barak; and former Artistic Directors Dermot Burke, Marjorie Mussman, Septime Webre and Graham Lustig. ARB has been designated a "Major Arts Institution" by the New Jersey State Council on the Arts consistently for the past two decades, and has repeatedly been awarded a Citation of Excellence by the Council. ARB was voted People's Choice for Best Dance Company in 2008, 2011, and 2012.
Princeton Ballet School has gained a national reputation for its excellent dance training since its founding in 1954 by Audre Estey. Princeton Ballet School currently enrolls approximately 1500 students annually from age three through adult and is directed by Mary Pat Robertson. Princeton Ballet School has studios in Cranbury, New Brunswick, and Princeton which are equipped with shock-absorbent floors, non- slip dance surfaces and pianos for live accompaniment. Many of Princeton Ballet School's faculty members have performed professionally; others have attained graduate degrees in dance education and have won awards for their teaching. Students from the school have gone on to dance in professional ballet and contemporary dance companies in the US and abroad. Graduates have danced with such diverse organizations as the American Ballet Theatre, New York City Ballet, Paul Taylor Dance Company, Miami City Ballet, STREB, Momix, Complexions, Mark Morris Dance Company, Twyla Tharp Dance, Hubbard Street Dance Chicago, Pittsburgh Ballet Theatre, New York Theatre Ballet, Oregon Ballet Theatre, Ballet Met Columbus, and American Repertory Ballet.