Anabella Lenzu/DanceDrama Leads Workshop on the Exploration of Physical Spaces/Site Specific (VIRTUAL)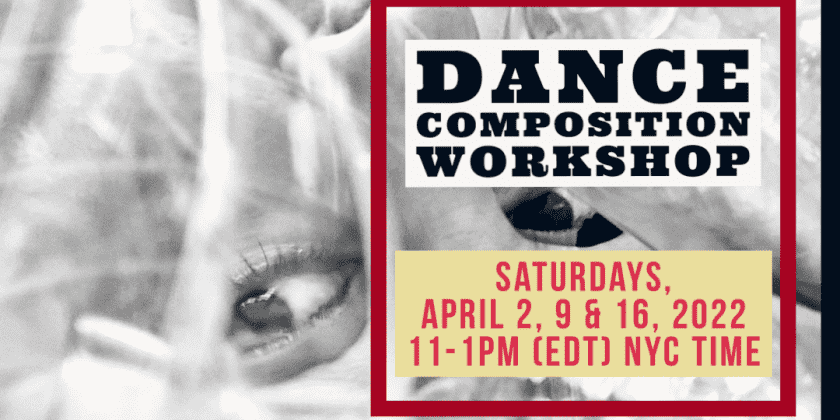 Company:
Anabella Lenzu/DanceDrama
ONLINE Dance Composition/ Choreography Workshop
Focus: Exploration of Physical Spaces/Site Specific
Saturdays, April 2, 9 & 16, 2022
11-1pm (EDT) NYC Time
Faculty: Anabella Lenzu
We will explore the element SPACE in your dance compositions, investigating your creative choices regarding the use of space (physical space and kinesphere) and spatial relationships, as well as the choices of creating site-specific pieces both for the stage as well as for dance films.
This workshop will give you the tools to create your own original dances.
Participants will create and perform solo studies based on choreographic problems.
ALL CLASSES VIA ZOOM. 
I WILL PROVIDE INDIVIDUAL ATTENTION, FEEDBACK, AND GUIDANCE FOR EACH INDIVIDUAL, WHICH IS WHY ALL PARTICIPANTS NEED TO BE PRE-REGISTERED. NO SINGLE CLASS IS ALLOWED. EACH PARTICIPANT NEEDS TO REGISTER FOR THE ENTIRE LENGTH OF THE COURSE, SO I WILL BE ABLE TO DEDICATE MYSELF INTENSIVELY TO THE PROGRESS OF EACH ARTIST. 
IN ADDITION TO THE SCHEDULED CLASS TIME, ALL PARTICIPANTS CAN HAVE A ONE-ON-ONE 30 MIN PRIVATE CONSULTATION.
THEORETICAL MATERIAL IS INCLUDED. 
CLASS SIZE IS LIMITED TO 15 STUDENTS PER WORKSHOP.
TO APPLY: PLEASE SEND A COVER LETTER EXPLAINING WHY YOU ARE INTERESTED IN PARTICIPATING AND YOUR RESUME TO **INFO@ANABELLALENZU.COM
**NOTE: AT THE END OF EACH WORKSHOP YOU WILL RECEIVE A CERTIFICATE OF COMPLETION UPON REQUEST.