Anabella Lenzu/DanceDrama October Performances!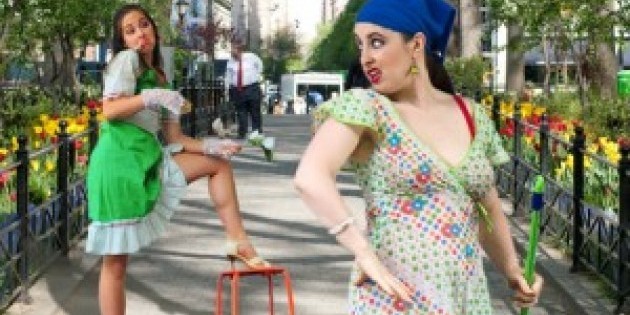 Company:
Anabella Lenzu/DanceDrama
Celebrating its 6th Anniversary, New York based Anabella Lenzu/Dance Drama presents seven dance-theater performances in October in the theater and on the street.
From the chaos of daily life, Anabella Lenzu/DanceDrama distills the pure essence of real experience, real feelings and real people. DanceDrama is the magnifying glass that reveals and examines emotional histories. Anabella Lenzu/DanceDrama is thought provoking and historically conscious dance-theater company, breaking down the wall separating artist from audience.
Part of the 8th Art In Odd Places Festival (AIOP)
Outside at 14th Street/Union Square Park, NEW YORK CITY
FREE Admission
ILUSIONES DE PERCANTAS (Women's Dreams)
by Anabella Lenzu/DanceDrama
Friday, October 5, 2012 from 12-2PM
Friday, October 12, 2012 from 12-2PM
Ilusiones de Percantas (Women's Dreams) is an intimate, humorous and grotesque work where music, theatre and dance fuse. The archetypal characters written from a man's point of view described in the Tango lyrics, such as Margot (the prostitute), Pipistrella (the low-class housewife), and Palomita Blanca (the young tease) come to life through the rhythms of various Tangos, Milongas and Waltzes.
Ilusiones de Percantas (Women's Dreams) is an interactive experience, which engages the audience and the performers together in one world. Dressed in vintage fashions and dancing to Argentinean Tangos from decades past, each character represents a "female prototype" which is as timeless as ever. Through the work, the women humorously dismiss their quintessential poses to reveal their true selves. Performed in Union Square, passersby can literally share common ground with the performers and see not only the world of Argentina in the early twentieth-century but also glimpse deeper into their own lives.
Choreography: ACONTACT _Con-3BCAD4581 c s l Anabella Lenzu
Music: Carlos Gardel & Anselmo Aieta
Dancers: Lauren Ohmer, Liz Gorgas, Mary–Elizabeth Fenn & Anabella Lenzu

ABOUT THE COMPANY:
Anabella Lenzu/DanceDrama is thought provoking and historically conscious dance-theater company, breaking down the wall separating artist from audience. Based in New York, the mission of AL/DD is to establish and develop a cultural, educational and artistic exchange between the communities of the United States, Argentina & Italy. Lenzu crosses sociopolitical and cultural barriers, promoting dance and art education through teaching and performing.
AL/DD explores themes of collective memory, individual identity, and social awareness by having dancers and audience fuse in a psychological and emotional experience. The repertory is an uncommon blend of modern dance, theater, ballet and ethnographic folk traditions.
Anabella Lenzu/DanceDrama, had its premier New York season produced and presented by Dance New Amsterdam in October 2006. Since then, the company's work has been seen in Baryshnikov Arts Center, DMAC, Movement Research at Judson Church, 92nd Street Y, Roulette, DUMBO Festival, Galapagos Art Space, WAXworks, Center for Remembering & Sharing (CRS), Chashama, The Embassy of Argentina, COOL New York Festival, La Mama, Hatch Series/TheWorks Studio, NYU Casa Zerilli Marimo, Merce Cunningham Studio, New Dance Group Art Center, University Settlement, Abrons Arts Center, Jewish Community Center and HERE Arts Center, among others.
Originally from Argentina, Anabella Lenzu is a dancer, choreographer and teacher with over 20 years experience working in Argentina, Chile, Italy and the USA. As Artistic Director of Anabella Lenzu/DanceDrama, Lenzu draws on her diverse background to create thought-provoking and socially conscious dance-theatre in the interest of improving our human condition. Classically trained at the renowned Teatro Colòn in Buenos Aires, Lenzu studied the modern dance techniques of Humphrey/Limòn and Graham in New York. Her studies of Tango and the folkdances of Argentina, Spain, and Italy, further inform her work. Her choreography has been commissioned all over the world, for opera, TV programs, theatre productions, and by many dance companies, such as Anna Sokolow Theatre/Dance Ensemble (New York) and Movimento Danza (Naples, Italy). Lenzu founded her own dance school L'Atelier Centro Creativo de Danza in 1994, and has maintained an active teaching career ever since. Currently, Lenzu conducts classes at Peridance Center, Wagner College and Lehman College. Lenzu is also a published author for various dance and arts magazines, and plans to release her first book in November of 2012, entitled "Unveiling Motion and Emotion". The book contains writings in Spanish and English on the importance of dance, community, choreography, and dance pedagogy. Photography by Todd Carroll will document Lenzu's vast range of experiences dancing, teaching, and choreographing.
For more information about the company, visit: www.AnabellaLenzu.com
Press contact:
info@AnabellaLenzu.com