Contribute
Your support helps us cover dance in New York City and beyond! Donate now.
Anabella Lenzu/DanceDrama presents ONLINE CHOREOGRAPHIC MENTORSHIP PROGRAM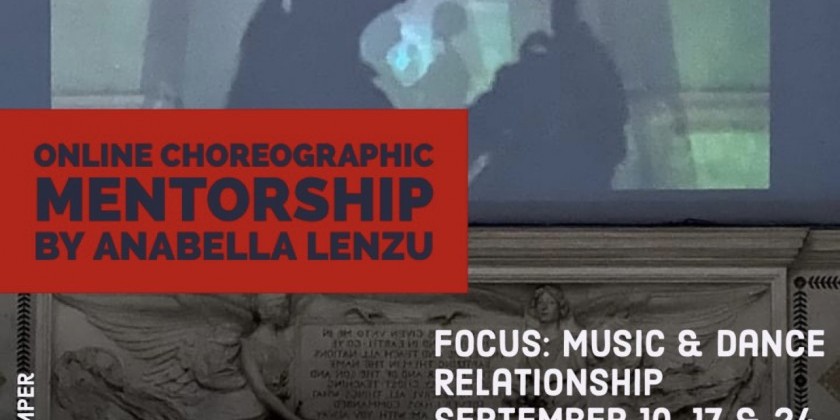 Company:
Anabella Lenzu/DanceDrama
September 2022 ONLINE CHOREOGRAPHIC MENTORSHIP PROGRAM
FACULTY: ANABELLA LENZU
DANCE COMPOSITION/CHOREOGRAPHY WORKSHOP
FOCUS: MUSIC AND DANCE RELATIONSHIP
Saturdays, September, 10, 17 & 24, 2022
11am-1pm, NYC Time
As choreographers, how do we deal with the relationship and overlapping layers so that dance, music, and the poetry of the lyrics intertwine to create the multifaceted and profoundly human characters you see on stage?
I believe that music acts as a partner to dance.
Music influences the dancer, the choreographer, and the audience, building a unique atmosphere around the stage, facilitating kinesthetic empathy.
During this three day workshop, we will explore the different relationships between Music, Movement, and Lyrics, stimulating your creativity.
----------------------------------
Online Choreographic Mentorship Program, a monthly workshop where we explore different topics on the choreographic inquiries. Topics include: Form and Content, Music and Dance relationship, Ritual Vs. Performance, Text and Dance relationship, Choreographic for the Camera, among others. (see below)
I am very pleased to offer this mentorship opportunity and share my 30 years of experience and knowledge as a teacher, choreographer, and dancer.
Besides your personal growth, this will be a unique opportunity to connect with other international artists working with deep intensity and strong vision.
With Love and Gratitude, Anabella
ALL CLASSES VIA ZOOM. 
I WILL PROVIDE INDIVIDUAL ATTENTION, FEEDBACK, AND GUIDANCE FOR EACH INDIVIDUAL, WHICH IS WHY ALL PARTICIPANTS NEED TO BE PRE-REGISTERED. NO SINGLE CLASSES ARE ALLOWED. EACH PARTICIPANT NEEDS TO REGISTER FOR THE ENTIRE LENGTH OF THE COURSE, SO I WILL BE ABLE TO DEDICATE MYSELF INTENSIVELY TO THE PROGRESS OF EACH ARTIST. 
IN ADDITION TO THE SCHEDULED CLASS TIME, ALL PARTECIPANTS CAN HAVE A ONE-ON-ONE 30 MIN PRIVATE CONSULTATION.
THEORETICAL MATERIAL IS INCLUDED. 
CLASS SIZE IS LIMITED TO 15 STUDENTS PER WORKSHOP.
TO APPLY: PLEASE SEND A COVER LETTER EXPLAINING WHY YOU ARE INTERESTED IN PARTICIPATING AND YOUR RESUME TO: INFO@ANABELLALENZU.COM