And the 2013 Genius Award Goes To...‏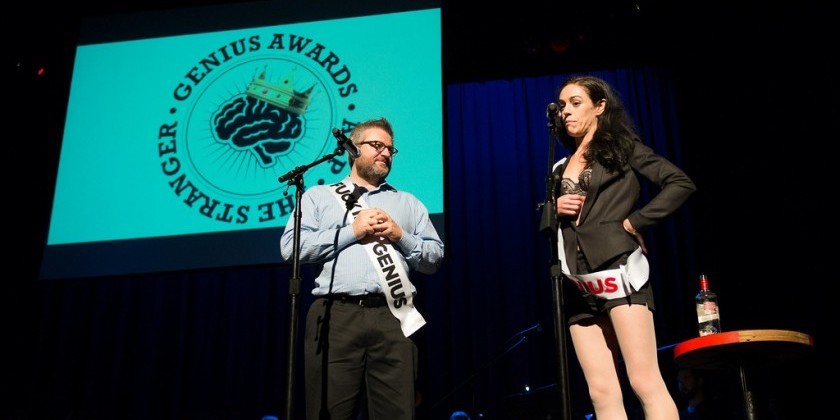 Company:
Zoe Scofield and Juniper Shuey
Kelly O / The Stranger
We're Freaking Geniuses!
Zoe Scofield and Juniper Shuey Awarded Seattle's 2013 Stranger Genius Award in Performance
On Saturday night, Zoe Scofield and Juniper Shuey were thrilled to be awarded the 2013 Stranger Genius Award in Seatttle.  Thank You to the Stranger, On the Boards, Velocity Dance Center and all of you out there who have always believed that the work
zoe | juniper make is GENIUS!  

It was an honor to be nominated alongside the brilliant artistry of Pat Graney and Amy O'Neal.  Thank you both for making this city such a vibrant place to live and work as a dance artist.

This award is for all of the awesome collaborators we have worked with throughout the years. Here's to you! Aaron Brisbo, Julie Leaned, Nat Damm, Morgan Henderson, Shannon Stewart, Yuki, Marissa Neiderhauser, Christiana Axelsen, Ezra Dickinson, Kate Monty, Jessica Trundy, Chrissy Wai-Ching, Shawn Landis, Allison Van Dyck, Maika Misumi, Jim Kent, Kamran Sadeghi, Erik Andor, Kelly Sullivan, Holcombe Waller, Spectrum Dance Company dancers, Coriolis Dance,  corps dancers from UW Dance Department, Walnut Hill School, Barnard Dance Department, Helena Presents Dance, Raja Feather Kelly, Anna Schon, Diana Deaver, Allison Sale, Greg Haines, Christine Meyers, Matt Starritt, Robert Aguilar, Kim Lusk, Brittani Karhoff, Kate Wallich, Eloise DeLuca, Erin McCarthy, Randall Smith, Derek Ghormley, Jeremy Barker, Eden Orrick, Sebastian Provicher, Jennifer Zeyl, Amiya Brown and BODY TRAFFIC.  
SEE Zoe and Juniper's Acceptance Speech

READ The Stranger Recap
SEE ZOE | JUNIPER IN SEATTLE

Join us for the World Premier of BEGINAGAIN
March 27-30, 2014  
On the Boards

Get Your Tickets HERE!
SEE ZOE | JUNIPER IN NEW YORK

zoe | juniper is thrilled to be co-presented by The Joyce Theater and 3LD in 3-Legged Dog's innovative new performance space.  

May 8-10, 2014

Check out 3LD and zoe | juniper in
The New York Times!
Copyright © 2013 zoe | juniper, All rights reserved.