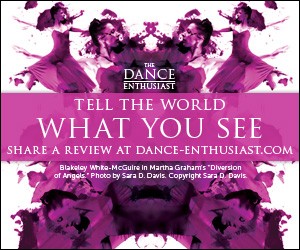 Advertise With Us
Make an impression — place an ad on The Dance Enthusiast and receive thousands of eyes on your work every week. Learn more. 
Contribute
Your support helps us cover dance in New York City and beyond! Donate now.
Aretha Aoki and Benjamin Kimitch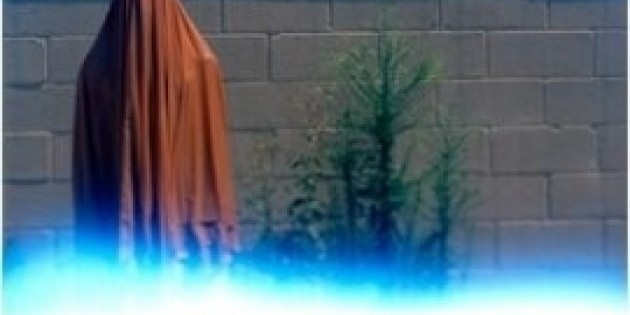 Presented by Danspace Project!
Danspace Project Presents
Shared Evening:
ARETHA AOKI / BENJAMIN KIMITCH
February 14-16, 2013 [Thu-Sat] 8PM
FOR IMMEDIATE RELEASE, New York, NY,

February 4

, 2013
- Danspace Project presents a shared evening of new work by Aretha Aoki
and Benjamin Kimitch
. This is the first evening-length presentation for both emerging dancemakers.

Las Gravitas
, created and performed by Aretha Aoki, is a solo about making a solo. In a recent Culturebot
interview she explained "I want to create a space where fictions are invited to exist but that they also can be undone, replaced by new stories, and so on. To me, the unexpected is that space of possibility where anything can happen and one's perceptions are invited to shift a little or a lot." Vacillating between insularity and expansiveness, Aoki attempts to create a space where fact and fiction and certainty and the unknown meet, mingle and sometimes collide. Sound and text collaborators include Ryan MacDonald
and Cassie Peterson
.

In his debut evening-length work, discontinuous sounds
, Benjamin Kimitch meditates on loss and impermanence by excavating emotions out of rigorous modes of formalism and structure. Through calculated movement patterns and historical imagery from Buddhist cave murals in Dunhuang, China (spanning the 4th-14th centuries), he seeks to awaken personal memories that resonate even after the performance has ended. Dancers Julie McMillan
and Claire Westby
perform alongside a live, original sound score by Matthew Flory Meade
. Costumes by James Kidd
. discontinuous sounds
was developed, in part, during a residency at Kaatsbaan International Dance Center - a partnership with Danspace Project as part of Danspace's Choreographic Center Without Walls (CW2).
A 2011/2012 New York Live Arts Fresh Tracks artist, Aretha Aoki has toured with Emily Johnson and performed in the work of Vanessa Anspaugh, Rebecca Serrell Cyr, and Juliette Mapp. Benjamin Kimitch trained at an early age in Chinese folk dance and later at Tisch School of the Arts, Salzburg Experimental Academy of Dance and Shanghai Theater Academy Traditional Peking Opera School.
BIOS
Aretha Aoki
is from the Pacific Northwest. She is a 2011/2012 Fresh Tracks artist and her work has been shown as part of shared showings at Movement Research, CPR, Catch, New York Live Arts, The Kitchen, AUNTS, Chen Dance Center, Fridays at Noon at 92nd Street Y, Studio 303 and various venues and sites in MA and Vancouver, BC. Aoki is currently on tour with Emily Johnson and in rehearsal with Vanessa Anspaugh. She has had the privilege of dancing and collaborating with other incredible artists throughout her career, most recently robbinschilds, Rebecca Serrell Cyr, Heather Kravas, Juliette Mapp and Maura Donohue. Aretha holds a MFA from Smith College.
Benjamin Kimitch
is an artist living in Brooklyn, NY. He is half-Japanese American and grew up learning Chinese folk dance in Minneapolis. Benjamin's work and process as a choreographer has been supported in New York by Danspace Project (Draftwork, curated by Ishmael Houston-Jones), 92nd Street Y's Fridays at Noon series (curated by Hari Krishnan), Movement Research at Judson Church, AUNTS, Brooklyn Arts Exchange, New York State DanceForce and Kaatsbaan International Dance Center. He holds a BFA in Dance from New York University Tisch School of the Arts, and has received additional intensive training at Salzburg Experimental Academy of Dance and Shanghai Theater Academy Traditional Peking Opera School. In his (other) spare time, Benjamin works at New York Live Arts as Assistant to the Artistic Director Carla Peterson, and worked within the Programming Department at Dance Theater Workshop from 2008-2011.
FUNDING
Aretha Aoki's Las Gravitas was originally commissioned by the Fresh Tracks program of New York Live Arts, supported, in part, by the National Endowment for the Arts.

Benjamin Kimitch's discontinuous sounds is supported, in part, by Danspace Project's Commissioning Initiative, with support from the Jerome Foundation. The creation of this work was also made possible through a residency, supported by the New York State DanceForce with funding from the New York State Council on the Arts Dance Program, which is a partnership between Kaatsbaan International Dance Center and Danspace Project's Choreographic Center Without Walls (CW2). This work was also created, in part, with a space grant from BAX/Brooklyn Arts Exchange with support from the New York State Council on the Arts, the NYC Department of Cultural Affairs, the Andrew W. Mellon Foundation, and the New York Community Trust (Lila Acheson Wallace Fund for the Arts).
LOCATION: Unless otherwise noted, all performances and events take place at Danspace Project in St. Mark's Church in-the-Bowery, 131 East 10th Street, New York, NY 10003.
TICKETS
: Unless otherwise noted, tickets are available for purchase at
www.danspaceproject.org
or by phone at (866) 811-4111.