Contribute
Your support helps us cover dance in New York City and beyond! Donate now.
Audition Opportunities with Dancewave Company II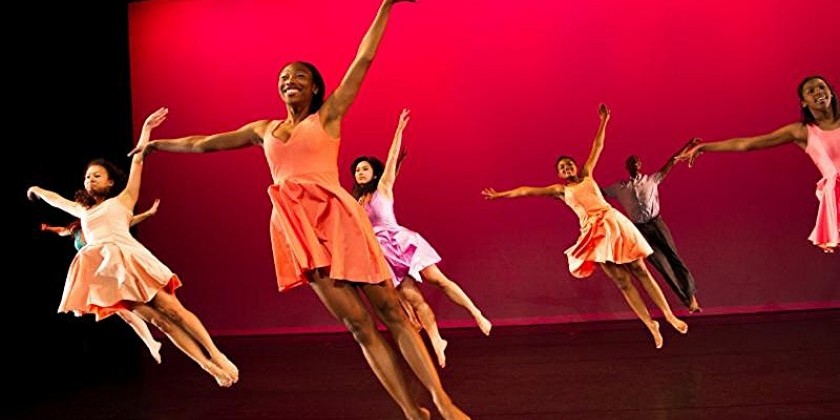 Company:
DANCEWAVE COMPANY II
DANCEWAVE COMPANY OF TEENS
PERFORMS THROUGHOUT BROOKLYN
& AUDITION OPPORTUNITIES
Dancewave Company II will appear throughout Brooklyn this September,
performing Jamal Jackson's Mile 21: an Afro-modern piece featuring complex rhythms.   
Brooklyn, NY - The season begins on Thursday, September 11th when the BEAT Festival enlivens the Brooklyn Museum with a bevy of performance art and dance. Visitors will wander through the halls of the museum to discover Dancewave and other BEAT artists performing in every corner.

The tour continues when Dancewave comes to Barclays Plaza for the Back to School Bash on Saturday, September 13th. This full day event includes face painting, a fashion show, food trucks, and of course, a performance by Dancewave Company II.  
Dancewave will give a final September performance of Mile 21 on Monday, September 15th at 5pm as part of the continuing celebrations of the BEAT festival.  On Thursday, October 23rd, Dancewave Companies I & II will perform Mile 21 and Canvas by Larry Keigwin at 5:30pm  in the Performing the Streets festival, a free outdoor series that transforms Albee Square into an artistic venue.
Upcoming are a series of audition opportunities. Brooklyn teens have the chance to join one of Dancewave's companies and perform across New York City.  To reserve an audition spot please email rsvp@dancewave.org.  Additional information about scholarship auditions is available at www.dancewave.org.

Dancewave Companies I & II Fall Tour Schedule
Thursday, Sept. 11th, 7pm-9pm:
Dancewave Company II at the Brooklyn MuseumSaturday, Sept.13th, time tbd: Dancewave Company II at the Back to School Bash, Barclays Plaza
Monday, Sept.15th, 5pm: Dancewave Company II at Barclays Plaza
Thursday, Oct.23rd, 5:30pm: Dancewave Company I & II at Albee Square Mall

 
Dancewave Company/Ensemble Auditions
Wednesday, Aug. 27th, 5pm-7pm: Dancewave Companies I, II & III at the Old First Reformed Church
Thursday, Aug.28th, 4:30pm-5:30pm: Young Performers Ballet Ensemble at the Old First Reformed Church*
Tuesday, Sept. 2nd: Amazing Creatures Ensemble (12pm-1pm), Young Performers Ballet Ensemble (1:15pm-2:15pm), Young Movers Ensemble (2:30pm-3:30pm) at Dancewave*
*The Old First Reformed Church is located at 729 Carroll Street in Park Slope, Brooklyn. 
The Dancewave Center is located at 45 4th Avenue at the intersection of 4th Avenue and Dean St.
Scholarship Auditions
For All Fall Programs: Tuesday, September 2nd, 3:45pm-4:45pm at Dancewave
About Dancewave
Dancewave is a dance center that inspires students to express themselves authentically through an innovative model of dance education. Our unique model combines rigorous training with artistic integrity, and access for all, in a supportive environment. Students are mentored by accomplished dance professionals, which allows for personal growth as well as superior dance education. Dancers have the opportunity to join our pre-professional dance companies, where they gain technical proficiency and self-confidence through training, rehearsals, and performances.
Often, in our community, students do not have a creative outlet in which to express themselves or showcase their talents. Through Dancewave, those students have the opportunity to flourish. Dancewave also gives dancers exposure to college dance programs through master classes, roundtable discussions with college department heads, and performances at Long Island University's Kumble Theatre.