Audition for lead youth roles in Nimbus Dance Works' Jersey City Nutcracker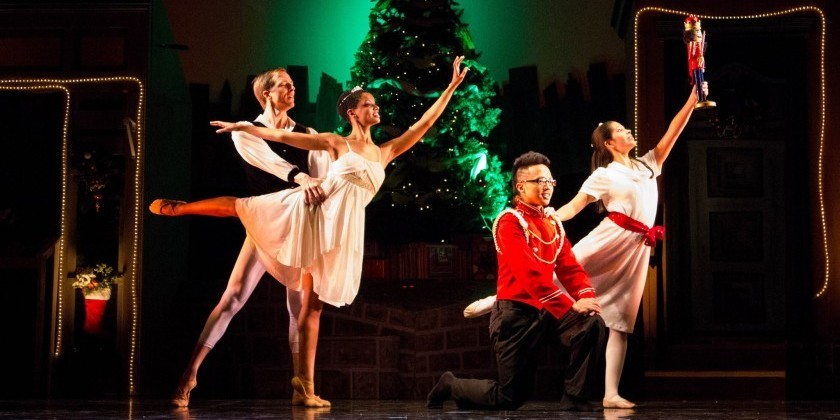 Company:
Nimbus Dance Works
Audition for lead youth roles in Nimbus Dance Works'
Jersey City Nutcracker
Nimbus Dance Works seeks advanced youth dancers (ages 11-17) for lead roles in Jersey City Nutcracker. The company seeks youth performers for the roles of "Maria" and "Christopher" for the 4th annual production of Jersey City Nutcracker, one of Hudson County's largest yearly theatrical events.
Audition: Saturday, October 12th, 2:30-5pm
at School of Nimbus Dance Works, Barrow Mansion
83 Wayne Street, Jersey City, NJ
Performance Dates: December 18-22, 2012
Youth performers selected will work intensively with the professional company towards the performances. Rehearsals will take place 1-2 afternoon/week in November and 3-4 days/week starting the week of December 2nd. Note: there will be several casts selected for each role.
Performed by Nimbus' professional company of dancers, and over 100 youth performers, Jersey City Nutcracker tells the story of two children's urban Christmas adventure leading them through fantasy, adversity and celebration and teaching them lessons about friendship and community along the way. This adaption of Tchaikovsky's holiday classic ballet includes full professional sets, costumes, and lighting and features beloved aspects of the original ballet – including the Sugar Plum fairy, the Arabian Princess and Drosselmeyer, and a ferocious battle between Nutcracker and the Rat King – all with a Jersey City twist!

Additional opportunities, no audition necessary, for youth to perform in Jersey City Nutcracker are available through the School of Nimbus Dance Works and partnering schools/studios: Jersey City Dance Academy, Henry Snyder High School, Martin Center for the Arts, Hi Tech High School and others.

Please visit our website for additional information or contact us at info@nimbusdanceworks.org / (201) 377-0718.
About Nimbus Dance Works
Nimbus Dance Works focuses its work on the intersection between high-level dance and innovative ways of involving communities and audiences. Nimbus presents performances and programs to diverse audiences locally and on tour: serving present audiences and building future ones. Performers with Nimbus Dance Works are top-tier dance artists drawn from widely recognized companies including Ballet Hispanico, Ailey II, and the Martha Graham Dance Company. In addition to work by Artistic Director Samuel Pott, the company commissions dances by leading international dancemakers including Pedro Ruiz (Cuba/USA), Huang Yi (Taiwan), korhan baAŸaran (Turkey), and Xiao-Xiong Zhang (Australia/Taiwan). Through critically acclaimed performances throughout New Jersey and the Northeast, programs for Jersey City youth and seniors, partnerships with institutions such as the Jersey City Board of Education, Rutgers University, and the Newark Museum, and collaborations with notable composers and visual artists, Nimbus weaves together artistic excellence and community impact.
Entering the company's 10th season, Nimbus Dance Works programs impact more than 9,000 people each year. The company's JC Grooves program serves over 2,000 youth each year in the Jersey City public schools. Nimbus presents biannual home seasons in Jersey City, tours regularly throughout New Jersey and the Northeast and recently opened the School of Nimbus Dance Works offering dance classes to diverse youth and adults from the region. Featured projects in Nimbus' 2012-13 season included a staging of Charles Weidman's 1936 modern dance classic Lynchtown along with the creation of a new partner work by Artistic Director Samuel Pott, We Acquiesce; and a collaboration with Taiwanese choreographer Huang Yi performed by an international cast of American and Taiwanese dancers.
Samuel Pott, Artistic Director, Nimbus Dance Works
Samuel Pott founded Nimbus Dance Works in 2005 drawing on a deeply held personal belief in the value that the arts can play in bringing people and communities together. Under his direction the company has grown each year adding performances, new repertory, and new community initiatives and projects. Known for creating structured and musical dances that evoke deep-rooted emotional connection, Mr. Pott's choreography has been shown in New York City and throughout New Jersey, New England and California at venues including the Joyce Theater, NJPAC and Jacob's Pillow Dance Festival. He has choreographed dance to chamber music, choral music, jazz, new music, folk and mainstream vocal ballads; collaborations have included productions with theater groups, visual and video artists, composers and music improvisers.  Collaborations have included work with many esteemed contemporary artists including composers Daniel Bernard Roumain, Samson Young, Judd Greenstein, Aaron Parks and visual artists Nicola Lopez and Trudy Miller.
A member of the New Jersey State Arts Council's Arts in Education roster of artists, he has taught dance at the elementary, high school, college and professional levels and has served on the faculty of Rutgers University's Mason Gross School of the Arts. In 2008 Mr. Pott founded JC Grooves, a program that brings dance to over 2000 Jersey City middle school youth each year through unique and participatory methods. He is a certified practitioner of the Feldenkrais Method. Mr. Pott received a Choreography Fellowship from the New Jersey State Council on the Arts in 2008 and was awarded a Governor's Award in Arts Education in 2013. He serves on the board of directors of Dance New Jersey and on the Arts Advisory Council for the for the Jersey City Board of Education.
Mr. Pott began his dance training at the University of California, Berkeley, and completed his Bachelor of Arts degree in 1999.  As a soloist with the Martha Graham Dance Company, his repertoire included such iconic roles as the Husbandman in Appalachian Spring, Agamemnon in Clyemnestra, and Adam in Embattled Garden. In addition to work with the Martha Graham Dance Company, Mr. Pott has performed as a lead dancer with many ballet and contemporary companies including New Jersey's American Repertory Ballet and the Oakland Ballet. Featured roles are from a wide range dance styles and choreographers including works by Marius Petipa, Martha Graham, Jose Limon, Isadora Duncan, Twyla Tharp, Lar Lubovitch, and directors Robert Wilson and Ann Bogart among many others.