Audition for new dance-theater piece commissioned by Chez Bushwick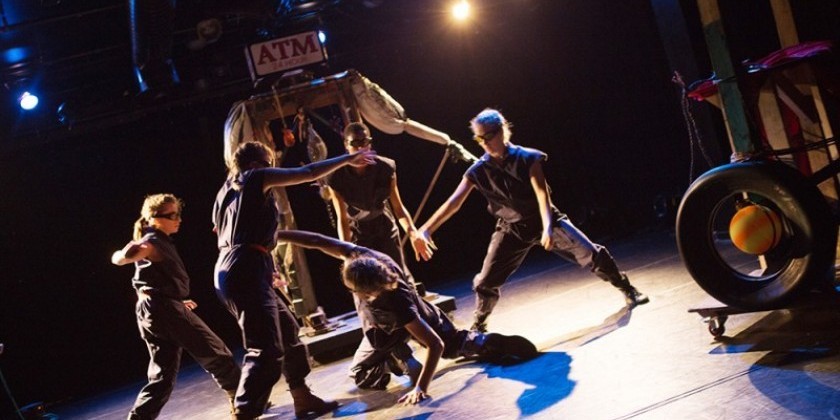 Company:
Thea Litter / Bushwick Open Studios
Thea Little, choreographer, performer, music composer, musician, and director is holding an audition on Tuesday August 8 from 1-5pm. Call back will be on Thursday August 10 from 10-2pm. Make sure to be available for the call back in case you are invited. See below for set rehearsal times and performance day. Please come to the audition only if you can make those set rehearsal and performance times.
Thea is looking for dancers and performers of all genders, sexual orientations, and ethnicities to join her dance-theater/site-specific work to be performed for Chez Bushwick in Brooklyn, NY during the BOS Bushwick Open Studios. We will perform for 1-2 hours alongside 3 other choreographers that Chez Bushwick has chosen to be on a path that connects Chez Bushwick with visual art studios in Bushwick. 
Dancers and performers will be exploring characterizations and facial expressions. A big plus is if the performer can sing in key and hold melodies with other notes being sung. It is not necessary to be formally trained in music! Dancers and performers must be also interested in learning set choreography and song composition as well as being experienced in experimenting with movement, text, and song improvisation. There is also a possibility to continue working on this project in the future.
Rehearsals will be for 6 weeks and will begin promptly after the call back. They will be from: 
Tuesday August 15th to September 21st. 
There will be twice a week rehearsals for 6 weeks:
Tuesdays: 6-10pm 
Thursdays:10-2pm
Most weeks will be 7 hours per week and a couple will be 8 hours per week.
Performance: Saturday September 23rd sometime between 1-8pm.
*We will know the exact times closer to the event yet please keep the day open.
Audition: Tuesday August 8 1-5pm
Call Back: Thursday August 10 10-2pm
Please RSVP to the audition at Thea_Little@yahoo.com and we will tell you the location. Please send resume, photo, and any performance links you may have. 
Please view Little's artist statement below, her website, and links to performances to see if this is the right project for you before contacting her at Thea_Little@yahoo.com.
Thea Little's dance-theater and performance works are abstract yet they relate to the audience on a humanistic and moving level. Having an emotional connection with the audience while upholding obscurity and individualism as well as humor, zaniness, and joy are central to her work. Thea is primarily interested in and inspired by feminism, queer understanding, transcending social class and status, and interacting with the audience in a playful manner. Psychological and sociological memories and situations are often the impetus of Thea's works. Her abstract aesthetic is paired with a meaningful anchor - expanding the personal to the universal.
Thea is inventive with movement, often arranging recognizable steps in a bizarre and unpredictable way. The influence of ballet, Cunningham, and Forsythe techniques can be perceived, and the clean lines and direct simplicity are the architectural structure of her work.  This architecture is blanketed with an accepting and collaborating warmth that is experienced by the performers and palpable to the audience. 
Collaborating with other artists is paramount to Thea's process.  When she collaborates with dancers, visual artists, video artists, writers, musicians, and the audience, each multi-media element is as effective and influential as the other. Sets and props are often incorporated, and are often even the first thing that Thea visualizes before the movement or music is made. Thea's work often includes her performers' stories and visceral expressions.  Explorations from games and improvisations in rehearsals are often integrated into the choreography. This sets the tone for an intimate and open space where the audience is invited to enter a world of sharing and exploring.
Text is often used in a very direct and open way that is revealing yet non-theatrical. In Thea's overall works, there is a plain-statement quality, balanced with a lot of understated flair and flashes of pizzazz. Thea likes to see images, emotions, situations, and characters transform, and these developments are mysteriously emphasized without choreographic buildup. Her scenes progress very smoothly with each shift being both unexpected yet still related.
Thea enjoys composing for her dances and makes musical instruments for some of her works as well. Usually the music is supportive to the movements and overall concept and is always in equal importance to the dance and other media elements. Sometimes Thea is concerned with creating melodies and harmonies and other times with collecting sounds and turning them into rhythmic symphonies that are visually and sonically connected to the environment or story.
Thea Little, born and raised in NYC, is a performer, choreographer, musician, composer, and director. She investigates the hybrid of performance art and dance-theater with solo  and group works performed in theaters, museums, galleries, tennis courts, gardens, courtyards and trolleys. Little has presented throughout the United States, Belgium, Austria, France, and England. Composing since age 5, she creates music for her own works as well as for other choreographers. Little has joined choreography residencies and fellowships with Lift Off/New Dance Alliance, Lanchonete in Brazil, Leimay, and The Field. She received her MFA in Dance from Hollins University/ADF and her BA in Dance from Columbia University, and she studied at the School of American Ballet for six years where she performed in many ballet productions with NYCB, ABT and The Royal Danish Ballet. In 2005 Little was Music Director to Shen Wei Dance Arts to teach Steven Reich's intricate 43-minute score to the company to create the internationally-acclaimed Map for the Lincoln Center Festival. From 2013-2015 she performed in a dance-opera called Any Size Mirror is a Dictator with Panoply Lab and Lindsey Drury culminating in a five-week run at Momenta Art. Recently Little directed a sculpture-dance work Control Equinox in collaboration with artist Niki Singleton presented in the Beaux Arts Court of The Brooklyn Museum, Triskelion Theater, and NYU Engineering Lobby during the BEAT Festival 2016. Since 2013, Thea has co-directed and co-produced a multi-disciplinary arts residency in Lakeville, Ct called IMAR. She is currently developing and performing projects such as Successful and Post Election Therapy as well as collaborating with various performance groups. In June, Little presented her solo Successful at the Performance Mix Festival at University Settlement. Currently a return to composing music is a focus as well.