Auditions, Nigeria, and Thank YOU!
By Grounded Aerial
Auditions for Women

Be warmed up by 3:00 (to 6pm) on Monday, August 12th
Call backs are 12pm (to 3pm) on Tuesday, August 13th
Audition Location: Embody Language at 241 Bedford Ave. (btwn North 3rd and North 4th Street), Buzzer #7, Williamsburg, Brooklyn
Come if you are ready to commit to a year of (once a week) rehearsals. We need one to two female members that are technically trained dancers who preferably have aerial experience and an acting background. Ideal candidates are comfortable with improvisation and love to be creative and focused in a team atmosphere. A gymnastic and/or climbing background is highly encouraged, and upper-body and core strength are necessary to learn Grounded's (mainly harness based) repertoire. Seeking daring, committed, and resilient performers who excel at character development and playful collaboration in a rigorous aerial environment (and a sense of humor also goes a long way too!!)
Paid performances throughout the year.

*Unpaid aerial rehearsals will be Wednesdays 3:00-6:00pm (if you can't make this time, please don't audition)
*There will be additional (paid and unpaid) rehearsals as upcoming gigs approach.

Send your résumé and headshot to groundedaerial@gmail.com
For more info about us, please go to Groundedaerial.com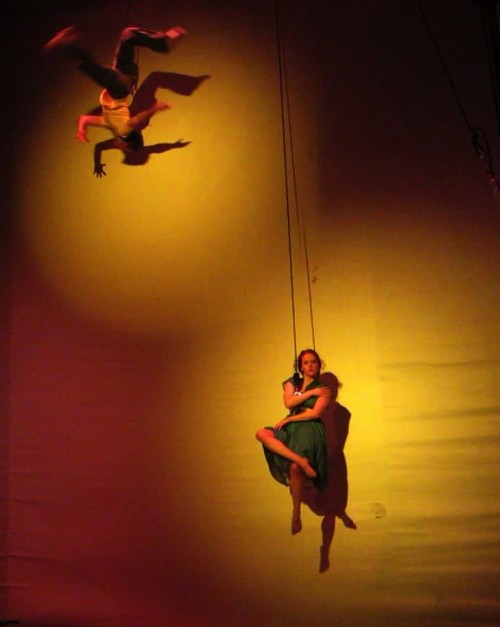 The above photo is from our recent Sneak Peek of Grounded's repertoire. A sincere thank you for your support. It was a great success, and you are fully appreciated for your continued patronage!


Thank you Oracle Experience, Nigerian breweries PLC, and all involved for welcoming us so warmly to your country. Here is footage of how it feels to be a Grounded Aerial aerialist in Port Harcourt, Nigeria!

Watch the video here!

All is shot from the performers' point of view, so be careful... this may seriously cause some motion sickness!! Thank you for supporting Grounded Aerial!