Auditions for AJKUN BALLET THEATRE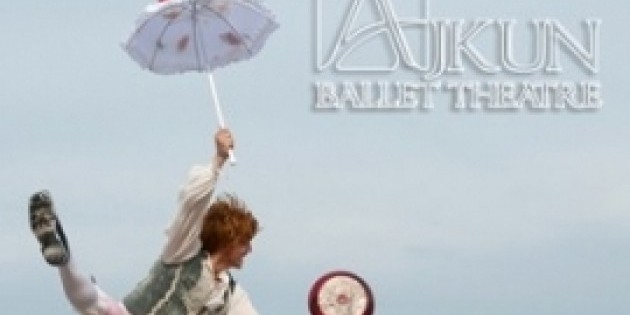 Qualifying dancers may be referred to AjkunBT's Partners in Dance for employment, a worldwide network of over 100 dance companies
AUDITIONING FOR AJKUN BALLET THEATRE
Ajkun Ballet Theatre is always interested in talented dancers and arts professionals,
whether experienced or talented first-timers.

AjkunBT prides itself in providing opportunities to artists of all citizenships,
as we consider diversity an enrichment to the arts community.
Yearly Company contracts are 48 weeks (fulltime) or 23-26 weeks (partime).
Qualifying dancers may be referred to AjkunBT's Partners in Dance for employment,
a worldwide network of over 100 dance companies sharing our vision to open
the avenues of opportunities to younger dancers of any citizenship.
AUDITIONS IN EUROPE
are held every year in February, March & July.
MADRID (SPAIN)
Friday, February 15, 2013
Registration: 4:00pm Audition: 5:00pm - 7:00pm
at Asociación Cultural por la Danza
C/ Antonio Vincent 65, 28019 Madrid SPAIN
AMSTERDAM (THE NETHERLANDS)
Sunday, February 17, 2013
Registration: 2:00pm Audition: 3:00pm - 5:00pm
at The Henny Jurriëns Foundation Studios
Bellamystraat 49, 1053 BG Amsterdam, THE NETHERLANDS
Telephone (studio directions ONLY) +31 (0) 20 4121510
BARCELONA (SPAIN)
Monday, February 18 - Friday, February 22, 2013
WORKSHOP with Choreographer and
Co-Artistic Director Leonard Ajkun.
For additional details or to register for the workshop
email workshop coordinator at ajkunbtprograms@aol.com.
Saturday, February 23, 2013
Registration: 11:00am Audition: 12:00pm - 2:00pm
at Institut del Teatre
Plaça Margarida Xirgu, 08004 Barcelona SPAIN
LONDON (UK)
Sunday, February 24, 2013
Registration: 2:00pm Audition: 3:00pm - 5:00pm
at Pineapple Dance Studio
7 Langley Street, Covent Garden, LONDON WC2H 9JA
Telephone (studio directions ONLY) +44 0207 836 4004
MILAN (ITALY)
Saturday, March 2, 2013
Registration: 2:00pm Audition: 3:00pm - 5:00pm
at L'Arcobalenodanza
Via Solari - 6 Milano ITALY
Telephone (studio directions ONLY) +39 02 4694914
Audition information may be obtained
by contacting: otherlanguages@ludt.org