BAC Presents International Contemporary Ensemble & The Troupe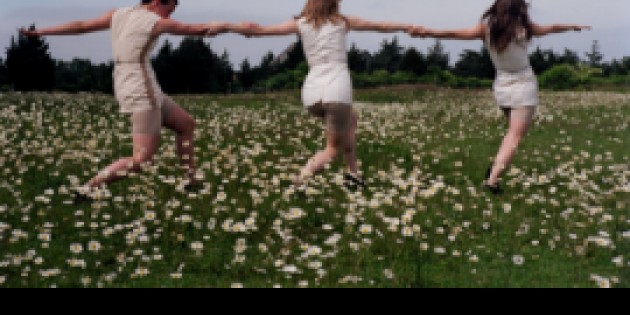 BARYSHNIKOV ARTS CENTER PRESENTS INTERNATIONAL CONTEMPORARY ENSEMBLE (ICE)
ICELAB AT BAC, NOVEMBER 2 – 3 at 7PM
Featuring MESH, an Evening-length Work by Composer Lisa Coons and Choreographers Zack Winokur and Michelle Mola
The Baryshnikov Arts Center (BAC) presents the World Premiere of MESH, created by composer Lisa Coons and choreographers Zack Winokur and Michelle Mola, on Friday and Saturday, November 2 - 3 at 7:00PM in BAC's Howard Gilman Performance Space. This new interdisciplinary work incorporating touch, movement, and sound is performed by the International Contemporary Ensemble (ICE) and the contemporary dance company The Troupe.
MESH was developed in residence at BAC as part of ICElab, a commissioning program designed to place the musicians of ICE in close collaboration with composers and sound artists to incubate ambitious new evening-length works. The creative partnership between ICE and The Troupe introduces movement artists to the experimental context of ICElab for the first time. MESH emerges from exchanges and interactions among the composer, choreographers, musicians, and dancers. In an effort to overcome barriers that exist between disciplines and discover true collaboration across artistic networks and fields, MESH creates an innovative mixed form for music and dance.
Program and Ticket Information

MESH
WORLD PREMIERE
Music by Lisa Coons; Choreography by Zack Winokur and Michelle Mola
Performed by International Contemporary Ensemble and The Troupe
Total Running Time: 65 minutes
Friday and Saturday, November 2 - 3 at 7:00PM
Admission is FREE of charge. Reservations are required and can be made online at BACNYC.ORG. Both ICElab concerts are sold out.
Performances will take place at the Baryshnikov Arts Center's Howard Gilman Performance Space, located at 450 W. 37th Street, between 9th and 10th Avenues.
About the Artists
Lisa R. Coons acquired a special affinity to noise composition and found sounds growing up around equipment and metalworking on a farm in northeast Missouri. She studied composition at the University of Missouri-Kansas City during her undergraduate degree and received her Master's from SUNY Stony Brook. She will defend her PhD dissertation in composition at Princeton University in April. Lisa was awarded a 2011 Composer Fellowship from the Other Minds Festival and received a 2005 ASCAP Morton Gould Young Composer Award for the string quartet Awkward Music. Recent commissions include works for The California E.A.R. Unit, the Violin Futura Project, and Dither Electric Guitar Quartet. Lisa is a member of the composers collective called, simply, The Collected, and is a 2012 ICElab composer.
The Troupe is a company founded in 2009 by Zack Winokur and Michelle Mola and dedicated to exploring the possibilities of choreography across disciplines. The Troupe has been presented in museums, embassies, jails, dance venues, night clubs, and galleries such as MoMA PS1, the Centre Pompidou in Paris, ICPNA in Cusco, Rikers Island, the Drill Hall at the Park Avenue Armory, The Peter Jay Sharp, Clark Studio, The Royal Opera House in London, Duo Theater, Joyce SoHo, 92nd St Y, Dixon Place, David Lynch's Club Silencio in Paris, CUNY University Graduate Center Gallery, Galerie Debaume, as well as The Yard on Martha's Vineyard, Summer Stages Dance in Concord, MA, the Bangor Opera House in Maine, and Certain Bird in Vermont. Michelle Mola received her dance training at the North Carolina School of the Arts and The Juilliard School. She is recipient of the Zaraspe Prize for Outstanding Choreography and The Leonore Annenberg Fellowship in the Performing and Visual Arts. She hasreceived commissions from MAD AIR - Stella Adler Acting Studio, Dance@DMAC Premieres, and an award from Dance Films Association. As a dancer, Mola hasperformed with the choreographers Susan Marshall, Aszure Barton, Jonah Bokaer, and Jack Ferver. Zack Winokur graduated from The Juilliard School and Concord Academy. He has choreographed for film with Academy Award-nominated director Mike Figgis, and co-directed operas with Ted Huffman. As a dancer, Winokur has performed in the companies of Armitage Gone! Dance, David Parker and The Bang Group, and Moving Theater.
The International Contemporary Ensemble (ICE) is dedicated to reshaping the way music is created and experienced. With a flexible roster of 33 leading instrumentalists performing in forces ranging from solos to large ensembles, ICE functions as performer, presenter, and educator, advancing the music of our time by developing innovative new works and pursuing groundbreaking strategies for audience engagement. In an era of radical change, ICE redefines concertmusic as it brings together new work and new listeners.

ICElab is made possible through lead support from The Andrew W. Mellon Foundation, alongside generous funding from The Greenwall Foundation, MAP Fund, the National Endowment for the Arts, the French American Cultural Exchange, the Alice M. Ditson Fund, and public funds from the New York City Department ofCultural Affairs in partnership with City Council.
Lisa R. Coons' participation in ICElab is supported by the MAP Fund, a program of Creative Capital supported by the Doris Duke Charitable Foundation and The Andrew W. Mellon Foundation. The Troupe's participation in ICElab is supported by the New Essential Works Program of The Jerome Robbins Foundation.
Baryshnikov Arts Center (BAC) is the realization of a long-held vision by artistic director Mikhail Baryshnikov, who sought to build an arts center in Manhattan that would serve as a gathering place for artists from all disciplines. BAC's opening in 2005 heralded the launch of this mission, establishing a thriving creative laboratory and performance space for artists from around the world. BAC's activities encompass a robust residency program augmented by a range of professional services, including commissions of new work, as well as the presentation of performances by artists at varying stages of their careers. In tandem with its commitment to supporting artists, BAC is dedicated to building audiences for the arts by presenting contemporary, innovative work at affordable ticket prices. For more information, please visit www.bacnyc.org.