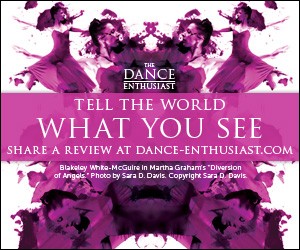 BAC Presents Tere O'Connor's "Rivulets"
Company:
Tere O'Connor
BARYSHNIKOV ARTS CENTER PRESENTS
TERE O'CONNOR RIVULETS (WORLD PREMIERE)
Co-Commissioned by Danspace Project
Over his 40-year career, Tere O'Connor has developed singular movement constructions that expand elemental aspects of dance into illusory worlds that both reach into the depths of the imagination and remain grounded in contemporary realities. In Rivulets, he grapples with the relationship between unison/non-unison movement, its ubiquity across dance forms and the social and philosophical resonances this choreographic examination might engender such as: ideals of classical beauty, authoritarian or anarchic tendencies, and the standardization of human behavior. Creating structures where unison and non/unison treatments collide, he works to dissolve the order/chaos binary and promote alternative choreographic structures shaped by the unruly nature of consciousness.
Set to O'Connor's own original musical score, this World Premiere is created in collaboration with performers Leslie Cuyjet, Tess Dworman, Wendell Gray, Emma Judkins, Jordan Lloyd, Jordan Morley, Mac Twining, and Jessie Young. Lighting by Michael O'Connor. Costumes by Reid Bartelme.
Co-commissioned by Danspace Project.
Support provided by the Wexner Center for the Arts Performing Arts Residency Award, The Ohio State University.
Tere O'Connor
Rivulets (World Premiere)
Dec 7-10, 14-17
Howard Gilman Performance Space
Tickets: $25 at bacnyc.org
Running time: 60 minutes
Choreography: Tere O'Connor 
Musical Score: Tere O'Connor 
Lighting Design: Michael O'Connor 
Performers: Leslie Cuyjet, Tess Dworman, Wendell Gray, Emma Judkins, Jordan Lloyd, Jordan 
Morley, Mac Twining, Jessie Young  
ABOUT THE ARTISTS  
TERE O'CONNOR has been making dances since 1982, creating more than 40 works for his company, and touring extensively nationally and internationally. He has created numerous commissioned works for other dance companies including the Lyon Opera Ballet, White Oak Dance Project, and a solo for Mikhail Baryshnikov entitled Indoor Man among others. O'Connor received a 2013 Doris Duke Performing Artist Award, is a 2009 United States Artist Rockefeller Fellow, and a 1999 Guggenheim Fellow. In 2014 he was inducted into the American Academy of Arts and Sciences. He has received awards from the Foundation for Contemporary Arts, Arts International's DNA Project, and Creative Capital. He has been honored with three New York Dance and Performance (Bessie) Awards ‐ one for Heaven Up North in 1988, another in 1999 for Sustained Achievement, and the third for Frozen Mommy (2005). His work has been supported by the National Endowment for the Arts, the New York State Council on the Arts, MAP Fund, National Dance Project and many others. A much sought-after teacher, O'Connor has taught at universities and festivals worldwide. He is currently a Center For Advanced Studies Professor in Dance at the University of Illinois at Urbana-Champaign. He splits his time between New York and Illinois. 
LESLIE CUYJET is a performer and dance artist living in Brooklyn, NY. Her dances often integrate text, video, and live performance while interrogating the performing body, personal legacy, and dance history. Mostly known as a performer, she is also a writer and editor, as well as a co-founder of the Authentic Movement collective, Duvet, which all play an ongoing role in shaping her interdisciplinary artistic practice. Cuyjet has been supported by residencies at Movement Research, Center for Performance Research, Yaddo, Marble House Project, New Dance Alliance, and MacDowell; for presentations in New York at The Shed, The Kitchen at Queenslab, MoMA PS1, Center for Performance Research, La MaMa Moves! Festival, Gibney Double Plus, Movement Research Fall Festival and Judson Church, and Danspace Draftworks. Recent honors include Foundation for Contemporary Arts Grants for Artists Award, Princeton Hodder Fellow, Movement Research Resident Artist, and MacDowell Fellow.
TESS DWORMAN is a Brooklyn-based choreographer, performer, voiceover actor, and audio describer.  In New York, her choreographic work has been presented by Abrons Arts Center, BOFFO, Movement Research at the Judson Church, New York Live Arts, Performance Space New York, and the Chocolate Factory Theater, among others. In 2020, Tess was honored as an "Outstanding Breakout Choreographer" by the Bessies New York Dance & Performance Awards. Through her training at the Interdependence Project in NYC, she became a certified mindfulness meditation teacher in 2018. Since meeting Tere O'Connor in 2006 at her alma mater, the University of Illinois at Urbana Champaign, she has performed in several of his works including Secret Mary (2012), Bleed (2013), The Goodbye Studies(2015), and the upcoming Rivulets (2022). 
WENDELL GRAY II is a dance artist based in Brooklyn, NY.  He has worked with artists including Joanna Kotze, Jordan Demetrius Lloyd, Kevin Beasley, Pavel Zustiak, Maria Bauman, Jonah Bokaer,  Christal Brown, J Bouey, and more. As a maker, Wendell has shown his work at Kinosaito Arts Center, Gibney, Center for Performance Research (CPR), Movement Research at Judson Church, Chez Bushwick, La Mama Galleria, and Bronx Academy of Arts and Dance. He has additionally worked with companies including Michiyaya Dance, Pennsylvania Ballet II, Philadanco II, and Periapsis Music and Dance. He received his BFA in Dance from the University of the Arts in 2015 under the direction of Donna Faye Burchfield and was raised in Atlanta, GA. This is his first project with Tere O'Connor.  
EMMA JUDKINS (she/her/hers) is Brooklyn based dancer with roots in Portland, Maine. She is the daughter of two performing artists, raised among juggling balls, unicycles and studio mirrors. She graduated Summa Cum Laude from Connecticut College with a BA in Dance and French in 2011. Described by The New York Times as "terrific," and having "a natural, winning clarity," she is currently performing with Tere O'Connor, Anna Sperber, and Pavel Zustiak/Palissimo Company.  Past artistic and performing collaborations include Laurel Snyder & Adam Schatz, The Space We Make, Kendra Portier/BAND, Amber Sloan, Derrick Belcham & Emily Terndrup, Cortney Andrews, and Kyle Abraham/Abraham.In.Motion.  Emma collaborates with Asli Bulbul, Eleanor Hullihan and Jimmy Jolliff on an improvisational performance project called DEBORAH.  In February of 2019 she founded an improvisation lab for dancers which ran monthly until the onset of the COVID-19 pandemic. She occasionally teaches dance class and improvisation at Gibney Dance and FreeSkewl. Emma is also a freelance administrator and bookkeeper.
JORDAN LLOYD is a dance artist based in Brooklyn, NY. He received a BFA from The College at Brockport and grew up in Albany, NY. He has collaborated with and performed for Beth Gill, Netta Yerushalmy, Jonathan Gonzalez, David Dorfman Dance and more. Lloyd is a teaching artist and creates his own work. He loves gummy worms, sunsets, and his favorite color is green.
JORDAN MORLEY is a skinny man with a wide imagination. He works in the field of the body, creating performance through dance, video, text and puppetry. His work has been shown around the world. Highlights include REDCAT (Los Angeles, CA), Baryshnikov Arts Center (New York, NY), STUFFED at Judson Church/Bailout Theater (New York, NY), Triskelion Arts (Brooklyn, NY), The Museum of Moving Image (Queens, NY), The Detroit Institute of the Arts (Detroit, MI), and Uferstudios (Berlin, DE). As a dancer he was a member of the original cast of Punchdrunk's Sleep No More (London, UK/Boston, MA/New York, NY), and has worked with Kyle Abraham/Abraham In Motion, Keely Garfield, Christopher Williams Dance, Ron De Jesus Dance, Wanda Gala, Mira Kingsley, Alexandria Yalj, Jessica Mitrani, Phantom Limb Puppet Company, and Danielle Desnoyers (Montreal, QC). Currently he is working with Amber Sloan, Tiffany Mills Company, and is excited to dance for Tere O'Connor.
MICHAEL O'CONNOR (Lighting Designer) has collaborated with Tere O'Connor for over twenty years on such projects as: Transcendental Daughter, Undersweet, The Goodbye Studies, and Bleed. Other recent designs include: Loveless Texas (Sheen Center), this is an Irish dance (Kennedy Center), Morgan James Grace (YouTube Studios), The Pigeon In the Taj Mahal (Irish Rep), Gregorian (WalkerSpace),The Immigrant (Penguin Rep), This Is Mary Brown (La Mama), Collin Dunne's The Turn (City Center), Strange Country (Access Theater),Hit The Body Alarm (Performance Garage), A Celebration of Harold Pinter (Irish Rep), SHE (HERE Arts Center), Me And The Girls (Mary MacArthur Theater), Monte Cristo (Urban Stages), Ballet Next (NYLA), The Report (Lynn Redgrave Theater), Oxbow (BAM), The Fantasticks (Forestburgh Playhouse), Who's Your Daddy? (Irish Rep), Noctu (Irish Rep). Michael is the resident Lighting Designer for New Light Theatre Project and the American Academy of Dramatic Arts NYC.
MAC TWINING trained with Nadege Hottier at the Premiere Division Ballet School, and grew up absorbing knowledge of release technique and postmodern dance through his mother, Darla Stanley. After completing his formal training, Mac danced with the Stephen Petronio Company for 5 years. He has also performed with Dakshina/Daniel Phoenix Singh Dance Company, Tania Pérez-Salas Compañía de Danza, the Merce Cunningham Trust, and the late, great, Aileen Passloff. In addition to Tere O'Connor, Mac currently works with Christopher Williams, Cornfield Dance and Kimberly Bartosik/Daela.
JESSIE YOUNG (MFA University of Illinois Urbana-Champaign, BFA University of Utah) is a Brooklyn-based choreographer, performer and teacher originally from Port Angeles, Washington. Her choreographic work has been presented by in New York at The Chocolate Factory (Creative Residency), New York Live Arts (Fresh Tracks), Danspace (DraftWork), Brooklyn Arts Exchange, Brooklyn Studios for Dance, AUNTS, Dixon Place, and The Floor on Atlantic; in Chicago at- The Den Theater, Links Hall and  Athenaeum Theater; in Los Angeles at Pieter Performance Space and more. As a performer, she has worked with Abby Z and the New Utility, Beth Gill, Julie Mayo, and Stephanie Acosta, amongst others. Currently, she is working with Tere O'Connor on the 2022 premiere of his work Rivulets. Young is currently an artist in residence at Brooklyn Arts Exchange (2021-23) Center for Performance Research (2022). Teaching has long been an integral part of her practice and she is on faculty at the American Dance Festival and will be a visiting professor at Sarah Lawrence College in the Spring of 2023.
About Baryshnikov Arts Center (BAC)
BAC is the realization of a long-held vision by artistic director Mikhail Baryshnikov who sought to build an arts center in Manhattan that would serve as a gathering place for artists from all disciplines. BAC's opening in 2005 heralded the launch of this mission, establishing a thriving creative laboratory and performance space for artists from around the world. BAC's activities encompass a robust residency program augmented by a range of professional services, including commissions of new work, as well as the presentation of performances by artists at varying stages of their careers. In tandem with its commitment to supporting artists, BAC is dedicated to building audiences for the arts by presenting contemporary, innovative work at affordable ticket prices. For more information, visit bacnyc.org.
Baryshnikov Arts Center Acknowledgements
Baryshnikov Arts Center is grateful for the support of its generous individual and institutional annual fund donors in 2020—2022.
Anonymous (4); Pierre Apraxine; Jody and John Arnhold; Joanne and Tuvia Barak; Mikhail Baryshnikov and Lisa Rinehart; Carol Baxter and Loren Plotkin; Michael Benari; David and Kathryn Berg; Jamie Bishton; Catherine Brennan; Dino Buturovic and Mirjana Ciric; Cora Cahan; Carroll L. Cartwright; Pamela Ceglinski; Frank and Monique Cordasco; Anya and Peter Cole; Richard and Jennie DeScherer; Janet Dewan; Estate of James H. Duffy; Cheryl Lee and Steven C. Dupré; William James Earle; David Fanger and Martin Wechsler; Alan and Judy Fishman; Sandra Foschi; Jennifer Frautschi; Sakiko Fukuda-Parr;  Kineret Gal-On; Carol Giles-Straight; Slavka B. Glaser; Dan and Tara Goleman; Valery Golovitser; Agnes Gund; Cynthia Harvey; Dave Hattem; Huong Hoang; Joan Hooker; In Honor of Roger Hooker; Sarah Hooker; Fred Humphrey; James P. Hydell; Susan Israel; Bengt and Jelena Jangfeldt; Carine Joannou; Stephanie Joel; Susan Justman; Leo and Nadine Keegan; Douglas and Catharine Knuth; Miodrag Kukrika; Lucila Lancaster; Evgenia Lando; Karen Latner; Jarrett and Maritess Lilien; Julie Lilien; Topper Lilien; Nick and Cass Ludington; Marsha Mason; Hilary McDaniel; Karen McLaughlin and Mark Schubin; Adam Miller; Gary Miller and Valerie Beaman; Bob and Carol Morris; Mark Morris; Mark R. Morris; Kirsten Munro; Alexander Nakhimovsky; Brooke Garber Neidich and Daniel Neidich; Bebe Neuwirth; Ingrid Nyeboe and Louise Fishman; Zoya and Anna Obraztsova; Lorenza Panero; Denis Pelli; Steven and Michèle Pesner; Darryl Pinckney;Millicent Powers; Noni Pratt; Mary Ann Reddy; Christina Repetti: John Rockwell; John Sansone; Jed David Satow Family Foundation; Dorothy A. Scheuer; Dick and Debbie Sears; Joel Shapiro and Ellen Phelan; Wallace Shawn and Deborah Eisenberg; In honor of Alan Siegel; Sandy Siegel; Ellen Sorrin and David York; Christina Sterner and Steve Poses; Angèle Surault; Anne and William Tatlock; Lisa Marie Valeri; Deidra Wager; Robert and Kathleen Wallace; Shelley Washington; Suzanne Weil; Roger Weisberg and Karen Freedman; David N. White; Stephen Wood and Louisa Spencer.
Altman Foundation; American Chai Trust; Anonymous (2); Bay and Paul Foundations; Blavatnik Family Foundation; Bloomberg Philanthropies; Dance/NYC's New York City Dance Rehearsal Space Subsidy  Program, made possible by The Andrew W. Mellon Foundation; The Gladys Krieble Delmas Foundation; The Enoch Foundation; Equitable Foundation; Don Falconio Memorial Fund of the Philadelphia Foundation; Anne and Chris Flowers Foundation; Howard Gilman Foundation; Harkness Foundation for Dance; Irving Harris Foundation; Francena T. Harrison Foundation Trust; William Talbott Hillman Foundation; Consulate General of Israel in North America;Alex Katz Foundation; Danny Kaye and Sylvia Fine Kaye Foundation; Kent Van-Alen Fund; Mertz Gilmore Foundation; MJR Foundation; New England Foundation for the Arts Dance Project with lead funding from the Doris  Duke Charitable Foundation and The Andrew W. Mellon Foundation; Rudolf Nureyev Dance Foundation; NYC COVID-19 Response and Impact Fund in The New York Community Trust; Princess Grace Foundation-USA; Robert Rauschenberg Foundation; The Reed Foundation; The Jerome Robbins Foundation; Blanchette Hooker Rockefeller Fund; Fan Fox and Leslie R. Samuels Foundation; The Shubert Foundation; The Seth Sprague Educational and Charitable Foundation; The Thompson Family Foundation; Twin Beeches Foundation
Baryshnikov Arts Center is also grateful for support provided by the National Endowment for the Arts and public funds from the New York City Department of Cultural Affairs in partnership with the City Council. Funding is also made possible by the New York State Council on the Arts with the support of Governor Kathy Hochul and the New York State Legislature.
Yamaha is the official piano of the Baryshnikov Arts Center
Share Your Audience Review. Your Words Are Valuable to Dance.
Are you going to see this show, or have you seen it? Share "your" review here on The Dance Enthusiast. Your words are valuable. They help artists, educate audiences, and support the dance field in general. There is no need to be a professional critic. Just click through to our Audience Review Section and you will have the option to write free-form, or answer our helpful Enthusiast Review Questionnaire, or if you feel creative, even write a haiku review. So join the conversation.