BAC Presents Zab Maboungou & Nora Chipaumire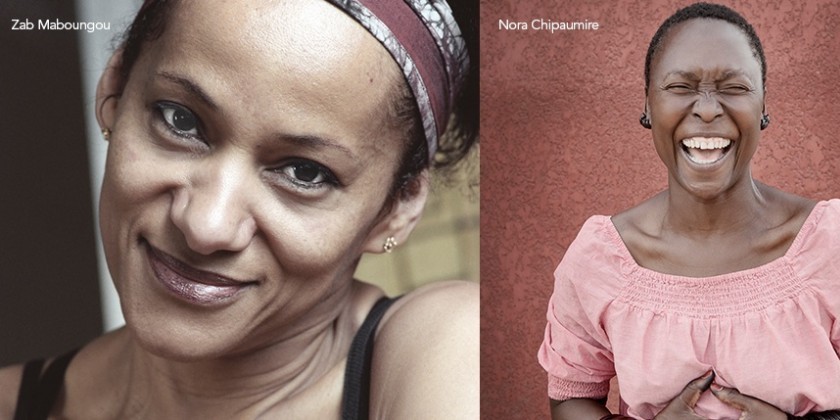 Company:
Baryshnikov Arts Center
BARYSHNIKOV ARTS CENTER PRESENTS
AN EVENING WITH ZAB MABOUNGOU
Performance by Nora Chipaumire
Conversation moderated by Dr. Charmaine Warren
October 24 at 7PM
New York, NY, October 9, 2013 — Baryshnikov Arts Center (BAC) presents a performance and conversation with dance artists Zab Maboungou and Nora Chipaumire on Thursday, October 24 at 7PM in BAC's Studio 4A. The evening is one of several free public presentations offered as part of BAC's fall 2013 season.
Zimbabwean, New York-based choreographer and performer Nora Chipaumire has been challenging stereotypes of Africa and the female black body for the past decade—most recently through rite riot, her powerful re-imagining of Nijinsky's The Rite of Spring. Furthering her investigation, Chipaumire has conceived a series that will bring together African women who have made pioneering contributions to contemporary dance. Through performances, conversations, and workshops, Chipaumire aims to raise awareness and ignite dialogue about these women, their bodies of work, and their influence on the world of performance.
BAC hosts the first installment in the series, which will feature Zab Maboungou. Born in Paris and raised in Congo-Brazzaville, Maboungou studied traditional African dance from Mali, Ivory Coast, Guinea, Nigeria, and Zimbabwe, and has danced with Congolese ballets in Europe and North America. She founded Compagnie Danse Nyata Nyata in 1987 to perform her choreographic dance works, which have been presented across North America and internationally. Based in Montreal since 1981, Maboungou's work as a dancer, choreographer, instructor, and author is dedicated to the development and promotion of African dance in Canada and abroad. 
An evening with Zab Maboungou culminates a weeklong residency at BAC during which Maboungou will develop a new solo work for Chipaumire. On the evening of October 24, Chipaumire's performance of the work will be followed by a conversation with the artists and audience, moderated by dance writer and historian Dr. Charmaine Warren.
The residency concludes with an intensive workshop for emerging dance artists led by Maboungou on Friday and Saturday, October 25 and 26.
Ticket Information
An evening with Zab Maboungou will be presented on Thursday, October 24 at 7PM at Baryshnikov Arts Center's Studio 4A, located at 450 W. 37th Street between 9th and 10th Avenues.
Admission is free. Reservations are required and will be available beginning Thursday, October 10. Tickets may be reserved online or by phone: BACNYC.ORG / 866 811 4111.  
About the Artists
Zab Maboungou, who is of French and Congolese origin, is the artistic director of Zab Maboungou / Compagnie Danse Nyata Nyata, founded in 1987 and based in Montreal, Quebec. Maboungou began developing her craft in early childhood through contact with traditional dance and music groups in Congo-Brazzaville. She has worked with African dance masters including Lucky Zébila (Congo/France) and Babatunde Olatundji (Nigeria/USA). As a performer and choreographer, she has integrated a variety of traditional and "trad-modern" forms from Central, West, and East Africa. Maboungou's more than twenty solo and ensemble works—which include Réverdanse (1995), Incantation (1997), Gestes Dé/libérés (2009), and Montréal by Night (2010)—have been presented on stages worldwide, including Canada, the United States, Korea, Italy, Germany, Cameroon, Burkina Faso, Senegal, and Mexico. Her original dance technique, called LOKETO, draws on the rhythmic foundations of African dances and musical forms. Considered a dance pioneer in Canada, Maboungou has received honors at the International Association of Blacks in Dance Annual Conference in Toronto (1993, 2011), and received the 2013 Charles Biddle award for immigrants who have contributed to Quebec's cultural and artistic development on the national or international level. In 2014, she will receive the Dr. Martin Luther King Junior Achievement Award in recognition of her body of work, bestowed by Montreal's Black Theatre Workshop. Maboungou has also made an important contribution to dance in Africa. From 1995-2002, by invitation of The Minister of Culture of Ivory Coast, she was a guest artist at MASA, a festival supporting the creation and production of African performing arts. In 1997, she co-directed and facilitated the first large-scale Pan African French language choreographic workshop. She received tributes from The Ministry of Culture of Cameroon in 1997 and 2010. Also in 2010, Maboungou was honored during Kriye Bode's 5th Annual Colloquium on Haitian Dance & Drum at Alvin Ailey American Dance Theater. Maboungou is a professor of philosophy at Collège Montmorency in Laval, Quebec. She is the author of several articles on dance and the book HEYA: an historic, poetic and didactic treatise of African dance (2005). She is a sought-after public speaker at cultural institutions and universities. Her speaking engagements have included the keynote address at Harvard University African Affairs Committee's conference African Dance Diaspora: A symposium on Embodied knowledge.
Nora Chipaumire has studied dance in many parts of the world including Africa (Senegal, Burkina Faso, Kenya, and South Africa), Cuba, Jamaica and the United States. A graduate of the University of Zimbabwe's School of Law, Chipaumire holds an M.A. in Dance and M.F.A. in Choreography and Performance from Mills College (CA). Chipaumire is a 2012 Alpert Award in the Arts recipient and 2011 United States Artist Ford Fellow. She is also a two-time New York Dance and Performance (aka "Bessie") Awardee: in 2008 for her dance-theater work, Chimurenga, and in 2007 for her body of work with Urban Bush Women, where she was a featured performer for six years (2003-2008) and Associate Artistic Director (2007-2008). She is the recipient of the 2009 AFROPOP Real Life Award for her choreography in the film Nora. She has also been awarded the 2007 Mariam McGlone Emerging Choreographer Award from Wesleyan University Center for the Arts, and a MANCC Choreographic Fellowship in 2007-2008. Her work has been supported by the MAP Fund, the Jerome Foundation, NYFA B.U.I.L.D., National Dance Project, NYSCA, The Joyce Theater Foundation with support from the Rockefeller Foundation's Cultural Innovation Fund, and the National Endowment for the Arts. Chipaumire's work Miriam received its world premiere at the TBA Festival in Portland before its New York premiere at BAM Fisher in the 2012 Next Wave Festival. Recent works include The Last Heifer (2012), commissioned by Danspace Project for Platform 2012, Parallels; Visible (2011), commissioned by Harlem Stage and created in collaboration with Jawole Willa Jo Zollar; Kimya (2011), a work for Jokajok!, a female ensemble based in Kenya; I Ka Nye (You Look Good) (2010), created and performed with choreographer Souleymane Badolo and musician Obo Addy; Silence/Dreams (2010), created and performed with Fred Bendongue; and lions will roar, swans will fly, angels will wrestle heaven, rains will break, gukurahundi (2009), created and performed with Thomas Mapfumo. She is featured in several films, including Dark Swan (dir. Laurie Coyle, 2011); the award-winning Nora (dir. Alla Kovgan & David Hinton, 2008); and the documentary Movement (R)evolution Africa (a story of an art form in four acts) (dir. Joan Frosch & Alla Kovgan, 2006). Chipaumire has been an adjunct faculty member at Arizona State University-Tempe, Bennington College, the University of Minnesota-Minneapolis, and Barnard College.
Charmaine Warren, Ph.D., is on faculty at Ailey/Fordham, The Ailey School, and NYU's Tisch School of the Arts. She holds a B.A. in dance and English, a Masters Degree in Dance Research, Reconstruction and Choreography, and Ph.D. in History from Howard University where she taught for eight years. She lectures and teaches movement nationally and internationally. Astanga-based yoga remains an integral part of all her movement classes. After performing for many years with major New York dance companies, Dr. Warren joined david rousseve/REALITY with whom she performed for over a decade. Dr. Warren currently writes on dance for Dance Magazine and The Amsterdam News, sits on various dance committees and is a dance consultant.
About Baryshnikov Arts Center (BAC) 
BAC is the realization of a long-held vision by artistic director Mikhail Baryshnikov who sought to build an arts center in Manhattan that would serve as a gathering place for artists from all disciplines. BAC's opening in 2005 heralded the launch of this mission, establishing a thriving creative laboratory and performance space for artists from around the world. BAC's activities encompass a robust residency program augmented by a range of professional services, including commissions of new work, as well as the presentation of performances by artists at varying stages of their careers. In tandem with its commitment to supporting artists, BAC is dedicated to building audiences for the arts by presenting contemporary, innovative work at affordable ticket prices. For more information, please visit www.bacnyc.org.
Baryshnikov Arts Center is grateful for the support of its generous individual and institutional annual fund donors in 2013.
The AG Foundation, Arison Arts Foundation, Mikhail Baryshnikov and Lisa Rinehart, Bloomberg, Tina and Jeffrey Bolton Family Fund, Catherine Brennan, Clyde Brownstone, Capezio Ballet Makers Dance Foundation, Citizens of Humanity, Frank and Monique Cordasco, The Irene Diamond Fund, Richard and Jennie DeScherer, Joseph and Diana DiMenna, James H. Duffy, Ehrenkranz Family Foundation, The Enoch Foundation, Barbara Fleischman, Sandra Foschi, Foundation for Contemporary Arts, Slavka B. Glaser, Louise Guenther, Agnes Gund, Roger and Joan Hooker, Huong Hoang, The Howard Gilman Foundation, Danny Kaye and Sylvia Fine Kaye Foundation, Donald M. Kendall, Kent-Lucas Foundation, Jarrett and Maritess Lilien, Jane Lipton, The Andrew W. Mellon Foundation, Mertz Gilmore Foundation, Aidan Mooney, National Endowment for the Arts, New York City Department of Cultural Affairs in partnership with City Council, New York State Council on the Arts with the support of Governor Andrew Cuomo and the New York State Legislature, Steven and Michèle Pesner, Princess Grace Foundation-USA, The Jerome Robbins Foundation, Fan Fox and Leslie R. Samuels Foundation, Dorothy Scheuer, The Shubert Foundation, Christina Sterner, The Thompson Family Foundation, Jennifer Tipton, and Suzanne Weil.
Press Contact: Kristen Miles / kmiles@bacnyc.org / 646 731 3221