BALLET NEXT PRESENTS FALL SEASON AT THE JOYCE THEATER, OCTOBER 23-28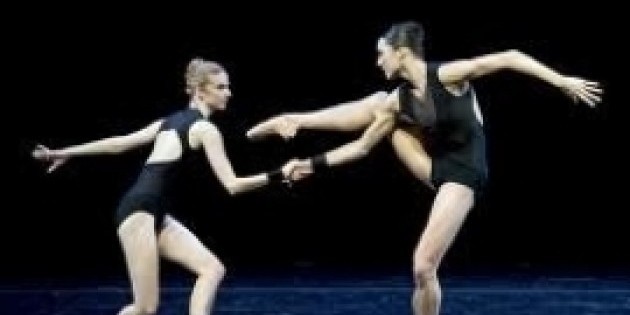 Featuring Five World Premieres by Mauro Bigonzetti, Brian Reeder, Margo Sappington, Alison Cooke Beatty, and Charles Askegard
BALLET NEXT PRESENTS FALL SEASON AT

THE JOYCE THEATER, OCTOBER 23-28

Featuring Five World Premieres by

Mauro Bigonzetti, Brian Reeder,

Margo Sappington, Alison Cooke Beatty, and Charles Askegard

New York, NY, (September 4, 2012) -- Ballet Next, the independent ballet company founded by acclaimed dancers Michele Wiles and Charles Askegard, will present its first week-long season at The Joyce Theater from October 23-28, 2012. Since debuting for a one-night only, sold out performance at The Joyce in 2011, Ballet Next has forged an exciting creative laboratory, bringing together world-class choreographers, dancers and musicians to develop contemporary work with the highest level of classical technique as its foundation. The highly-anticipated season includes two programs with five world premieres from Mauro Bigonzetti, Brian Reeder, Margo Sappington, Alison Cooke Beatty, and Charles Askegard, and features dancers from New York City Ballet, Stuttgart Ballet, Houston Ballet, and Pacific Northwest Ballet, as well as young talents who comprise the Ballet Next group of Soloists. The Ballet Next Ensemble will accompany the dancers with live music led by noted Israeli cellist Elad Kabilio.

New-to-the-scene choreographer Alison Cooke Beatty has created a new piece for six dancers,

Tinntinnabuli,set to music by Arvo Pärt, which will open the program. Choreographer Margo Sappington has further developed her critically acclaimed pas de deux

Entwined.

The ballet is now set to

Erik Satie's "Gnossienne No. 2,7,5,3, & 4," and

has been expanded to include a solo for Michele Wiles, as well as a new duet and trio.

Completing the program is

La

Follia, a duet created for Ballet Next in 2011 by Italian choreographer Mauro Bigonzetti, set to Antonio Vivaldi's quartet sonata of the same name.

The Company will present the world premiere of Picnic, a ballet inspired by the 1975 film Picnic at Hanging Rock, set to music by Dmitri Shostakovitch with choreography by Brian Reeder from American Ballet Theater. The program also includes the world premiere of Stravinsky Divertimento, a pas de deux choreographed by Charles Askegard, and a new work by Mauro Bigonzetti.

In addition to Wiles and Askegard, guest artists slated to perform include

Georgina Pazcoguin and Ana Sophia Scheller, New York City Ballet; Jason Reilly, Stuttgart Ballet;

Karina Gonzalez, Houston

Ballet; and Carla Korbes, Pacific Northwest Ballet.

Company Soloists include Lilly Nicole Balogh and Kristie Latham.

A festive opening night benefit performance in partnership with Accelerate Brain Cancer Cure (ABC2) is planned for October 23, with proceeds going to support new Ballet Next choreography and advanced research to fight brain cancer.

For information and benefits tickets, please visit

www.abc2.org

or

www.balletnext.com

Tinntinnabuli, Entwined,

La Follia

Oct. 23, 7:30pm, Oct 25, 8pm, Oct. 27, 2pm, Oct 28, 2:00pm

Stravinsky Divertimento

, Picnic,

New Bigonzetti piece

Oct 24, 7:30pm, Oct 26, 8pm, Oct 27, 8pm, Oct 28, 7:30pm

Tickets for the performances start at 0, and are available by calling JoyceCharge (212-242-0800); by visiting The Joyce Theater Box Office (Monday-Friday, 12:00-6:00pm); or by charging them online at joyce.org The Joyce Theater is located at 175 Eighth Avenue at West 19th Street.

Ballet Next is carving a unique role in the dance world by bringing leading dancers, choreographers and musicians together in a collaborative environment that encourages risk taking, process, and a commitment to excellence. The mission of the company is to explore the breadth and diversity of classical ballet through innovative programming, drawing from a diverse pool of world-class performers to showcase enduring classics as well as commissioned creations from contemporary choreographers. The intimate setting of many of Ballet Next's performances and use of new technology allow for a high level of interaction and discussions, bringing the experience of ballet closer to the audience and advancing the art form's presence in today's society.

Ms. Wiles was born in Baltimore, Maryland, and began her dance career at age eight.

She trained with the Kirov Academy of Ballet, the Joffrey Ballet and The Royal Ballet before joining American Ballet Theatre's Studio Company (now ABT II) in 1997.

In 1996, Wiles was a Gold Medal winner at the 18th International Ballet Competition in Varna, Bulgaria; a Bronze Medal winner in Nagoya, Japan; and a finalist at the Paris International Dance Competition. She was a Princess Grace Foundation — U.S.A. Dance Fellowship recipient for 1999–2000 and won the Erik Bruhn Prize in 2002.

Wiles joined American Ballet Theatre in 1998. She was promoted to Soloist in 2000, and was a Principal Dancer from 2005 through 2011.

Charles was born in Minneapolis, Minnesota, and began his dance training at the age of five with the Minnesota Dance Theatre.

At age 18, Mr. Askegard joined the corps of American Ballet Theatre and was promoted to soloist in 1992. In 1997, he joined New York City Ballet where he served as Principal Dancer from 1998 until 2011.

Mr. Askegard has appeared in several nationally televised events including Live from Lincoln Center broadcast, "New York City Ballet's Diamond Project: Ten Years of New Choreography" on PBS, and "Lincoln Center Celebrates Balanchine 100."

Mr. Askegard has been a guest performer for the Dutch National Ballet, The National Ballet of Canada, Bavarian State Opera, and Pacific Northwest Ballet.

THE JOYCE THEATER FOUNDATION, INC., a non-profit organization, has proudly served the dance community and its audiences since 1982. The founders, Cora Cahan and Eliot Feld, acquired and renovated the Elgin Theater in Chelsea, which opened as The Joyce Theater in 1982. The Joyce is named in honor of Joyce Mertz, beloved daughter of LuEsther T. Mertz. It was LuEsther's clear, undaunted vision and abundant generosity that made it imaginable and ultimately possible to establish the theater. One of the only theaters built by dancers for dance, The Joyce Theater has provided an intimate and elegant New York home for more than 290 domestic and international companies. The Joyce has also commissioned more than 130 new dances since 1992. In 1996, The Joyce created Joyce SoHo, a dance center providing highly subsidized rehearsal and performance space to hundreds of dance artists. New York City public school students and teachers annually benefit from The Joyce's Dance Education Program, and adult audiences get closer to dance through pre-engagement Dance Talks and post-performance Humanities discussions. The Joyce Theater now features an annual season of approximately 48 weeks with over 340 performances for audiences in excess of 135,000.