BAX 2015 Teen Arts Conference Internship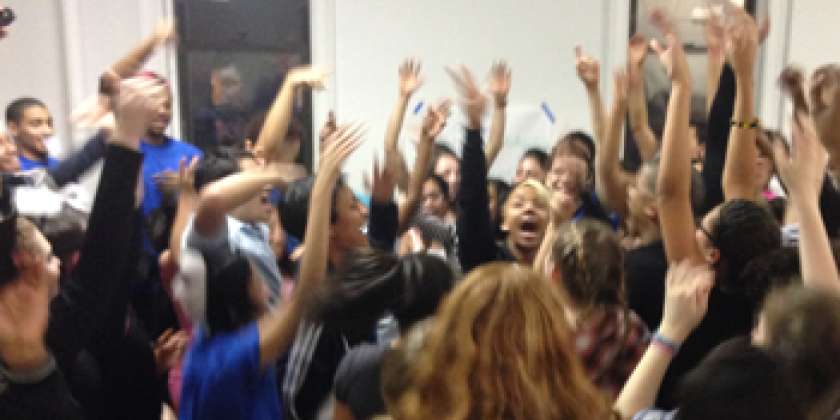 Company:
BAX
BAX/Brooklyn Arts Exchange, a multi-disciplinary non-profit performing arts organization in Park Slope, Brooklyn, is seeking a self-motivated, bright, and organized individual to work with the Education Department staff on planning and producing BAX's annual Teen Arts Conference, taking place Saturday, March 7, 2015.
About the Teen Arts Conference: For over 15 years, BAX's Teen Arts Conference (TAC) has provided teen performing artists (ages 13-18) across New York City and beyond an opportunity to come together as part of a wider cultural community of learners and practitioners. The free, day-long conference offers a range of theater, dance, and movement workshops; panel discussions with professional artists, companies, and leaders in the field; and culminates with a Performance Gala in the BAX Theater, where the teen groups perform their work for a public audience in a professional theater. Each year the conference accommodates roughly 100 teen artists and 25 additional performing arts educators. To read more about the conference, visit: http://youth.bax.org/general-information/youth-education-festivals/teen-arts-conference/
Internship primary duties include: Assisting the BAX Education Department in all related festival administrative tasks. Taking a leading role in preparation and coordination of the Teen Arts Conference, including:
- Supporting festival outreach and communication efforts. This may include internet research, phone calls & emails, neighborhood canvasing, and data documentation.
- Working with Education Department to coordinate conference schedule, group, staffing/volunteer, and space assignments.
- Coordinating conference supply and equipment needs. 
- Creating TAC 2015 Catalogue for participating groups and group representatives.
- Organizing informational packets and conference registration table materials for participating groups and workshop facilitators.
- Tracking incoming workshop facilitator contracts.
- Documenting program using photos, video, and music before, during, and after conference.
Qualifications:
- College or Graduate student with related major and/or keen interest in pursuing a career in arts education, arts administration, creative producing, or event management fields. 
- Excellent writing and communication skills.
- Experience and/or interest working with children.
- Previous work experiences and/or special interests in the performing arts.
- Experience event planning and/or performance production a strong plus.
- Wordpress experience a strong plus.
This is a great opportunity for an aspiring arts administrator, event planner, or performance artist to gain administrative skills, work with young people, and network among a professional artist community. Candidate must be available to work select weekends. For more information about BAX and the Education Department, please visit www.youth.bax.org
16-20 hour weekly commitment over a 6-week period, beginning February 2, 2015-March 14, 2015; Conference is March 7, 2015. Inclusive stipend $325.00, depending agreed upon weekly hours. 
Please send cover letter expressing your interest in the position and availability, resume, and two references by November 10, 2014 to eduintern@bax.org. Include "TAC Internship 2015" in email subject line. Interviews to take place from November 10 through December 12th, or until position is filled. Due to high volume of applicants we will only contact candidates that we're interested in interviewing. No phone calls please.