Contribute
Your support helps us cover dance in New York City and beyond! Donate now.
BAX DISABLED ARTIST SPACE GRANT PILOT PROGRAM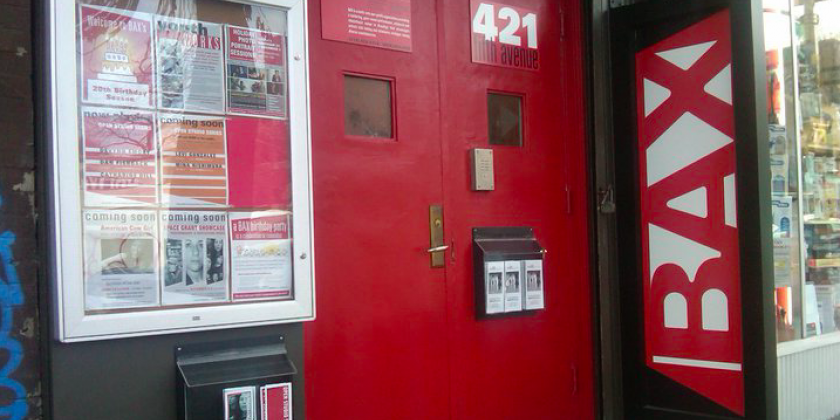 Company:
BAX
Providing space, time and support for dance, theater, and performance artists with disabilities.
APPLICATION IS DUE: THURSDAY, DECEMBER 13 BY 11:59 PM 
via Submittable which offers various accessibility features.
NOTIFICATION ON OR BEFORE: FRIDAY, JANUARY 4, 2019
(artists will be asked to immediately put in rehearsal requests to start in February)
IMPORTANT NOTE:
PLEASE READ ALL THE GUIDELINES AND ELIGIBILITY BEFORE CLICKING ON THE APPLICATION LINK AT THE BOTTOM OF THIS PAGE.
BAX is excited to announce its new DISABLED ARTIST SPACE GRANT PILOT PROGRAM to take place February-June 2019. The project is facilitated by Lindsay Londs Reuter, a non-disabled cultural practitioner working at the intersections of performance and accessibility. The grant will offer 100 hours of space to four disabled artists working in performance selected through a panel process.
Modeled after BAX's long-standing space grants, artists will be provided with an honorarium, travel stipend, and advising. Selected artists will be asked to attend and participate in 3-4 sessions evaluating the pilot, sharing their own work with each other and with BAX's resident artists and staff. 
This project is generously supported, in part, by public funds from the New York City Department of Cultural Affairs as part of the CreateNYC Disability Forward Fund. 
ARTIST WILL RECEIVE:
100 hours of rehearsal space to be used at Cora Dance (ADA Accessible) or BAX's main site (not ADA accessible).
Please read carefully below each space's specifications, amenities, and availability
Artists will receive a $400 artist fee, $250 travel stipend, and an additional $100 honorarium for participation in 3-4 meetings (total $100, not per meeting) for a total compensation of $750.
ELIGIBILITY:
Applications are open to all dance, theater and performance artists who identify as disabled and are NYC residents. The applicant artist should identify as disabled. We will consider apparent + non-apparent disabilities.
Must be able to use the space grant between February-June 2019 at either Cora Dance (during the hours available) or at BAX's Main Site. See specifications below. Artists who require an ADA accessible space and cannot work at BAX's main site will be prioritized at Cora Dance.
Must agree to participate in 3 cohort meetings scheduled on Sundays from 3-5pm on: January 27, March 3, and June 2, 2019, to take place at Cora Dance. An optional meeting with BAX resident artists and staff may be also scheduled in April TBD.
These meetings aim to build and develop artistic strategies and relationships among peers. They are also opportunities for BAX to gain insight and feedback as we embark on this pilot program. On top of their honorarium of $400 (artist fee) and $250 (travel stipend), artists will be compensated an additional $100 total for this labor. Are you willing to contribute feedback in these meetings? We request artists commit to attending all 3 meetings with an optional 4th meeting with other BAX resident artists in April.
ABOUT THE SPACES AND AVAILABILITY:

Cora Dance (358 Van Brunt St, Red Hook, Brooklyn)
Rehearsal space is available only during the following hours: (please keep this availability in mind when applying for the grant).
Monday-Friday 9:00am–1:30pm
Saturdays: 3:30–8:30pm
Sundays: Noon–8:00pm
Extended hours may be available during the weeks of February 18-22 and April 19-26.
Cora houses one well-appointed ADA accessible dance studio (34 x 20) with a sprung marley floor, changing room, barres, sound system, and bathroom. Limited storage (not accessible). For more information click here.
BAX Building (421 Fifth Avenue, Park Slope, Brooklyn)
Rehearsal space is available:
9:00am–10:30pm 7 days/week (excluding some national holidays)
BAX has four rehearsal studios suitable for dance and performance rehearsals.  For full specifications, click here.  
NOTE: The BAX studios are located on the 2nd and 3rd floors with no elevator access.