BAX's Fall Space Grant Showcase 2014 Inbox x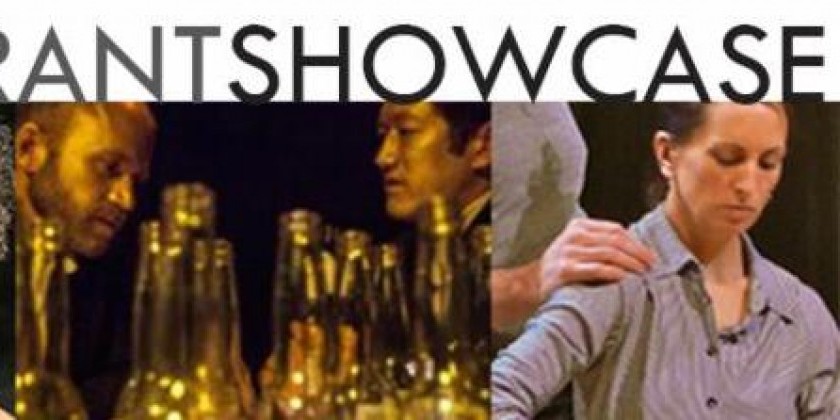 Company:
BAX
Featuring work by the Fall 2014 Space Grant Recipients




Friday, December 5 @ 8:00 pm 
Rebecca Patek, Kirya Traber, Royal Osiris Karaoke Ensemble 

Saturday, December 6 @ 8:00 pm 
Royal Osiris Karaoke Ensemble, Shelley Senter, Kirya Traber 

Sunday, December 7 @ 6:00 pm 
Shelley Senter, Rebecca Patek

Tickets: General $16 | Low-Income $10 [Buy Tickets] 
The SPACE GRANT PROGRAM at BAX is designed to give Brooklyn based dance, theater and performance artists the opportunity to create new work in a setting that is conducive to working deeply and exploring new territory.

About the Artists

Rebecca Patek is a New York-based choreographer and performance artist creating work that synthesizes dance, theater and comedy. Patek was an Artist in Residence at Movement Research (2011 to 2013). She was also awarded a 2010-11 Residency at Dance Theater Workshop( New York Live Arts). She has attended residencies at the Atlantic Center for the Arts, and at Earthdance as part of the E/merge Artist Residency. Works commissioned in 2012-14 include "you and i of the storm" for the Museum of Arts and Design, "Real Eyes" for The Chocolate Factory Theater, and ineter(a)nal f/ear as part of Festival TBD: Emergency Glitter and American Realness at Abrons Art Center.

Shelley Senter has toured the world as an independent and collaborative performer, choreographer, teacher and advocate of dance. She has been critically recognized and awarded for her distinct approach to movement, and is committed to the fundamental idea that all dance is collaborative, improvised and site-specific. She is a teacher of the Alexander Technique, and has been exploring the application of the principles of this work to the performing body and mind for more than 20 years.  A living archive of seminal post-modern work, she is a repetiteur of the work of Trisha Brown (with whom she danced from 1986 to 1991) and Yvonne Rainer.  Senter has worked with many distinguished artists in the New York and European dance communities, and is a member of LOWER LEFT, a performance collective dedicated to the collaborative process. Her work has been presented in Canada, Mexico, Argentina, Brazil, Ecuador, Chile, France, Italy, England, Denmark, Sweden, Greece, New York, San Francisco, Seattle, Portland, Marfa.

Kirya Traber is a nationally awarded writer, performer, and cultural worker. She hold an MFA in Acting from the New School for Drama. Traber is the recipient of the California Governor's Award for Excellence in the Arts, Robert Redford's Sundance foundation award for Environmental Activism in the Arts from, an Honorable Mention in Poetry from the 2011 Astrea Lesbian Writers Fund, and Congresswoman Barbara Lee's Certificate of Recognition. She is a two time judge for the LAMDA Literary awards in LGBT Drama, and an alumnus of the 2010 VONA/Voices retreat for writers of color, and the 2012 EmergeNYC intensive at the Hemispheric Institute. Kirya has toured the United States and Canada as a poet and solo performance artist, and has featured at the Living Word Festival at Yerba Beuna Center for the arts in the SF Bay Area, San Francisco's National Queer Arts Festival, and at La Mama's Experimental Theater Club, to name a few. Her work can be found in the pages of, Other Tongues, an anthology by Inana Press, and in her 2009 chap book, black chick. She works as an arts-educator with youth and adults in schools, community-based settings, and within the juvenile justice system.

Royal Osiris Karaoke Ensemble (Tei Blow and Sean McElroy) [ROKE] is a musical priesthood that explores the metaphysics and mythologies of love, desire and courtship at the end of the 20th century. By appropriating strategies of installation art, opera, and theater, ROKE creates multimedia installation-performances with original music to create modern-day rituals out of found text and video sources.

Visit artistservices.bax.org/space-grants to learn more about the Space Grant Program. 
ABOUT BAX

Founded in 1991, BAX | Brooklyn Arts Exchange, is a community based performing arts center dedicated to developing artists of all ages, from children to professionals. The organization offers community access to arts and culture, supporting the creation of new work by emerging artists, engaging diverse audiences and providing arts education to youth and families. BAX has intentionally constructed an environment where children study and professional artists create under the same roof. Students are mentored by professional directors and choreographers. The organization's distinct focus on developmental process makes it a nurturing incubator for experimental dance and theater artists and is an important advocate for under-represented voices in the New York City performing arts community. 

BAX's Artist Services Programs receives generous funding from the National Endowment for the Arts, New York State Council on the Arts with the support of Governor Andrew Cuomo and the New York State Legislature, NYC Department of Cultural Affairs, in partnership with the City Council, Andrew W. Mellon Foundation, Mertz-Gilmore Foundation, Foundation for Contemporary Arts, the Jerome Foundation, the Jerome Robbins Foundation, the Puffin Foundation, the Harkness Foundation for Dance, and the Lambent Foundation Fund of Tides Foundation.