BEACH SESSIONS: ROCKAWAY'S FIRST OUTDOOR SUMMERTIME CONTEMPORARY DANCE PERFORMANCE SERIES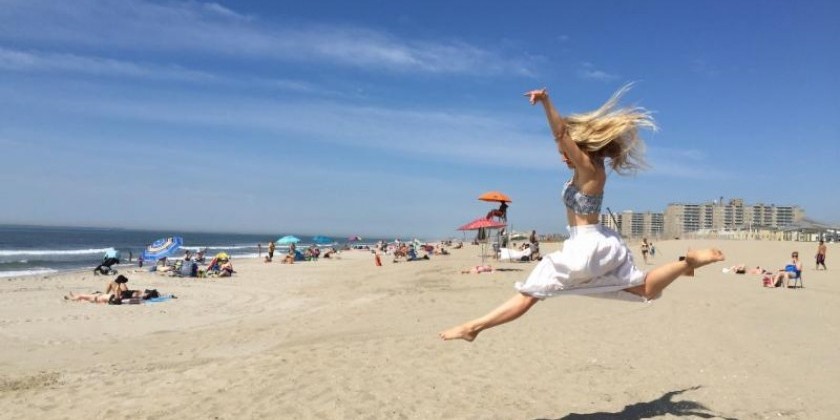 Company:
THE D.R.E.A.M RING, Emery LeCrone Dance, Loni Landon Dance Project and Shannon Gillen | VIM VIGOR
BEACH SESSIONS
 
ROCKAWAY'S FIRST OUTDOOR SUMMERTIME CONTEMPORARY DANCE PERFORMANCE SERIES HOSTING DISTINGUISHED YOUNG CHOREOGRAPHERS FROM NEW YORK CITY
 

Rockaway Beach, Queens, NY, August 2015.  Beach Sessions kicks off its inaugural season on August 1st and continues for four consecutive Saturdays with two free performances at 4pm and 6pm, through August 22nd, 2015. The season will feature a diverse program presenting new works by THE D.R.E.A.M RING, Emery LeCrone Dance, Loni Landon Dance Project and Shannon Gillen | VIM VIGOR. Please find a schedule with programming details below.  The performances will take place on a 360 degree stage set right on the sand off of Beach 81st Street.

Beach Sessions' mission is to support creation, to inspire sustained investment in the natural beauty, and raise awareness of the unifying social importance of our oceans and beaches. This project is meant to show that dance has remarkable range of possibilities.

The series aspires to become a Rockaway Beach annual summertime tradition providing a unique platform for contemporary choreographers and dancers to connect with a new audience, and offering beachgoers and dance lovers a fresh and exciting way to experience the waterfront, its concessions, and the local Rockaway community.

Beach Sessions is partnering with Surfrider Foundation, an organization that is dedicated to the protection and enjoyment of the world's oceans and beaches, to have organized beach clean-ups after each dance performance. By participating in the clean-up, a drink ticket will be handed out to a local bar to enjoy a nice cool refreshment sponsored by SixPoint Brewery.

Beach Sessions was developed by Sasha Okshteyn and produced in collaboration with Black & White Project Space, Brooklyn, NY.
The inaugural season has been made possible with the help of NYC Parks Department, Rockaway Artists Alliance, Rockaway Summer Magazine, Surfrider Foundation, SixPoint Brewery and all the Kickstarter supporters.

 
Lineup and Performance Schedule

THE D.R.E.A.M RING
August 1 | 4pm and 6pm
Beach Cleanup: 7pm
 
THE D.R.E.A.M. RING (DANCE RULES EVERYTHING AROUND ME) strives to provide quality competitions that honors the culture of the Brooklyn community, encourages artistic and character development, provides youth with a safe environment to express their artistry, ensures a wealth of opportunities such as performing in schools and teaching in after school programs, displays the young artist and their talents through social media marketing and branding through artists reels, dance videos, performances, and helps young artists gain the skills needed to build careers in the dance industry.

 Reggie Gray is a choreographer and dancer that has been a pioneer of flex dance for more than a decade, performing around the globe. In 2011 Gray founded the dance competition D.R.E.A.M., which has become an important launch pad for young flex dancers. Gray as made several appearances on American television and in commercials, and has been featured in music videos with Wayne Wonder, Sean Paul, Nicki Minaj, and others.  

 Most notably, in 2015, Reggie Gray and THE D.R.E.A.M. RING collaborated with Director Peter Sellars and showcased "FLEXN" at the Park Avenue Armory.

Emery LeCrone Dance
August 8 | 4pm and 6pm
Beach Cleanup: 7pm

 Emery LeCrone  is an American choreographer, teacher and dancer. In past seasons, Ms. LeCrone has created new pieces for professional dance companies such as Colorado Ballet, St. Louis Ballet, North Carolina Dance Theatre, and Minnesota Dance Theatre among others. In 2014, Ms. LeCrone presented her second commissioned evening for the Solomon R. Guggenheim's esteemed Works & Process series. The performance featured dancers from New York City Ballet and American Ballet Theatre and new costumes by famed fashion designer Yigal Azrou?l. Additionally that season, Ms. LeCrone re-staged Outflow Boundary for Marymount Manhattan College, created a new full-length ballet Symphonic Etudes for Ballet Academy East, and premiered Opus. 19 Andante for Daniel Ulbricht's company Stars of American Ballet. She also founded her own company, Emery LeCrone Dance, with the goal of providing a home for the creation of her new dance works and an environment in which to preserve her past repertory.

 Hailed by The New York Times as "...inventive...a ready for primetime knockout" and by the New Yorker an "ambitious...expansive, and dynamic." Ms. LeCrone continues to push the boundaries as an emerging female choreographer of her generation.

 Loni Landon Dance Project
August 15 | 4pm and 6pm
Beach Cleanup: 7pm

 Loni Landon, born and raised in New York City, received her training from the NYC High School of Performing Arts, Dance Theater of Harlem, The School at Jacob's Pillow and The Scholarship Program at Hubbard Street Dance Chicago. Her work has been shown at The Joyce Theater as part of Working Women, Jacob's Pillow Inside/Out series, APAP at City Center, The Ailey Theater, Dance Now at Joe's Pub, HT CHEN'S NewSteps Choreography Series, The Dumbo Dance Festival, and The State Theater of Munich. She has also been a finalist in the Hannover International Choreographers Festival and to represent the US in the International Solo Tanz Theater Competition in Stuttgart, Germany. She has created works for Northwest Dance Project, Ballet X, The NYC High School for Performing Arts, The Hartt School, The Juilliard School, Marymount Manhattan College, and SUNY Purchase.

 Loni, along with Gregory Dolbashian, founded "THE PLAYGROUND". The Playground is a new choreographer's initiative designed to give emerging choreographers a place to experiment, while allowing professional dancers to participate on a donation basis. The Playground was recognized by Dance Magazine as a 25 To Watch for 2013.

Shannon Gillen | VIM VIGOR
August 15 | 4pm and 6pm
Beach Cleanup: 7pm

 Shannon Gillen is the founder, artistic director and choreographer of New York's visionary new dance company VIM VIGOR, which is currently being launched. Through a prolific body of work, Gillen has pioneered a recognizable artistic language that possesses heroic physicality, electric emotional life, and cinematic imagery that illuminates and heightens the narrative imagination. In a 2013 Brooklyn Magazine article that named her as one of city's top twenty artists, Gillen was championed for her 'emotionally compelling' work that 'transcends the things it references and achieves a sort of platonic ideal of intelligent and elevated movement'. And L Magazine later wrote that Gillen's dancers 'force you to the edge of your seat, breath held, hands clenched.'

 An insatiable creator, Gillen has choreographed 18 new works since 2010 with notable commissions including the Mainfranken Theater W?rzburg, TIF Theater in Kassel, the TANZ Theater International Festival where she was a THINK BIG artist in residence, New York Live Arts, Dance New Amsterdam, HERE Arts Center, Judson Church, Tangente Theater with the Montreal Fringe Festival, PULSE Art Fair, with LMCC's Sitelines Series as part of NYC's River to River Festival, Bryant Park Presents, Festival Oltre Passo in Italy, for the Steps Repertory Company at the The Joyce Theater and Jacob's Pillow, and last year she was selected for the International Solo-Tanz Competition in Stuttgart where she received 3rd Prize. This summer VIM VIGOR was invited as a Principal Company at the prestigious Springboard Danse Festival in Montreal. Gillen also recently learned that she was selected as the single recipient of Hubbard Street's International Commissioning Competition for 2015/2016.

Sasha Okshteyn, Beach Session's Founder and Director. Sasha has lived in Rockaway Beach since April 2013. She was drawn to the ocean, the strong community vibes and the creativity this neighborhood and environment inspires. Since 2014, she is the Co-Director of Black & White Gallery / Project Space and Curator of Exhibitions and Special Projects for Black & White Project Space. In early 2015 she joined the Rockaway Summer Magazine team as the Features Editor.

Sasha previously was the Manager of Special Projects, Programming and Sponsorship at Ramsay Fairs, in charge of curating and producing site-specific installations for Pulse New York and Pulse Miami Art Fairs and responsible for sponsor relationships with Fortune 500 companies. Prior to joining Black & White Gallery / Project Space she worked as an Assistant Director at Slideluck, a not-for-profit art organization. Sasha holds a MA Degree in Visual Arts Administration from New York University (2011) and a BA Degree in Art History & Dance from George Washington University, Washington, DC.
Black & White Project Space located in Brooklyn, NY is a 501c(3) not-for-profit exhibition space dedicated to providing artists the freedom to experiment with new ideas and mediums without commercial pressures. By supporting experimentation and project-based exhibitions, artists are encouraged to cross over diverse art mediums and create site-specific installations as an extension of their representative work.  
www.blackandwhiteartgallery.com
         
 Beach Sessions Location: The Sand, Beach 81st Street Entrance
Directions: Far Rockaway A Train to Broad Channel. Transfer to the S (Shuttle to Beach 90). 
Rain Dates: Rain Dates or Rain location will be posted closer to date.

 For more information contact: 
Beach Sessions Rockaway
beachsessionsrockaway@gmail.com
917-523-2786