BERLIN, GERMANY: MATAN LEVKOWICH: ANIMAL INSTINCT Workshop - November 4+5, 2017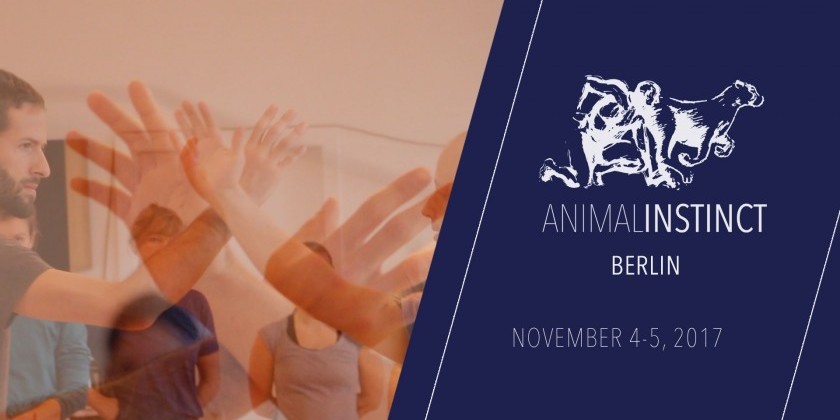 Company:
MATAN LEVKOWICH
Hey,
you are cordially invited to the workshop:
ANIMAL INSTINCT – Movement Reaserch & Contact Improvisation –
with MATAN LEVKOWICH
DATE: November 4+5, 2017
NICE VENUE: EDEN Studios - part of Dock11 Berlin -
COST: Earlybird 125€ (money transfer until September 23, 2017), thereafter 155€
YOUR REGISTRATION: For registration details and workshop questions please contact me by e-mail at xs4jan@gmx.de
EVENT WEBSITE: http://contact-improvisation.net/2017/08/01/animal-instinct-matan-levkowich-nov-45-2017/
LIKE THE EVENT: https://www.facebook.com/events/1354950411287365/
SCHEDULE:
November 4+5, 2017
Saturday: 11:00-14:00 / 15:00-18:00 / 18:30-20:00 (open space/jam)
Sunday: 11:00-14:00 / 15:00-18:00
ABOUT THE WORKSHOP: https://vimeo.com/103231069
WORKSHOP DESCRIPTION:
ANIMAL INSTINCT is an ongoing movement research. The hardcore of this practice is to gain freedom in motion. By moving away from any ideology, style or form, we can reexamine our physical abilities with fresh eyes. The work refers to information from various movement disciplines (contact improvisation, martial arts, somatic practices & contemporary dance) and offers a wide spectrum of tools to study our body, to understand movement and communicate physically.
MAIN STUDY TOPICS:
- Body preparation (warm-up/cool-down)
- Physical Adaptation
- Flexibility and movement fluidity
- Undulation and spiral patterns
- Muscle tonus
- Hands as feet and feet as hands
- Reflexive awareness
- Structural limitations & manipulation
- Freedom in expression
The work passes through various constellations (solo, duet or group work), studying the never ending possibilities that occur in dynamic improvisations.
LEVEL:
The workshop is open for beginners and advanced movers.
LANGUAGE:
Language is english
Translation into german is possible
WATCH MATAN'S VIDEO:
https://www.youtube.com/watch?v=PzXq3ZtcXfM
https://www.youtube.com/user/justobehappy
https://vimeo.com/matanlevkowich
BIO MATAN LEVKOWICH:
Matan Levkowich is a dancer, choreographer and graphic designer. Movement Lab represents all his artistic engagements in the field of dance and performance. Matan's approach to movement is based on the study of the body's intuition. The study of intuition enables to navigate through instability and develops trust in the body's capacities. His choreographic work is inspired by social phenomena and human behaviour. From his base in Vienna, Austria, he tours around Europe, presenting his choreographic work, performing and leading workshops.
A WONDERFUL LOCATION:
EDEN***** STUDIOS
Breite Strasse 43
13187 Berlin (Pankow)
http://www.dock11-berlin.de/index.php/cat/c4_Service.html
…scroll down to "STUDIO 190.EG," in Haus 2
TRAFFIC LINKS:
Tram-Station "Pankow-Kirche": M1, M50
U & S-Bahn Pankow: U2, M27, S2, S8, RE3, RE5
Bus: 107, 155, 250, 255, X54, N50, N2
https://www.google.de/maps?daddr=13187+Berlin,+Breite+Strasse+43