Contribute
Your support helps us cover dance in New York City and beyond! Donate now.
BODYART Performs New York City Premiere of LOFT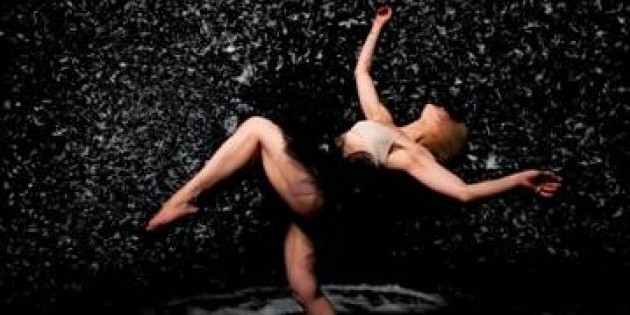 BODYART celebrates its NYC season in a 3-night performance series
BODYART Performs New York City Premiere of LOFT
"…primed with energy and weighted with emotion." – DFW.com
WHAT: BODYART celebrates its NYC season in a 3-night performance series
WHEN: Thursday, October 4 – Saturday, October 6 @ 8:00PM
WHERE: Baruch Performing Arts Center, 55 Lexington Avenue (25th Street between Lexington & 3rd Avenue),
Train 6 to 23rd Street
TICKETS: 0/5 Students & Seniors. To purchase tickets, call 646.312.5073 or visit www.baruch.cuny.edu/bpac/calendar


NEW YORK CITY, NY (For Release 8/23/12) --- BODYART, a multimedia, nine-member modern dance theatre company, today announced its New York City season slated to premiere three works by the company's Founder/Artistic Director Leslie Scott. Heavily influenced by photography, painting, and artistic collaborations, Scott presents a program that combines live musical performances, one-of-a-kind video projections and exclusive pictures with movement.
Highlighting the evening is LOFT – the NYC premiere of a 3-part work based on the movements of predatory birds. By coupling fluttering, wing-like arms and feathery black tutus with a provocative movement vocabulary while staged on a landscape of snow, LOFT symbolizes the juxtaposition of freedom and group mentality evidenced in the flocking of birds. LOFT is set to live music for contemporary string quartet PUBLIQuartet composed exclusively for this premiere by the Brooklyn-based W4 New Music composers collective.
According to Scott, "LOFT is otherworldly. "My hope is for audiences to feel that moment when you need to catch your breath. It's that moment of freedom when you're flying, reaching your peak, and are about to come soaring down. That moment on the roller coaster when you go all the way up and that split second before your body comes down. The thought was, 'What if you lived always in that moment?'"
Also on the program is the world premiere of I want…, a new mixed media solo performed by Rachel Abrahams. The dancer has an intricate relationship with an animated video in that it projects and reflects her own thoughts and feelings in a fun, light-hearted way. This marks yet another collaborative marriage for Scott - gripping choreography paired with animations by Adam Scher and illustrations by Ryan Taylor. Completing the program is the NYC premiere of Script (2010) – a celebration of movement set to a re-arranged Philip Glass score for saxophone quartet. Commissioned by Denton High School via the Dallas Dance Council, the music has been rearranged, performed and recorded by local Texas students.
About BODYART
Founded in 2006, BODYART is a New York City based dance theatre company whose artistic work consistently creates a content-based, emotionally charged and strongly visual dialogue with the audience through performances, research, and teaching. Artistic Director Leslie Scott's multifaceted compositions are a unique amalgam of raw movement, distilled behavior, bold images and refined detail that integrate the physical, emotional, and imaginative within BODYART's inventive and intricate performances. Scott embraces the delicate, mysterious, awkward and sometimes fractured experiences of life as BODYART's diverse and accomplished dancers and programs juxtapose the ever-shifting nature of our emotions and interactions through photographs, paintings, sound scores, and movement.
BODYART creates original works of human theater, as well as repertory shows, and workshops that captivate audiences with moving imagination across the country. The company collaborates with composers, video artists, and designers to create thought provoking and entertaining multimedia shows.
BODYART works closely with schools and communities to create customized programs, which offer a diverse option of master classes, lecture/demonstrations and choreographic workshops, often in conjunction with community performances. BODYART has designed several programs to introduce students to the basic concepts of dance, choreography, human movement and expression. The company is passionate about sharing their love and training for the arts with those who do not already know or have access to them as well as those who have.
BODYART members have taught and held residencies at schools including The School at Columbia University (NY, NY), Berks Ballet (Reading, PA), Rosemont Elementary (Dallas, TX), and Brandon Ballet (Brandon, FL). Additionally, the company has performed at the International Dance Festival, The Cunningham Studios, Ailey Citigroup Theater, Dallas Arts Festival, Fort Worth Dance Festival, Downtown Dance (NY, NY), Wave Rising Series (NY, NY), The Dixon Place, and the Edinburgh Fringe Festival. http://www.bodyartdance.com
About W4 New Music
West Fourth New Music is a composers' collective engaged in creating and presenting music and committed to exploring the relevance of live music to our changing modern world. Based in Brooklyn and co-directed by Tim Hansen, Molly Herron, Matt Frey and Ruben Naeff, West Fourth promotes the work of emerging composers and performers. http://www.w4newmusic.com
BODYART Presents NYC Season
Choreographer: Leslie Scott
Dancers: Rachel Abrahams, Madeline Day, Michele Jongeneel, Alexandra Karigan, Megan Krauszer, Stephanie Mas, Allison Ploor, Kathy VanDereedt, and Erin Yokayama
Music: W4 New Music (Tim Hansen, Molly Herron, Matt Frey, Ruben Naeff and Leaha Maria Villarreal), Patsy Cline, Philip Glass, Black Keys, and Arvo Part
Musicians: PUBLIQuartet (Curtis Stewart, violin; Amanda Gookin, cello; and special guests Patti Kilroy, violin; and Trevor New, viola)
Costume Design: Hadley Johnson and Rachel Abraham
Lighting Design: Yuriy Nayer (original) and Zephan Ellenbogen (current)
Film:
Adam Scher (animator) and Ryan Taylor (illustrator)