BRIC House Fall 2013 Programming
Announcing BRIC's programming for the inaugural season
BRIC ANNOUNCES PROGRAMMING FOR INAUGURAL SEASON IN BRIC ARTS | MEDIA HOUSE, ITS NEW MULTIDISCIPLINARY FACILITY IN DOWNTOWN BROOKLYN
40,000 Sq. Ft. Home for Artists and Brooklyn's Diverse Community Will Host:
Housewarming: Notions of Home from the Center of the Universe, the inaugural contemporary art exhibition at BRIC House, featuring the work of 12 Brooklyn-based artists working in varied artistic media and exploring ideas of home (October 3 – December 15)
Armchair Parade, from BRIC House Fireworks Residency artists Julian Crouch (Shockheaded Peter,
Big Fish
), musician and composer
Mark Stewart
(Bang on a Can All Stars) and filmmaker
Ragnar Freidank
(October 3 – 13)
Concerts by Burning Spear
and
OneBeat
(October 3),
Revive Big Band
and special guests
Gary Bartz
and
Sean Jones
(October 5),
Emily Wells
(October 18),
The Bad Plus
(October 26),
Nitin Sawhney
(October 30),
Henry Butler
,
Steve Bernstein
&
The Hot 9
(November 1)
World Premiere of a new version of
On Earth Together
, from BRIC House Resident Company
Ronald K. Brown's Evidence, A Dance Company
, with live music ensemble singers including Grammy Award-winning
Gordon Chambers
and 10 community members age 5-70 on stage with the dancers (November 13-24)
BRIC House Parties
, a monthly series of all-ages programming culminating in a live DJ and dance party at night: October 12 with
Gregorio Uribe Big Band
and
DJ Que Bajo?!
;
Party in the Key of Life
, November 9 with
Rebellum
and
DJ Spinna
; and
Past, Present, Home & Away
, December 14 with
mamarazzi
and
DJ Rekha
Work-in-progress presentations by artists in
BRIClab
, an incubator program for new work:
The Debate Society
(November 15 & 16),
Stew & Heidi
(November 22 & 23),
Christina Anderson
(December 6 & 7) and
Samita Sinha
(December 18 & 19)
A weekly
Stoop Series
, featuring free, drop-in programming including film screenings, conversations with artists, storytelling, poetry, lectures, and family activities (Tuesdays, starting October 8; events TBA)
A new,
Brooklyn-focused daily television and web program
, focused on Brooklyn news, culture, sports, politics, people and food.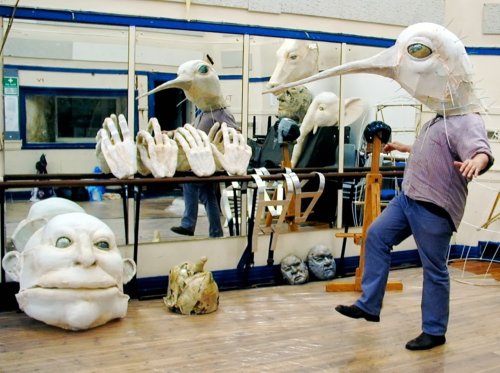 Photo: courtesy Julian Crouch
BRIC
is pleased to announce programming for its inaugural season in BRIC Arts | Media House (BRIC House), the new, 40,000-square-foot multi-disciplinary facility the organization will open in the former Strand Theatre at 647 Fulton Street on October 3.

The season features a mix of free activities and ticketed events; tickets are currently on sale.

BRIC House, which adjoins a renovated home for the organization UrbanGlass, will bring BRIC's performing arts, contemporary art and community media programs under one roof for the first time since the organization's founding in 1979. (BRIC's Celebrate Brooklyn! Performing Arts Festival will continue to take place at the Prospect Park Bandshell.)

The organization's fall 2013 programing is unified by an emphasis upon housewarming, welcoming Brooklyn communities into the various spaces comprising BRIC House, and reflecting, in keeping with BRIC's mission, the diversity of Brooklyn.

In addition to the programming outlined below, BRIC House will also be home to tapings of a new, Brooklyn-focused daily television show produced by BRIC's Brooklyn Independent Media unit, media education courses for adults, and the new home to BRIC's Brooklyn Free Speech Television services and equipment. More information on the media offerings at BRIC and new programming is to be announced.

Events and performances will take place in various spaces within BRIC House: the BRIC House Ballroom, a flexible performance space that holds up to 240 seated or up to 400 standing; a dramatic Gallery with 18-foot ceilings permitting major exhibitions; a Project Room adjacent to the gallery serving as an added resource for video work, small-scale exhibitions and experimental curatorial projects; an intimate, also flexible 55-person capacity Artist Studio; and The Stoop, a 100-seat open public gathering space inside the building. BRIC House also houses a café to be operated by Hungry Ghost, the Brooklyn-based coffee bar and café. As of October 3, BRIC House will be open daily, 8am–10pm.

Leslie G. Schultz, President of BRIC, said: "In the 35 years that BRIC has produced the Celebrate Brooklyn! Festival, more than 100 art exhibitions, and 10 seasons of BRICStudio and BRIClab programs, audiences have come to know our organization as one that creates welcoming and exceptional arts experiences. Our new home at BRIC House provides a very special Brooklyn venue for contemporary art, dance, music, and media. We will also continue to provide important resources and platforms for artists and media makers who are developing new work."

Jack Walsh, BRIC's Director of Performing Arts, said: "We are thrilled to welcome both artists and audiences to our new home. BRIC House is a magnificent place to experience the singular joy and power of live performance, and we are delighted by the diversity, depth and breadth of our inaugural performing arts programming."

Elizabeth Ferrer, BRIC's Director of Contemporary Art, said: "BRIC's expanded gallery space, along with other programmatic spaces around BRIC House, will provide ample opportunity for the contemporary art program to present the breadth of creative talent in Brooklyn. Housewarming is a fitting inaugural exhibition in BRIC House, and the exhibition's theme is meant to resonate with all our visitors; however they identify 'home.' We chose artists whose work is bold visually, and who, in sum, represent the incredible talent and diversity to be found in Brooklyn."

BRIC HOUSE FALL 2013 PROGRAMMING HIGHLIGHTS
[Exhibition]
Housewarming: Notions of Home from the Center of the Universe
Tuesday, October 3 – Sunday, December 15, 2013
Opening reception: Wednesday, October 9, 7:00 – 9:00pm
Curated by Elizabeth Ferrer, BRIC's Director of Contemporary Art
Gallery at BRIC House
Free (no ticket required)

The inaugural exhibition at BRIC House will act as a celebratory "housewarming" of our new gallery, as well as an exploration of notions of home from broad vantage points. At its most intimate, "home is where the heart is;" in the domestic realm home includes where we live and the material objects that constitute the physical place we inhabit; in terms of the social sphere, one's neighborhood, city, and urban surroundings represent home; and in the universal and poetic sense, home is the cosmos and the unknowable. The exhibition will feature the work of 12 Brooklyn-based artists working in varying media. Several of the works in the show have been commissioned especially for BRIC House.

Artists include: Njideka Akunyili, Sonya Blesofsky, Margaret Reid Boyer, Drew Hamilton, Katarina Jerinic & Chad Stayrook, Esperanza Mayobre, Abraham McNally, Garry Nichols, Keisha Scarville, Vargas-Suarez Universal, and Nathan Wasserbauer.

[Multimedia Installation]
Armchair Parade
Julian Crouch/Mark Stewart/Ragnar Freidank
Tuesday, October 3 – Sunday, October 13
Artist Studio at BRIC House
Free (no tickets required)

Theater designer and director Julian Crouch (Shockheaded Peter, Big Fish), musician and composer Mark Stewart (Bang on a Can All-Stars, Paul Simon), and filmmaker Ragnar Freidank (The Beautiful Hills of Brooklyn) team up to create an unforgettable immersive installation in the Artist Studio at BRIC House.

Stepping into the world of Armchair Parade is to enter into a whimsical Brooklyn living room populated by a wacky mix of mismatched characters, watching the time go by. Sitting alone or in small groups, puppets created by Crouch gather around ubiquitous screens, isolated in their own worlds, but unified in their shared pastime. Visitors to the installation are invited to become a part of the world by playing The Big Boing—a handmade 24-foot lamellophone (a tined instrument) that stretches down the center of the room and was created by Stewart from mixed materials and found objects from the streets of Brooklyn.

Armchair Parade is the first project developed in BRIC's new commissioning and residency program, Fireworks. Funded by the Rockefeller Foundation's Cultural Innovation Fund, Fireworks fosters the development of large-scale multidisciplinary work created by artist teams to engage with diverse Brooklyn audiences.

[Music]
Burning Spear / OneBeat
Thursday October 3, 7:00pm (opening week)
BRIC House Ballroom
Free
Tickets will be distributed starting at 10:00am on Saturday, September 14 at BRIC House, 647 Fulton St.

Two-time Celebrate Brooklyn! alumnus and one of the most influential Jamaican roots reggae artists of all time, Burning Spear (aka Winston Rodney) is part Rastafarian preacher and part Black historian. His music celebrates his belief that all men and women deserve equal and just rights, treatment and respect.

The evening will open with OneBeat, an initiative of the US Department of State's Bureau of Educational and Cultural Affairs and a production of Bang on a Can's Found Sound Nation. OneBeat brings musicians from all over the world together to collaborate, perform and engage with American communities.

For a limited time, patrons who become a BRIC Member at the 5 level or higher, can reserve two free tickets to Burning Spear/OneBeat online. Visit BRICartsmedia.org/tickets for more information. Quantity is limited.

[Family Event]
BRIC House Open House
Saturday, October 5, 2pm- 10pm (opening week)
BRIC House – Various Spaces
Free (no tickets required)

BRIC will celebrate the opening of the new facility with a day of free indoor and outdoor activities, including live music, food and family activities, including:

Natural Expression Rhythm Band, a local pan-Caribbean collective comprised of more than 25 percussionists that has been storming Brooklyn street festivals, parades, fetes and outdoor dance parties since 2007. Playing on everything from cowbells to old car parts, the group is known as one of the best "Engine Rooms" – the traditional percussion backbone of steel band and Calypso music—in town.

The Brooklyn Jumbies, who perform Moko Jumbie, a traditional dance on stilts that is a signature of African and Caribbean carnivals and the Brooklyn-based brass band Underground Horns;

Found Sound Nation, the Producers of OneBeat, who will be on hand with their unique mobile studio to record, mix, and produce the sounds of the Fort Greene community;

Brooklyn-based performance artist Aisha Cousins, staging Diva Dutch, in which two Black women are connected to each other by their braided hair to form a living double dutch rope, into which passersby are invited to jump;

Performance artists Jennifer Catron and Paul Outlaw will transform the Gallery at BRIC House into a macaroni-and-cheese dinner/game show extravaganza in conjunction with a free "Mac & Jazz" community meal hosted by BRIC.

[Music]
Mac & Jazz Concert
Revive Big Band
With Special Guests Gary Bartz and Sean Jones
Saturday October 5, 7:30pm (opening week)
Ballroom at BRIC House
Free (no tickets required)

The Revive Big Band unites generations of like-minded musicians in presenting a new era of music. Formed in 2010 by composer, arranger and trumpeter Igmar Thomas, and managed by young impresario Meghan Stabile, the group features many Brooklynites whose musical styles, experience and tastes range widely. Their universal mission is to carry on the tradition of big bands, with music that is relevant today. At BRIC House, they will celebrate the music of Freddie Hubbard, Roy Ayers and Wayne Shorter, and be joined by saxophonist Gary Bartz and trumpeter Sean Jones.

Showcasing original compositions alongside imaginative new arrangements, this multigenerational ensemble comprised of some of music's brightest stars will illustrate why Complex Magazine calls them "a 19-piece jazz army."

Before the performance, BRIC will host a free block party and community meal to welcome neighbors to BRIC House.

[BRIC House Party]
Brooklyn is the World
Gregorio Uribe Big Band / Que Bajo?!,
Saturday, October 12, 3pm – 11pm
BRIC House – Various Spaces
Free programs all day and evening
Tickets for evening Dance Party: 0
Embodying the expansive and welcoming mission of BRIC, each month, a BRIC House Party will feature an array of all-ages activities followed by an evening dance party with a live performances and DJs. The first event in the series will include a concert in the BRIC House Ballroom by the 16-piece Cumbia band led by Brooklynite Gregorio Uribe, and will culminate in a dance party with New York City's popular party Que Bajo?!, a global dance party by DJs Uproot Andy and Geko Jones.

[Music]
Emily Wells
Friday, October 18, 7:30pm
BRIC House Ballroom
8
Brooklyn-based multi-instrumentalist, singer and producer Emily Wells has garnered acclaim for her unique hybrid of classical and contemporary music, in which she plays instruments ranging from violin to analog synthesizers and glockenspiel. In performance, live loops and electronic samples add layers of strings and vocal harmonies to her rich and haunting neo-gospel sound.

[Music]
The Bad Plus
Saturday, October 26, 8pm
BRIC House Ballroom
8
Brooklyn-based contemporary collective The Bad Plus—Reid Anderson (piano), Ethan Iverson (bass) and David King (drums)—has redefined what a jazz trio can be. Appealing to audiences of all demographic stripes with genre-jumping jazz, rock and pop, they inhabit an uncompromising body of original compositions and brilliantly reinvent songs by artists as diverse as Nirvana, Blondie, Pink Floyd, Ornette Coleman, The Pixies, Neil Young and Black Sabbath.

[Music]
Nitin Sawhney
Wednesday, October 30, 8pm
BRIC House Ballroom
8
As an acclaimed guitarist and pianist—not to mention world-class producer, DJ, songwriter and composer—the distinctive voice of Nitin Sawhney combines Asian and international influences with elements of jazz and electronica to transcend cultural barriers. Following a U.S. tour with his full band last year, a sell-out show at London's Roundhouse, and the recording of his second BBC Radio 2 series "Nitin Sawhney Spins the Globe," this first-ever Brooklyn performance will feature a more intimate trio featuring guest performances from the extensive vocal talents of Nicki Wells and percussion skills of tabla maestro Aref Durvesh.

[Music]
Henry Butler, Steve Bernstein & The Hot 9
Friday, November 1, 8pm
BRIC House Ballroom
8
Blind since birth, pianist and vocalist Henry Butler tells stories through the rise, swing, and rumble of his fingers as they channel sounds as diverse as his New Orleans birthplace: jazz, Caribbean, classical, pop, blues and R&B, among others. Now living in Brooklyn, Butler has teamed up with composer, arranger and Celebrate Brooklyn! alumus Steve Bernstein and a crack band including master drummer Herlin Riley and bassist Brad Jones. Using a traditional New Orleans palate as a launching point, they explore everything from pre-jazz to thoughtful, yet fearless, improvisations in an organic, yet musically deep and irresistibly modern take on New Orleans classics.

[BRIC House Party]
Party in the Key of Life
Rebellum | DJ Spinna
Saturday November 9, 3pm – 11pm
BRIC House – Various Spaces
Free programs all day and evening
Tickets for evening Dance Party: 0

With a nod to Evidence's On Earth Together, soon to premiere in the Ballroom at BRIC House, and a tip of the hat to Stevie Wonder's landmark Songs in the Key of Life which was a reflection of the diversity of life—love, loss, social consciousness and spirituality—rendered in a stunning mix of musical styles, November's BRIC House Party reflects Brooklyn back to itself in day of soulful art, performance, media and education activities culminating with a wild dance party with Rebellum, a renegade splinter cell of mostly Brooklyn musicians hacked from the recombinant corpus of Burnt Sugar Arkestra, Melvin Van Peebles' widLaxative and Funk Face, featuring warped soul harmonies, freedom swing horn play, maggot-brained guitar bursts and orchestral loopadelics. The always amazing DJ Spinna offers up his Wonderful Party, taking party-goers deep into Wonder's groove vault.

[Dance]
On Earth Together (World Premiere)
Ronald K. Brown and Evidence, A Dance Company
Residency: October 15 – November 6
Artist Studio at BRIC House
Performances: November 13-17 and 20-24; Wed/Thur/Sun 7:30pm; Fri/Sat 8:00pm
BRIC House Ballroom
2/8 student/seniors

Starting in fall 2013, BRIC will host acclaimed choreographer Ronald K. Brown and Evidence, A Dance Company for a three-year residency. The partnership provides Brown and his Brooklyn-based company with a place in their own borough to create and present new work annually, and gives the community surrounding BRIC House access to homegrown, world-class contemporary dance.

Over the course of two weeks, the company will give ten performances of a new version of On Earth Together, a celebrated work set to the music of Stevie Wonder, which includes a live music ensemble and singers including Grammy Award-winner Gordon Chambers.. This newest iteration of the piece, developed while the company is in residence at BRIC House, will also feature community members aged 5-70 on stage with the company.

This version of On Earth Together is part of a community engagement project, undertaken by BRIC and Evidence with support from the Doris Duke Charitable Foundation, to increase demand for contemporary dance among underrepresented audiences. The initiative includes bi-weekly dance classes, currently underway at University Settlement's Ingersoll Community Center and, soon, at BRIC House.

Founded by Ronald K. Brown in 1985 and based in Brooklyn, Evidence focuses on the seamless fusion of traditional African dance with contemporary choreography and spoken word. Brown uses movement as a way to reinforce the importance of community in African American culture and to acquaint audiences with the beauty of traditional African forms and rhythms. He is an advocate for the growth of an African American dance community and is instrumental in encouraging young dancers to choreograph and to develop careers in dance.

Evidence now tours North America annually, and has also traveled to Cuba, Brazil, England, Ireland, France, Greece, Hungary, Mexico, Holland, Hawaii, Cote d'Ivoire, South Africa, Nigeria, and Senegal to perform, teach master classes and conduct lecture/demonstrations for young people.

[BRIClab, Theater]
The Debate Society
You're Welcomer: A Cycle of More Bad Plays (Work in Progress)
Residency: November 7-16
Showings: Friday, November 15 and Saturday, November 16, 7:30pm
Artist Studio at BRIC House
0

You're Welcomer: A Cycle of More Bad Plays is a new collection of small plays about creation and failure. A sequel to The Debate Society's 2010 hit You're Welcome, the play cycle continues the story of an invented band of performers and their catastrophic attempts at connection. The plays are about love, death, desire, tragedy, comedy, architecture, cutting- edge nanotechnology, beauty, Brooklyn, loss, the battle between good and evil, and theater.

Using their time in BRIClab to begin experimenting toward this new work, sharings will include a tour of ephemera from the process, a performance and moderated discussion.

[BRIClab, Music]
Stew & Heidi
Listening Party
Residency: November 18-23
Showings: Friday, November 22 and Saturday, November 23, 7:30pm
Artist Studio at BRIC House
0
Tony- and OBIE-Award winner Stew and his longtime collaborator Heidi Rodewald (Passing Strange, The Negro Problem) unleash their piercing gaze, and raw rock storytelling on a mash-up of several projects in development including three full-blown musicals, a video-art piece about their Brooklyn neighborhood, two song cycles and a collection of poems and songs for their next record. Stew & Heidi will explore a "work collage" of the artistic questions (and answers) that will inform their work for the next two years, culminating in an evening of process as entertainment.

[BRIClab, Theater]
Christina Anderson
Man in Love (Work in Progress)
Residency: December 2-8
Showings: Friday, December 6 and Saturday, December 7, 7:30pm
Artist Studio at BRIC House
0

Christina Anderson's play Man in Love reinvents 1930s noir to create a moving depiction of identity and love that takes place in a nameless Depression-era city.

Characters and stories weave together to paint a complex picture of a nameless, Depression-era city, with resonance for our urban environment today. From a white transwoman who throws rent parties, to a once popular Black nightclub singer who never leaves her apartment, to a sweet student passing for white to get an education, disparate realities swirl. In this concrete jungle, a series of black female bodies turn up and a pattern emerges. Who is safe? Who is in danger? And how are we all interconnected?

Using her time in BRIClab to experiment with the visual world of the play, Anderson will share a reading of the work and the results of her exploration of movement and staging.

[BRIC House Party]
Past, Present, Home & Away
mamarazzi | DJ Rekha
Saturday, December 14, 3pm – 11pm
BRIC House – Various Spaces
Free programs all day and evening
Tickets for evening Dance Party: 0

December's House Party celebrates the ways that Brooklynites negotiate past and present, home and away, tradition and contemporary life. The day will include art, performance, media and education activities all swirling into a fun evening with Brooklyn's eight-piece Afro-funk-hop juggernaut, mamarazzi. The evening closes with Celebrate Brooklyn! alumna DJ Rekha, whose Basement Bhangra is a masterful fusion of classic and cutting-edge South Asian culture.

[BRIClab, Music]
Samita Sinha
Cipher (Work in Progress)
Residency: December 9-19
Showings: Wednesday, December 18 and Thursday, December 19, 7:30pm
Artist Studio at BRIC House
0

Cipher is a genre-bending music work for solo voice and electronics and a journey through a disorienting and visionary sonic landscape. Rooted in the Hindustani classical vocal music tradition called "raga," and drawing on a contemporary vocabulary, folk and ritual music, jazz and blues, and songs and texts in multiple languages, Cipher channels past and present through the singing body.

Utilizing her practice of "body-sound"—a way of singing that unites voice, physical gesture, language and space into potent articulations from raw utterance to speech to song—vocalist and composer Samita Sinha asks the question: is it possible to create a "native" tongue, a contemporary pidgin that gathers and refracts multiple languages, worldviews and temporalities?

BRIClab marks the first time all of Sinha's collaborators—including producer and percussionist Dave Sharma, lighting designer Chris Kuhl, and sculptor Dani Leventhal—will come together in one space as they prepare for a fall 2014 premiere. Sharings will include performances and delve into the process of creating and experience of witnessing the work.
About BRIC

In the 35 years since its founding as a not-for-profit organization in 1979, BRIC has been the driving force behind a number of Brooklyn's most widely renowned and beloved arts and media programs. In the borough that is now this country's foremost creative hotbed, BRIC is unparalleled in its combination of artistic excellence, programmatic breadth and genuine accessibility.

BRIC presents live music and performing arts (the Celebrate Brooklyn! Performing Arts Festival and BRIClab), contemporary art exhibitions and programs (until 2013 at BRIC Rotunda Gallery and throughout the borough), and community media programs (Brooklyn Free Speech TV, Brooklyn Independent Television, and Brooklyn Bulletin Board) that reflect Brooklyn's creativity and diversity.

Emphasizing creative expression as varied and groundbreaking as the borough it serves, BRIC provides opportunities and platforms for Brooklyn artists and media makers to create and present new works. The organization champions the creativity of Brooklyn and work that expands the boundaries of artistic disciplines. BRIC's highly accessible exhibitions, performances, television programs and educational programs serve more than one million Brooklyn residents, including some 4,000 school children, each year.

About BRIC Arts | Media House

BRIC House will serve as a true home for artists and audiences—a place where emerging and established artists can create work that deepens their practice and engages the diverse communities of Brooklyn. Its physical design around a central public space will encourage audiences' engagement among and exposure to all disciplines. New spaces will include:

A flexible Performance Space (up to 220 seated to up to 400 standing capacity) to be known as the BRIC House Ballroom equipped with a sprung floor for dance and flexible seating to accommodate a wide variety of configurations and performance styles. An entirely new professional resource for the performing arts in Brooklyn, the Ballroom will also feature dressing rooms, a green room for artists and state-of-the-art sound and lighting equipment –supporting high-quality production values.

An intimate, flexible Artist Studio dedicated to the development of new work by emerging and mid-career artists, with an audience capacity of up to 70 for rehearsals and performances in workshop settings. This space will also transform into a workspace for visual artists.

A dramatic 3,000-square-foot Gallery with 18-foot ceilings permitting major exhibitions and focused on emerging and mid-career artists and curators. A Project Room adjacent to the gallery will be an added resource for video work, BRIC's emerging curator program, small-scale exhibitions and experimental curatorial projects.

A state-of-the-art public access television center that will include a new glass-walled studio and control room on the ground floor of the facility (fully visible to the public), as well as fully renovated and upgraded studios, editing suites, public equipment and media training lab on the second floor.

The Stoop, an all-new public cultural gathering space, featuring free, drop-in programming for all ages.

A café from Hungry Ghost, a Brooklyn-based coffee bar and café.

Classroom space to expand BRIC's media education program.

All programming spaces, as well as the lobby, will be fully wired to the master control room to support live cablecasts of select events to over 500,000 Brooklyn households and beyond on the web.

Support for BRIC House

Generous public funding for BRIC Arts | Media House and the UrbanGlass reNEWal Project has been provided by The City of New York, through the Office of Mayor Michael R. Bloomberg; New York City Council Speaker Christine C. Quinn; Brooklyn Borough President Marty Markowitz; The Brooklyn Delegation of the New York City Council; Kate D. Levin, Commissioner, New York City Department of Cultural Affairs; and the New York City Economic Development Corporation.

The construction of BRIC House is also supported by the New York State Senate, the New York State Assembly, and the New York State Council on the Arts.

BRIC also acknowledges the following additional supporters of BRIC House and the Campaign for BRIC House: Booth Ferris Foundation, Mary Flagler Cary Charitable Trust, the Doris Duke Charitable Foundation, Goldman Sachs, Laurence W. Levine Foundation, National Grid, The Rockefeller Foundation Cultural Innovation Fund, The New York Community Trust, The Wallace Foundation, the Andy Warhol Foundation, and Verizon, Cablevision, and Time Warner Cable, as well as numerous individuals.