BRIC House Fall 2014 Season‏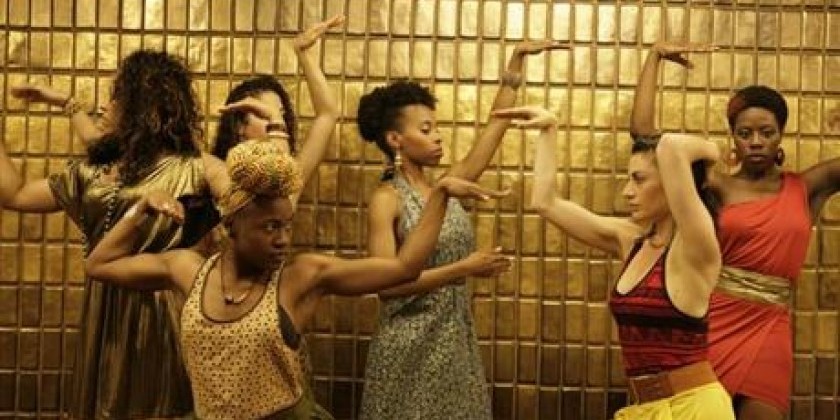 Company:
BRIC
BRIC ANNOUNCES PROGRAMMING FOR FALL 2014 SEASON IN BRIC ARTS | MEDIA HOUSE

New Multidisciplinary Arts and Media Center In Downtown Brooklyn Features a Wide Range of Exhibitions, Residencies and Performances

BRIC House, Brooklyn's Newest 40,000 Sq. Ft. Home for Artists and Diverse Communities, Will Host:
> The BRIC Biennial: Volume I, Downtown Edition, The inaugural exhibition of biennial surveys of Brooklyn visual artists, this edition focusing on artists based in downtown Brooklyn and adjacent neighborhoods (September 20 – December 14)

> BRIC House resident dance company Ronald K. Brown's Evidence, A Dance Company performing revival of One Shot, a group piece inspired by the life and work of noted photographer Charles "Teenie" Harris (November 6-15)

> Actor and writer Roger Guenveur Smith tackling the thorny odyssey of Rodney King with a gripping narrative that seamlessly fuses facts and friction, motion and emotion (December 3-7)

> Devonté Hynes performing the world premiere of his musical score to Gia Coppola's new film Palo Alto (October 9)

> A release party for the debut album from Brooklyn singer Alicia Olatuja, known for her performance at the 2013 presidential inauguration (October 16)
 
> Work-in-progress presentations by performing artists in BRIClab, an incubator program for new work: Jacinta Paniagua Vlach/Liberation Dance (October 3 & 4), Roy Nathanson & The Jazz Passengers with Lloyd H. Miller (November 7 & 8), Yara Travieso (November 21 & 22) and David Neumann/Advanced Beginner Group (December 19 & 20)
 
> Co-presentations including Playing on Air (October 20 & 27, and Dec 1) and Tales of Home: Congo/ Mozambique (October 24 & 25)

> BRIC House Parties, a monthly series of all-ages, all-day programming that begins with family activities and culminates in a live DJ and dance party at night. Fela Frolic! featuring Rich Medina's Jump N Funk, celebrating the birthday of Fela Kuti, on October 11, and a Brooklyn Throwback featuring The Freedom Party NYC DJ collective (December 13)
 
> The Stoop Series, featuring free, drop-in programming including film screenings, conversations with artists, storytelling, poetry, lectures, and performances (Tuesdays, starting October 7)
 
> Live tapings of BK Live, a new, Brooklyn-focused daily television show produced by BRIC's Brooklyn Independent Media unit
 
> B-Side, a live in-studio music series taped at BRIC House, featuring interviews and performances with Brooklyn musicians, with an occasional visit by musicians making a pilgrimage to the Borough (Most Thursdays)
 
> A broad offering of media education courses for adults (starting at just $10)
BRIC is pleased to announce programming for its fall 2014 season in BRIC Arts | Media House (BRIC House), the organization's new, 40,000-square-foot multi-disciplinary facility in Downtown Brooklyn. With offerings ranging from one-night-only, intimate music concerts to day-long, all-ages dance parties, plus work-in-progress showings from some of Brooklyn's most exciting artists, BRIC House has quickly become one of New York City's most inviting and accessible spaces to experience the arts. It has been named "Best Neighborhood Catalyst" by the Municipal Arts Society and called "the snazzily re-designed headquarters of BRIC, the venerable Brooklyn arts organization" by The New York Times. Brownstoner recently noted that, "BRIC has come a long way since its founding in 1979, and it's about to go a lot farther."
BRIC's programming features an eclectic mix of artists and events that that welcomes and reflect Brooklyn's diverse communities. From BRIC House to Celebrate Brooklyn!, all of BRIC's offerings are designed to be highly accessible. Many events (including Celebrate Brooklyn! performances and gallery exhibitions) are free; tickets to selected events at BRIC House range from $10–$22.
Leslie G. Schultz, President of BRIC, said, "This fall, BRIC House will once again be filled with adventurous, multi-cultural programming of the highest quality, and will of course continue to be a welcoming cultural town square for all.  Our programming for the fall reflects our dedication to presenting exquisite and accessible art and media that truly reflects our community, and to enabling artists and media-makers to expand their work and explore new directions." 
Jack Walsh, BRIC's Vice President of Performing Arts, said, "We concluded this summer's Celebrate Brooklyn! performances, and now you are in for a truly spectacular experience this fall at BRIC House. We are delighted to offer an array of established and emerging artists in dance, music, theater and interdisciplinary residencies and performance. It's a season not to be missed."
Elizabeth Ferrer, BRIC's Vice President of Contemporary Art, said: "As the anchor for contemporary art in the Brooklyn Cultural District, we are thrilled to present the BRIC Biennial: Volume 1, Downtown Edition, featuring 27 artists based in downtown Brooklyn and adjacent neighborhoods, who work with a broad range of approaches and themes.
Tickets to BRIC House events are currently on sale (unless otherwise noted) and may be purchased online at BRICartsmedia.org/tickets, via phone at 866.811.4111 or at the Downtown Brooklyn TKTS Booth at 1 MetroTech Center. The Box Office at BRIC House is open only on performance days, one hour prior to the event. BRIC House is located at 647 Fulton Street in Downtown Brooklyn. BRIC House is open daily at 8am.
BRIC HOUSE FALL 2014 PROGRAMMING HIGHLIGHTS
CONTEMPORARY ART
BRIC Biennial: Volume I, Downtown Edition
September 20–December 14
Opening Reception: September 19, 7-9pm
FREE Admission
Curated by Elizabeth Ferrer, BRIC's Vice President of Contemporary Art; Jenny Gerow, BRIC's Assistant Curator of Contemporary Art; and guest curators Leslie Kerby and Fawz Kabra 
This fall, BRIC will launch a major new initiative, the BRIC Biennial. These exhibitions will present the work of emerging and mid-career visual artists working across artistic media, with each edition focusing on specific areas of Brooklyn. The first Biennial will survey artists based in downtown Brooklyn and adjacent neighborhoods, a fitting focus given the location of BRIC House in downtown Brooklyn at the edge of Fort Greene, an important cultural center in Brooklyn. This exhibition series intends to demonstrate the importance of Brooklyn as an international creative capital, and the rich wealth of talent to be found in every neighborhood of Brooklyn.
Among the artists to be featured in the BRIC Biennial are ruby onyinyechi amanze, whose large-scale works on paper draw from  her cultural hybridity as well as textile design, print-making and architecture. Scherezade Garcia, known for working with found objects, will create a major installation from copies of The Village Voice upon which she will reproduce an image of the sea, a symbol of migration and freedom.
Jenna Spevack, an artist whose social art practice is based in sustainable design, has created an audio installation that will provide a meditation on nature inside a reclaimed wood outhouse. Vince Contarino's paintings simultaneously embrace a graphic language in tandem with the gesture and materiality of abstraction.
Additional participating artists include Fariba Salma Alam, Richard Baker, Katie Bell, Isak BerbiAA‡, Ben Thorp Brown, Youmna Chlala, Joe Diebes, Seth Michael Forman, Valérie Hallier, Nene Humphrey, Nina Katchadourian, Despo Magoni, Karyn Olivier, Jenny Polak and Dread Scott, Eleanor Ray, Wendy Richmond, Niv Rozenberg, Jean Shin, Daniel Terna, Penelope Umbrico, Daniel Wiener, and Martha Wilson.

PERFORMING ARTS
Dance
Ronald K. Brown/Evidence, A Dance Company
One Shot
Residency: October 6 – November 15
Performances: Nov 6 & 13, 7:30pm, Nov 7–8 & 14–15, 8pm
$22 Adv | $27 Door
$16 Adv | $20 Door Students & Seniors
BRIC House Ballroom
One Shot, a group piece by highly regarded choreographer and life-long Brooklynite Ron Brown and Evidence, A Dance Company, is inspired by the life and work of noted photographer Charles "Teenie" Harris, who documented black life in Pittsburgh from 1936 to 1975.
Harris captured many aspects of life in Pittsburgh: the spirit of childhood, the indulgences of decadence, and the soul of jazz. One Shot uses the idea of looking to the legacy of community and its echoing effect on other communities in their distinct definition and evolution. The work incorporates video projections by Clifton Taylor and music by Anonimo Consejo, Billy Strayhorn, Ahmad Jamal, Mary Lou Williams, Arturo Sandoval, Mamadouba Mohammed Camara, Lena Horne, and Phyllis Hyman.

Theater
Roger Guenveur Smith's
Rodney King
Dec 3–5, 7:30pm, Dec 6, 7:30pm & 9:30pm,  Dec 7, 4:30pm
$18 Adv | $22 Door
BRIC House Ballroom
History, poetry and tragedy collide when Roger Guenveur Smith tackles the thorny odyssey of Rodney King—deemed "the first reality TV star"—from the harsh initial glare of the national spotlight as the victim of police brutality to his involuntary martyrdom that ignited the 1992 L.A. riots to his lonely death at the bottom of his swimming pool. In this riveting, improvised performance, Smith captures the story of a flawed, good-hearted everyman, and by extension reveals America's endlessly complicated relationship with its racial past and present.
Roger Guenveur Smith is an actor, writer and director for stage and screen whose credits include his Obie Award-winning writing and solo performance of A Huey P. Newton Story and its subsequent Peabody Award-winning telefilm; plays Frederick Douglass Now, Inside The Creole Mafia and Who Killed Bob Marley; and unforgettable acting roles in Spike Lee films Do The Right Thing and Malcolm X, as well as American Gangster many and others.

Music/Film
Devonté Hynes: Palo Alto
World Premiere live music to film
Presented with Wordless Music
Oct 9, 7:30pm
$20 Adv | $25 Door
BRIC House Ballroom
A screening of the film Palo Alto with Devonté Hynes (Blood Orange) performing the score live. 
British to New York transplant Dev Hynes has writing, arranging, vocal and production credits on songs by The Chemical Brothers, Basement Jaxx, Florence and the Machine and Solange Knowles in addition to being the mastermind behind his own work under the Blood Orange moniker.
Accompanying the film, Hynes will perform his score to Gia Coppola's Palo Alto (2014). Starring and based on James Franco's short stories, the film chronices a group of rebellious high school teenagers and their experiences with drugs, alcohol, sex and violence.

Music
Alicia Olatuja
Record Release Party
Oct 16, 7:30pm
BRIC House Ballroom
$15 Adv | $20 Door
Brooklyn singer Alicia Olatuja electrified a crowd of a million people on the National Mall at the 2013 presidential inauguration with her richly textured, show-stopping solo with the Brooklyn Tabernacle Choir. Olatuja sings with a strong, lustrous tone, and mixes elements of classical, jazz, gospel, and pop into her fluid vocalism. With bassist and husband Michael Olatuja as the Olatuja Project, they will celebrate the release of her solo debut album Timeless with an unforgettable performance, featuring premier bassist Christian McBride as guest artist.
More fall concerts to be announced.
BRICLAB RESIDENCIES
BRIClab is a commissioning and residency development program for both emerging and established local artists to explore and expand the possibilities of their work in music, dance, theater and multi-disciplinary performance. 
Dance
Jacinta Paniagua Vlach/Liberation Dance
Love & Money: Egypt to New York
Residency: September 24 – October 4
Showings: October 3 and 4 at 7:30pm
$10 Adv | $14 Door
BRIC House Artist Studio
In a series of chapters, beginning with Cleopatra's reign in Egypt and ending in the present day New York City, Love & Money is a physical essay charting the evolution of love. Liberation Dance Theater (LDT) preserves and celebrates the heritage of jazz, traditional folklore, and the pulse of street culture to create physical narratives for themes relating to identity, communal responsibility and spirituality. 

Music/Theater
Roy Nathanson & The Jazz Passengers with Lloyd H. Miller
Trashed Out
Residency: October 30 – November 8
Showings: November 7 and 8 at 7:30pm
$10 Adv | $14 Door
BRIC House Artist Studio
Trashed Out is a multi-media musical for the stage conceived by Roy Nathanson and Lloyd H. Miller and featuring the legendary downtown band the Jazz Passengers. A fictional reworking of Exiles in Eden, Paul Reyes' nonfiction exploration of the housing crisis in Florida, Trashed Out is an interactive show where members of the band step forward to play roles and displaced characters show up unexpectedly to help the performers tell their stories of foreclosure, homelessness and heartbreak. 

Theater
Yara Travieso
La Medea
Residency: November 12 - 22
Showings: November 21 and 22 at 7:30pm
$10 Adv | $14 Door
BRIC House Artist Studio
La Medea is a new dance-musical adaptation of Euripides' classic told from the perspective of Medea herself – a Greek tragedy turned dark comedy set in a surreal and melodramatic environment. During the residency Travieso and collaborators will explore how the piece will ultimately manifest as a theatrical musical and live TV broadcast, in which performers and camera operators play the characters, while the audience acts as a Greek chorus, actively determining the narrative structure of the action.
 
Dance/Theater
David Neumann/Advanced Beginner Group
I Understand Everything Better
Residency: December 8 - 20
Showings: December 19 and 20 at 7:30pm
$10 Adv | $14 Door
BRIC House Artist Studio
I Understand Everything Better, a collaborative effort between choreographer David Neumann, sound and video artist Tei Blow, and playwright Sibyl Kempson, explores the impulse to report on calamity, consciousness and one's proximity to dying. Made from a union of theater and dance practices, I Understand Everything Better uses technology, weather reports, personal and social narratives, and Japanese classical theater forms as a framework for its deeply personal investigation.

POETRY
The Brooklyn Poetry Slam
September 18, October 16, and November 13, 2014; 7:00pm
Free, BRIC House Stoop
A poetry slam experience showcasing a curated selection of inter-generational Brooklyn poets, whose work is an artistic response to BRIC's art exhibitions and programming as well as to borough life and city culture. The poets will invoke inspiration from street art to museum masters and the audience will choose a winner! Hosted by Mahogany L. Browne with music by DJ JivePoetic

Special Collaborations
Idea Lab
October 15 and December 17, 7-9pm
FREE with RSVP
BRIC House Stoop
Visit BRICartsmedia.org to participate
BRIC is collaborating with Our Goods, a barter network for the creative community that hosts a bi-monthly Idea Lab where 3-4 facilitators lead a group of 25-30 people in a peer-to-peer resource-sharing meet-up.
What happens at an Idea Lab? Artists of all disciplines break into small groups. Each artist shares a challenge they are working on. The group brainstorms resources and ideas to meet that challenge. Whether you need help refining an idea, access to space or equipment, connections to collaborators, or information about venues for your work, you can find it at these meet-ups.
BRIC HOUSE PARTIES 

FELA Frolic! featuring
RICH MEDINA PRESENTS: JUMP N FUNK
ZONGO JUNCTION
Oct 11
2-8pm FREE PROGRAMS
6-8pm ZONGO JUNCTION free performance
8-12pm JUMP N FUNK Dance Party $10 ADV | $14 DOOR
A BRIC-wide birthday celebration of the revolutionary African musician and political activist Fela Kuti! Enjoy games and a scavenger hunt | video animation inspired by African textiles | performance by Nigerian boar, BRIC Biennial artist, ruby onyinyechi amanze | family dance class with Iris Wilson (Fela! dancer and instructor at Cumbe Center for African & Diaspora Dance) | a jammin free performance by Brooklyn's afrobeat-meets-Sun Ra-big-band Zongo Junction | the sweaty original multimedia "Jump N Funk" Fela-inspired Afrobeat dance party with Rich Medina spinning and visuals by The Marksmen!
 
THROWBACK! featuring
THE FREEDOM PARTY NYC (DJ COLLECTIVE)
THE EUGENE CHRYSLER BAND
Dec 13
2-8pm FREE PROGRAMS
6-8pm THE EUGENE CHRYSLER ROCKABILLY BAND free performance
8-12pm THE FREEDOM PARTY NYC Dance Party $10 ADV | $14 DOOR
We're taking a look back at Brooklyn through the various decades and celebrating! Enjoy old Brooklyn street games and a scavenger hunt | family dance class guaranteed to get you busting a move | interactive educational activity | performance with live music by BRIC Biennial artist Nene Humphrey | "Bklyn at the Movies" screening with Rafer Guzman & Kristin Meinzer (of WNYC's Movie Date podcast) | a rockabilly hand clapping, knee slapping free show by The Eugene Chrysler Band | dance the decades with The Freedom Party DJs Herbert Holler, Marc Smooth and Cosi who will be spinning music across a multitude of musical genres!
Visit the BRIC website for program updates and additions.

 
STOOP SERIES
BRIC's free Tuesday night Stoop Series illuminates the arts and life around us in Brooklyn through artistic performances, presentations, participatory activities and dynamic conversations. Explore music, visual art, film, media, storytelling, comedy and other creative fields. Grab a coffee or a cocktail and engage with some of the most innovative artistic voices in Brooklyn's ever-expanding cultural scene. On the monumental interior stoop of BIC House—there's something different every week!
October 7, 7:00pm FREE
ALSARAH & THE NUBATONES
Brooklyn based East African retro-pop group, Alsarah & The Nubatones perform a special intimate concert on the BRIC House stoop.
October 14, 7:00pm FREE
UTTERANCES: A NIGHT OF PERFORMANCE ART
BRIC Biennial artists Martha Wilson and Ben Thorp Brown select four stellar Brooklyn performance artists  for a night on the Stoop.
November 4, 7:00pm FREE
DESERT ISLAND MP3s
BRIC Biennial artist Dread Scott asks three artists to share their picks—three songs, one book and one luxury item—for an isolated existence.
November 11, 7:00pm FREE
SECRET SCIENCE CLUB featuring MATT PARKER
A live lecture, arts and performance series based in Brooklyn. Join us for a numerical night of magic and madness featuring mathematician, comedian and author Matt Parker.
November 18, 7:00pm FREE
STORY PIRATES AFTER DARK SHOW
Story Pirates presents a hilarious glimpse of the world through the minds of kids in this musical sketch comedy show featuring stories by students, performed by professional actors and comedians.
December 2, 7:00pm FREE
CORI OLINGHOUSE
Cori Olinghouse, a Brooklyn-based choreographer, performer, teacher, and archivist whose work explores the shapeshifting capacities of the body, space and time, brings her unique perspective on physical transformation to BRIC for our first dance performance on the Stoop.
December 9, 7:00pm FREE
KELLY ZEN-YIE TSAI & BRIC'S Brooklyn Free Speech Producers 
Award-winning spoken word poet, playwright, and filmmaker Kelly Zen-Yie Tsai presents a new multimedia spoken word show uniquely inspired by and created with the talent of BRIC's community of Brooklyn Free Speech producers.
More programs to be announced. Check our website for updates
SPECIAL INVITATIONS
Co-productions in various disciplines with intriguing artists and organizations
PLAYING ON AIR
OCT 20; OCT 27 & DEC 1, 7:30pm
BRIC House Ballroom
$15 Adv | $20 Door
Experience an electric evening of three short plays as they are being recorded live for public radio broadcast! Playing on Air presents contemporary 10- and 20-minute plays, written and performed by  dynamic, award-winning playwrights and actors. These upcoming live episode recordings will feature plays by the hilarious Paul Rudnick; Pulitzer Prize and Tony winner David Auburn (Proof); Tony winner Warren Leight (Side Man); Willy Holtzman (Hearts); Leslie Ayvazian (Nine Armenians); Kim Merrill; and Pulitzer Prize winner and Theater Hall of Fame inductee Lanford Wilson. Performers include Tony winners Tonya Pinkins, John Cullum, Harriet Harris and more. An interactive Q&A with the actors and playwrights follows each play.
Takes of Home: Congo/Mozambique
Co-presented with 651 Arts
FAUSTIN LINYEKULA/STUDIOS KABAKO: LE CARGO
OCT 24, 8pm
PANAIBRA GABRIEL CANDA: TIME & SPACES: THE MARRABENTA SOLOS
OCT 25, 8pm
$20 ADV | $25 DOOR
BRIC HOUSE BALLROOM 
Tales of Home: Congo/Mozambique is a two-evening program of dance-theater featuring Faustin Linyekula (Democratic Republic of Congo) in his acclaimed solo, Le Cargo, and Panaibra Gabriel Canda (Mozambique) in his expressive duet, Time & Spaces: The Marrabenta Solos, with live music by guitarist Jorge Domingos. In both works, Linyekula and Canda grapple with the complex histories of their countries and their own experiences of dislocation, forced emigration, and cultural assimilation. Through intimate and personal stories, they reveal the rigor and passions of their contemporary lives.
U.S. Tour produced by MAPP International Productions.
About BRIC

In the 35 years since its founding as a not-for-profit organization in 1979, BRIC has been the driving force behind a number of Brooklyn's most widely renowned and beloved arts and media programs. In the borough that is now this country's foremost creative hotbed, BRIC is unparalleled in its combination of artistic excellence, programmatic breadth and genuine accessibility.
BRIC presents live music and performing arts (the Celebrate Brooklyn! Performing Arts Festival and BRIClab), contemporary art exhibitions and programs (until 2013 at BRIC Rotunda Gallery and throughout the borough), and community media programs (Brooklyn Free Speech Television and Brooklyn Independent Media) that reflect Brooklyn's creativity and diversity.
Emphasizing creative expression as varied and groundbreaking as the borough it serves, BRIC provides opportunities and platforms for Brooklyn artists and media makers to create and present new works. The organization champions the creativity of Brooklyn and work that expands the boundaries of artistic disciplines. BRIC's highly accessible exhibitions, performances, television programs and educational programs serve more than one million Brooklyn residents, including some 4,000 school children, each year. Learn more at BRICartsmedia.org.

Support for BRIC House
BRIC's programs benefit from generous public funding from the National Endowment for the Arts; New York State Council on the Arts with the support of Governor Andrew Cuomo and the New York State Legislature; New York State Senator Martin J. Golden; New York State Assembly Members James F. Brennan, Karim Camara, Joan L. Millman, Walter Mosley, Félix Ortiz, and Annette Robinson; Mayor Bill de Blasio, the New York City Department of Cultural Affairs; New York City Council Speaker Melissa Mark-Viverito and New York City Council Members Inez D. Barron, Robert Cornegy, Laurie Cumbo, Mathieu Eugene, Vincent J. Gentile, Brad Lander, Stephen Levin, Darlene Mealy, Mark Treyger, Jimmy Van Bramer, and Jumaane Williams.
Additional private support is provided by Astoria Federal Savings; Milton and Sally Avery Arts Foundation; Bay and Paul Foundations; Bloomingdale's Fund of the Macy's Foundation; Con Edison; The Doris Duke Charitable Foundation; The Ford Foundation; Forest City Ratner Companies; The Hearst Foundations; Laurence W. Levine Foundation; New York Community Trust; Oppenheim Family Foundation; and Verizon, Cablevision, and Time Warner Cable; as well as numerous individual supporters.
Press contact: Blake Zidell, John Wyszniewski or Ron Gaskill at Blake Zidell & Associates:
718.643.9052, blake@blakezidell.com, john@blakezidell.com or ron@blakezidell.com.

Photo: Jacinta Paniagua Vlach / Liberation Dance LOVE & MONEY: EGYPT TO NEW YORK (work-in-progress) © Pascal Bernier