Ballet Hispanico 2015 Spring Gala Raised More Than $1.1 Million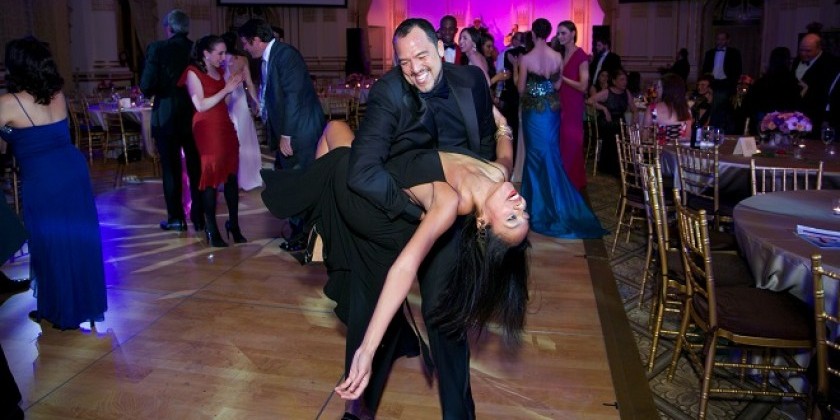 Company:
Ballet Hispanico
BALLET HISPANICO
2015 Spring Gala Honoring Cuban Civic Leaders
Raised More Than $1.1 Million
The Plaza Hotel on Monday, March 30, 2015
New York, NY - March 31, 2015 - Ballet Hispanico raised more than $1.1 million in support of the company's artistic and educational work in New York City and around the country at their 2015 Gala on Monday, March 30, 2015.  During the evening, Ballet Hispanico honored Ballet Hispanico Board President and President and COO of Palladium Equity Partners David Pérez and Milena Alberti-Pérez, SVP and Head of Global Corporate Finance at Penguin Random House, with the Civic Inspiration Award.  Ben Rodriguez-Cubeñas, Chair of Ballet Hispanico's Leadership Council and program director for the Rockefeller Brothers Fund, was honored with the Nuestra Inspiración Award. Proceeds from the evening will benefit the creation of new Company works, need-based financial aid and merit scholarships in the Ballet Hispanico School of Dance, and community arts education programs.
This year's Gala, themed "Noche Cubana" and attended by 470 guests, featured live salsa music by Grupo Irék along with performances by the Ballet Hispanico Company and students of the Ballet Hispanico School of Dance and P.S. 87M.  Attendees included Event Chairs Jody & John Arnhold, Kate Lear & Jon LaPook, Marcos A. Rodriguez, and Greidys Gil & Luis Zaldivar; Event Vice Chairs Herb Scannell and Charles Wortman & Laura Baldwin; and Milena Alberti-Pérez, Julia Arnhold, Paul Arnhold, Tony Bechara, Lorea Canales, Michelle Caruso-Cabrera, Vin Cipolla, Ben Rodriguez-Cubeñas, Diana DiMenna, Anita Durst, Joan Finkelstein, Wes Gordon, Lane Harwell, Jacqueline Hernández, Cynthia López, Jim McCoy, Sharon Luckman, Scott Pelley, David Pérez, Jessica Rodriguez, Ann and Richard Sarnoff, Mikki Sheppard, Linda Celeste Sims, Marta Tellado, David Ushery, Jorge Daniel Veneziano, Eduardo Vilaro.
Guests in attendance received the exclusive announcement that Ballet Hispanico is naming its Education & Outreach branch Puentes.
"At the very beginning, Ballet Hispanico's education program was a pathway connecting Latinos to the community at large," said Eduardo Vilaro, artistic director of Ballet Hispanico. "Today, it builds bridges between many diverse cultures through innovative workshops, master classes and custom-designed arts-in-education learning opportunities, all taught through the lens of history, music and dance."
Puentes inspires students in classrooms, on stages and in the community - ultimately connecting everyone to the past, present and future of Latino cultures - and celebrates artistry, engagement and personal growth.
> Last year, Puentes programs provided culturally relevant dance educational experiences for over 8,000 students, families and communities in New York City and nationwide.

> Students in kindergarten through 12th grade, college, parents and seniors are reached through the Puentes program.

> 78% of New York City public school students served by Ballet Hispanico's Puentes programs were of African, Latino, or Asian descent, and 70% of these students qualified for free or reduced-price lunches.

> Each year Ballet Hispanico offers more than $150,000 in need-based scholarships to students, some coming directly from the Puentes programs.
ABOUT BALLET HISPANICO
Since its inception in 1970, Ballet Hispanico has been recognized as the nation's premier Latino dance organization. Led by award-winning Artistic Director Eduardo Vilaro, the Ballet Hispanico Company has performed for audiences totaling over 3 million, throughout 11 countries, and on 3 continents. The Company's commitment to contemporary repertory has produced world-class, multifaceted performances that have featured master works by Nacho Duato, cutting-edge premieres by Cayetano Soto and Annabelle Lopez Ochoa, and live music collaborations with renowned artists such as Paquito D'Rivera and Ruben Blades-to name a notable few. Through the work of its professional company, school of dance, and community arts education programs, Ballet Hispanico celebrates the dynamic aesthetics of the Hispanic diaspora, building new avenues of cultural dialogue and sharing the joy of dance with all communities. For more information, visit www.ballethispanico.org.
Photo by Julie Skarratt.