Ballet Hispánico School of Dance Announces Fall 2018 Adult Dance & Fitness Classes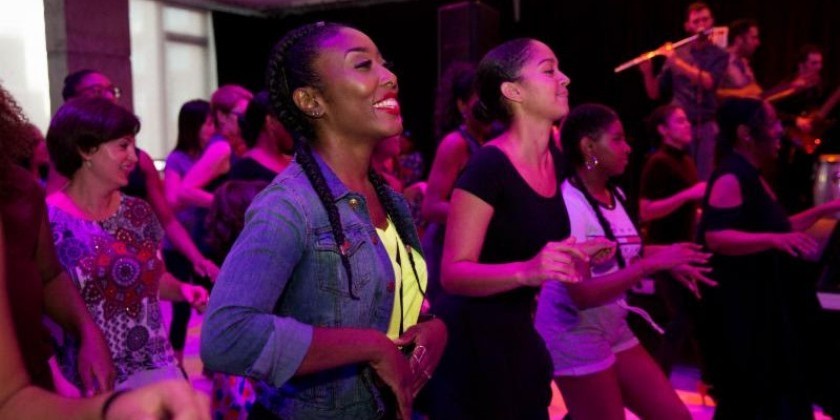 Company:
Ballet Hispánico School of Dance
Ballet Hispánico School of Dance Announces 
Fall 2018 Adult Dance & Fitness Classes
New This Fall:
Latin Fusion, Latin Jazz, Sevillanas & Tap
Ballet Hispánico, the nation's premier Latino dance organization, announces its Fall 2018 Adult Dance and Fitness Class Schedule, including new classes: Latin Fusion, Latin Jazz, Tap, and Sevillanas with Castanets in collaboration with Flamenco Vivo Carlota Santana. 
 
Celebrating nearly 50 years of dance and culture, the Ballet Hispánico School of Dance, located at 167 W. 89th Street, NYC, is a leading center of excellence in dance education accessible to the community at large.
 
The Ballet Hispánico School of Dance offers adult dance and fitness classes that will keep you moving, fit, and energized. Classes are open to dancers of all levels ages 16 and up (no previous dance experience required). Cost: $20 drop-in class, $90 for 5-class card, $170 for a 10-class card. For more information, visit https://www.ballethispanico.org/classes/adult.
---
Adult Ballet with Rebeca Maso
Tuesdays 7:15-8:15pm
This ballet class for adults is a great form of movement fitness, slowly building upper body strength, flexibility, balance, and coordination for the new dancer! Taught by Cuban classical ballet master teacher Rebeca Maso, this introductory level is perfect for novice dancers or for dancers who want to refine their technique.
 
Adult Caribbean Flow with Winston Benons Jr.
Thursdays 7:30-8:30pm
Winston's high-energy style transports dancers of all levels straight to the islands of the Caribbean in this fun and lively class. Each session fuses dance styles of salsa, rumba, soca, merengue, and more. Get strong, get loose, and learn some cultural history while you move!
 
Adult Flamenco with JoDe Romano
Saturdays 3:30-4:25pm
This class serves as an introduction to the art form of flamenco, covering basic technique. Work on rhythm exercises and full body coordination to engage the entire body through hand, arm and footwork exercises. Have fun expressing yourself through this empowering dance style! 
 
Adult Latin Fusion with Brett Sturgis
Wednesdays at 7:30-8:30pm
Brett's exciting style of Latin Fusion introduces rhythms through elements of salsa/mambo, cha-cha-cha, rumba, samba and African through contemporary styles of jazz dance, modern, theater and improvisation. A marriage of rhythm and technique, with a cardio/dance movement driven warm-up that will increase the student/performers' ability to gain endurance and stamina, classes include a multi-styled technique base including work on posture, stretch, form & balance, and strengthening through movements from Latin dance styles. Dancers can improve their style & performance skills including everything from spatial awareness to facial expressions, and developing confident body language overall.
 
Adult Latin Jazz with Camille Moten
Saturdays 4:00-5:00pm
Latin Jazz is a style equally rooted in jazz-influenced technique with a Latin-American inflection, infusing styles of salsa, samba, cha cha, and other popular Latin vernacular dance. The movement, expression, and musical accompaniment is pulled from both styles, exploring the fundamentals of both classical jazz and Latin ballroom. Combinations will explore polyrhythmic movement, stylistic textures, and performance development. 
 
Adult Tap with Raquel Valiente
Mondays 7:00-8:00pm
Tap dance fundamentals will be taught and explored in fun rhythmic patterns. Students will dance to Latin, jazz and Broadway tunes, ending each class with a short combo.
 
Adult Sevillanas with Castanets with Flamenco Vivo Carlota Santana
Saturdays 4:30-6:00pm
Flamenco Vivo Carlota Santana brings a lively Sevillanas with Castanets class right into the Ballet Hispánico studios! People of all ages and levels will enjoy learning the basic techniques and rhythms of the castanets and will also dive into the Sevillanas; a partner dance that is a "must-learn" for any flamenco student. Led by Maria De Los Angeles, the Sevillanas with Castanets class will prepare you to participate in the Annual Feria Celebration that takes place each April in NYC! No partner necessary. 

Note: Adult Sevillanas with Castanets is hosted by Flamenco Vivo Carlota Santana, but takes place at Ballet Hispánico's studios. Ballet Hispánico students can receive a 25% discount on Flamenco Vivo Carlota Santana 5-class and 10-class cards with code FVCS@BH.

Flamenco Vivo Carlota Santana class cards should be purchased before October 31, 2018. Cost: $30 drop-in class, $140 for 5-class card, $275 for a 10-class card.