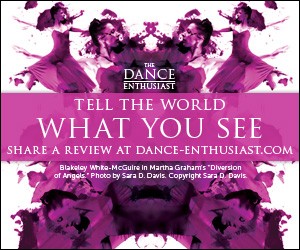 Ballet NY
Company:
Ballet NY
Ballet NY
presents its 2011 Season, including the Company Premiere of a duet from Agnes de Mille's
The Other
and the World Premiere of Artistic Director Medhi Bahiri's
In Twilight,
from November 18-20, 2011 at the Ailey Citigroup Theater, 405 West 55th Street, NYC (at Ninth Avenue).

Performances: Friday at 7:30pm, Saturday at 7:30pm, Sunday at 3pm.

Tickets are 6 (5 for students and seniors) and are available at www.smarttix.com or by phone at 212-868-4444.
The Company Premiere of a duet from Agnes de Mille's The Other, set to music by Franz Schubert, was originally created for American Ballet Theater in 1992. The ballet is about the play of oppositional forces--life and death, light and shadow--which are the mysteries of experience. "The Maiden" and "The Lover" are allegorical figures representing vitality, love and youth. The World Premiere of In Twilight is a duet choreographed by Mr. Bahiri and set to the music of the final song in Richard Strauss' "Four Last Songs." Also included on the program are two ballets created in 2010 by Mr. Bahiri. Concerto, for three couples and set to music by J.S. Bach, is a contemporary work that merges the classical and the quirky. Edge, set to music by Enigma, is a fun, entertaining ballet with music that leads to a marriage of different movements and captures the audience with its rhythm.
Dancers: Josh Christopher, Jace Coronado, Madeline Deavenport, Katie Gibson, Erin Ginn, Jennifer Goodman, Virginia Horne, Luke Manley, John-Mark Owen, Brent Whitney.
For more information, visit www.balletny.org.