Ballet and Ballroom Dance combine with Middle Eastern influence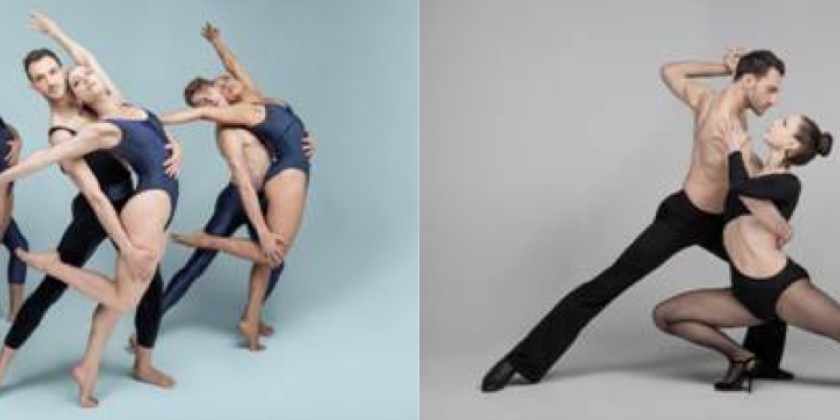 Company:
Fadi Khoury Dance
CONTEMPORARY BALLET MEETS BALLROOM DANCE
JULY 23 AND 24 – New York Live Arts – 7:30pm
FJK DANCE Premiere
Arabesque and Tango Unframed

L-R – FJK Dance in Arabesque; Fadi Khoury and Sevin Ceviker. Photos: Nir Arieli
New York, NY June 25, 2014 - In a unique conversation between contemporary ballet and ballroom dance, Fadi J. Khoury, Artistic Director of FJK Dance, will present two new works, Arabesque and Tango Unframed, in world premiere at New York Live Arts, Wednesday, July 23 and Thursday, July 24 at 7:30pm.
Khoury, who serves as FJK Dance Company's choreographer as well as its principal dancer, connects Argentinean tango, Middle Eastern movement, classical ballet and ballroom dance in a brilliant contemporary dance setting.   A diverse and versatile group of eight dancers --four male and four female -- create dramatic and passionate partnerships, moving always as in a pair. See video.
Born in Baghdad, Iraq, Fadi Khoury moved to Beirut, Lebanon at the age of 13.  His father, Joseph Khoury, was the Artistic Director of the National Iraqi Ballet and an award-winning choreographer.  Fadi grew up surrounded by the folkloric, authentic music and dance of the Arab world.  Inspired by his father's career, Fadi became attracted to the Western classical world of music and ballet.
Fadi Khoury danced and toured throughout the Middle East and North Africa, moving to the U.S. in 2009.  He has since danced with Caracalla Dance Theatre at the Kennedy Center, received a scholarship to further his classical ballet and modern dance training at Alvin Ailey American Dance Theater, and has collaborated and danced professionally with choreographers such as Earl Mosley, Elisa Monte, Venti Petrov and Edward Simon.  He also toured the U.S. and Latin America with NY2Dance.
Khoury's diverse career included serving as Lead Instructor dancer/choreographer for Arthur Murray Dance Center in New York City. His top teacher awards and world record standings from Arthur Murray International gave him the versatility to create his original dance methodology.  "I dove into the ballroom world and found great inspiration in the style and depth of the movement and how it creates connection.  My aim is always to 'make a connection' whatever the technique."
On July 23 and 24 at 7:30pm, FJK Dance at New York Live Arts will present:
Tango Unframed:
In a passionate, dramatic and a seamless connection, Tango Unframed takes partnering to a unique extreme stage where Argentinean tango is performed with classical ballet vocabulary and modern movement. The piece is a story of dance, where the tango frame represents a prison in solitude and the ultimate freedom in duets.
Music originally composed and arranged for FJK Dance by Ronald Jackson and Emilio Solla inspired by authentic classical tango tunes as well as recordings from Rosa Antonelli.
Arabesque:
A contemporary ballet-based piece using sensual and unique Middle Eastern origins of movement, creating the concept of a mirage in the open desert and the mystic presence of man. The ballet is a testimony to the powerful union between human movement and music.
Music by Mercan Dede, Said Murad and Samer Ali.
 
FJK Dance
Arabesque and Tango Unframed
July 23 & 24 at 7:30pm
$25 - $35 - $45
New York Live Arts
219 W 19th Street
New York, NY 10011
Tel: 212.691.6500
http://newyorklivearts.org/event/arabesque
FJK Dance's presentation of Arabesque and Tango Unframed at New York Live Arts is made possible through New York Live Arts' Theater Access Program. The Theater Access Program is a comprehensive subsidized rental program benefiting a diverse group of dance and theater companies and producing organizations.