Becket, MA: NPR's Ira Glass performs at Jacob's Pillow in less than two weeks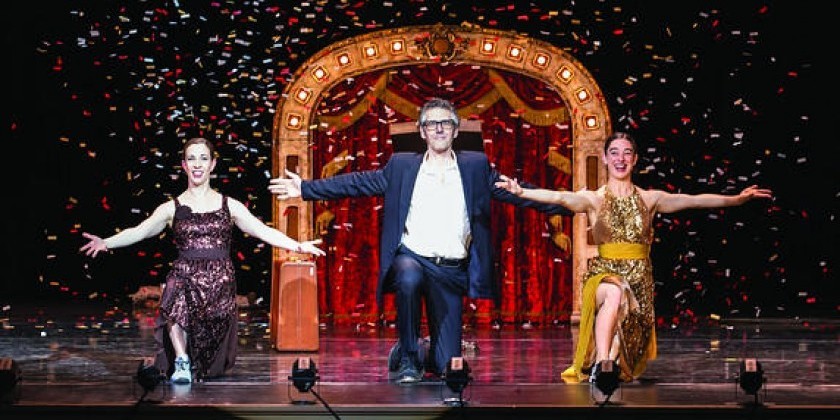 Company:
Jacob's Pillow
[Photo Credit David Bazemore]
JACOB'S PILLOW DANCE FESTIVAL PRESENTS

THREE ACTS, TWO DANCERS, ONE RADIO HOST
STARRING IRA GLASS, HOST OF PUBLIC RADIO'S THIS AMERICAN LIFE,
WITH DANCERS MONICA BILL BARNES AND ANNA BASS
SPECIAL PRE - FESTIVAL EVENT JUNE 13 & 14
May 4, 2015 – (Becket, MA) This June, Jacob's Pillow Dance Festival presents Three Acts, Two Dancers, One Radio Host, a special pre-Festival performance starring Ira Glass, the host and executive producer of the famed public radio program This American Life. "The Tina Fey of dance" (Sarah Kaufman, The Washington Post) Monica Bill Barnes and fellow dancer and collaborator Anna Bass perform with Glass, bringing the unlikely art forms of talk radio and dance together for a production that is "unapologetically human and refreshingly relatable" (Brian Schaefer, The New York Times). This limited engagement will be presented in the Ted Shawn Theatre for two performances only, June 13 at 8pm and June 14 at 2pm.
"This may be the most perfect show ever for Jacob's Pillow, the 'mother ship' of dance," says Jacob's Pillow Executive and Artistic Director Ella Baff. "Ira Glass and Monica Bill Barnes have created an evening of entertainment and high art that is joyous, poignant, hilarious, and moving." 
Lauded as "equal parts heart and humor" (Maura Judkis, The Washington Post), Three Acts, Two Dancers, One Radio Host finds harmony in the partnership of radio icon Ira Glass's trademark storytelling and Monica Bill Barnes's witty, theatrical movement style. Dancers Barnes and Bass illustrate Glass's narration in three stirring acts which focus on performance as an occupation, artistic and romantic relationships, and a personal look at the lives of Bass, Barnes, and Glass. The stories cover a wide range of subjects, told live and in pre-recorded interviews with dancers: from a Riverdance touring company's attempt to win the lottery, to the thorny rewards of longtime partnerships and the passing of loved ones. Public radio sensation Glass is a perfect fit for these tender conversations, "inviting those kinds of confessions with his ability to pose piercing questions in casual, almost innocent, way" (Brian Schaefer, The New York Times). Barnes and Bass give lively, poignant performances with multiple costume changes and pantomime style movement, taking the stage both alongside Glass's narration and in several dance-only moments.
After a chance meeting through an off-beat talent show, Glass felt an overwhelming connection between his work with This American Life and the aesthetic of contemporary choreographer Monica Bill Barnes. Confident that Barnes's brand of movement would resonate with his radio audience, Glass invited Monica Bill Barnes & Company to be featured in the "Invisible Made Visible" live broadcast episode of This American Life. Following an enthusiastic response to an excerpt of the work at New York's Carnegie Hall, Barnes, Glass, and Bass created Three Acts, Two Dancers, One Radio Host. The project has since toured throughout the U.S., performing at venues such at Citi Performing Arts Center (Boston), Town Hall (New York City), and The Annenberg Center (Philadelphia), among many others.

A celebrated blend of heartfelt wit and intelligent physicality, Monica Bill Barnes's work is described as "equal parts theater, movement, comedy, vaudeville, clowning and spectacle" (Brian Schaefer, The New York Times). Both Glass and Barnes share a dedication to the exploration of human experience, and find common ground in the connection of "the verbal and visual, the literal and abstract, the poignant and ridiculous" (Jenny Lower, LA Weekly). Emmy Award-nominated set and costume designer Kelly Hanson furthers the "earnest and theatrical" (Katia Bachko, The New Yorker) tone of the work with a charming backdrop of a mock proscenium, glittering curtains, and a wide range costumes from pedestrian turtleneck sweaters to sparkling ball gowns. The result is a humorous, lively, and tender evening of dance and stories.

Monica Bill Barnes & Company first appeared at Jacob's Pillow Dance Festival as part of the Inside/Out series in 2005. After participating in a Creative Development Residency in 2010, the company premiered the newly-created work in the Doris Duke Theatre in 2010 and performed as part of the Jacob's Pillow Season Opening Gala that same year. Excerpts from Monica Bill Barnes's PillowTalk at Jacob's Pillow, What's So Funny About Dance? (2010), can be found on YouTube: https://www.youtube.com/watch?v=H43I8cdLQfI.
ABOUT IRA GLASS
Ira Glass is a member of the National Radio Hall of Fame (2014) and the host and creator of the public radio program This American Life. Dubbed "the hippest show in the mainstream of public radio" (Steve Johnson, Chicago Tribune), the show reaches more than 1.7 million listeners and is heard on more than 500 public radio stations in the U.S., and also appears on public radio stations in Canada and Australia. Under Glass's editorial direction, This American Life has won the highest honors for broadcasting and journalistic excellence. In 1997, This American Life was granted the prestigious Peabody Award for "captur[ing] contemporary culture in fresh and inventive ways" (Peabody Board). A television adaptation of the program ran on the Showtime network for two years, winning three Emmy Awards. The program's spin-off show Serial ran for twelve weeks in 2014, quickly becoming a pop culture phenomenon and the most listened-to podcast ever created.
ABOUT MONICA BILL BARNES
Monica Bill Barnes is a choreographer, performer, and the Artistic Director of Monica Bill Barnes & Company: a New York City-based contemporary dance company founded in 1997. "Pitch-perfect not only in humor, but in humanness, too" (Janine Parker, The Boston Globe), Barnes's artistic mission is to celebrate individuality, humor, and the innate theatricality of everyday life, delighting in the underdog qualities of all humanity. Specializing in creatively mounted collaborations and bringing dance where it doesn't belong, Monica Bill Barnes & Company has performed in more than sixty cities throughout the U.S. and been commissioned and presented by The John F. Kennedy Center for the Performing Arts, The Joyce Theater, and Jacob's Pillow Dance Festival, among others. Barnes began working with radio host Ira Glass in 2012 when she created a solo for prizewinning humorist David Rakoff for This American Life's "Invisible Made Visible" live broadcast. She holds an MFA from NYU Tisch and a Bachelor of Arts in Philosophy and Theater from the University of California San Diego.
ABOUT ANNA BASS

Originally from Forest, Virginia, dancer Anna Bass has worked with choreographers including Shannon Hummel/Cora Dance, Alexandra Beller Dances, Steele Dance, Christian Canciani, Donna Costello, and Aviva Geismar. Bass began working with Monica Bill Barnes & Company in 2003 and now serves as Associate Artistic Director for the company. She has performed Barnes's work all over the U.S., on stages such as New York City Center and Carnegie Hall, and has performed in Ira Glass's two most recent This American Life Live! events. Bass often assists Barnes with theater projects, and served as Assistant Choreographer for productions at the Atlantic Theater, the Public Theater, and Yale Repertory Theatre. Bass holds a B.A. in Dance and Theater from James Madison University.
PERFORMANCE AND TICKET INFORMATION
Three Acts, Two Dancers, One Radio Host
Ted Shawn Theatre
Saturday, June 13 at 8pm
Sunday, June 14 at 2pm
•       Tickets $45-$75. On sale now at jacobspillow.org or through the Box Office at 413.243.0745.
•       A limited number of $19 Under 35 tickets are available for the Saturday evening performance. Available to adults ages 18 – 35; only available for purchase via phone 413.243.0745.
•       On Saturday, June 13 Jacob's Pillow will host a special post-show reception with the performers. Tickets for the Saturday show and reception are $115.
Pillow Members receive exclusive benefits. To become a Member, call 413.243.9919 x125.
Jacob's Pillow is located at 358 George Carter Road in Becket, MA, 01223 (10 minutes east on Route 20 from Mass Pike Exit 2). The Jacob's Pillow campus and theaters are handicapped accessible.
ABOUT THE PILLOW
Jacob's Pillow, celebrating its 83rd Festival in 2015, is a National Historic Landmark, recipient of the National Medal of Arts, and home to America's longest-running international dance festival. Each Festival includes more than 50 national and international dance companies and 350 free and ticketed performances, talks, tours, classes, exhibits, and events. The School at Jacob's Pillow, one of the most prestigious professional dance training centers in the U.S., encompasses the diverse disciplines of Ballet, Cultural Traditions, Contemporary, and Musical Theatre Dance, as well as an Intern Program in various disciplines of arts administration, design, video, and production. The Pillow's extensive Archives, open year-round to the public, chronicle more than a century of dance in photographs, programs, books, costumes, audiotapes, and videos. Year-round Community Programs enrich the lives of children and adults through public classes, residencies in area schools, and an extensive schedule of free public events. Through Jacob's Pillow Curriculum in Motion®, a nationally-recognized program, Artist Educators work with Berkshire County teachers and students grades K-12, transforming curricula such as biology, literature, and history into kinesthetic and creative learning experiences. Creative Development Residencies, in which dance companies are invited to live and work at the Pillow and enjoy unlimited studio time; choreography commissions; and the annual $25,000 Jacob's Pillow Dance Award all support visionary dance artists and choreographers. Virtual Pillow is aimed at expanding global audiences for dance and offers the opportunity to experience dance and Jacob's Pillow from anywhere in the world via online interactive exhibits, global video networks, and social media. As part of the Virtual Pillow initiative, Jacob's Pillow Dance Interactive is a curated online video collection of dance highlights from 1936 to today. On March 2, 2011, President Obama honored Jacob's Pillow with a National Medal of Arts, the highest arts award given by the United States Government, making the Pillow the first dance presenting organization to receive this prestigious award. For more information, visit www.jacobspillow.org.