Contribute
Your support helps us cover dance in New York City and beyond! Donate now.
Bill T. Jones/Arnie Zane presents "Analogy/Ambros: The Emigrant" (2017)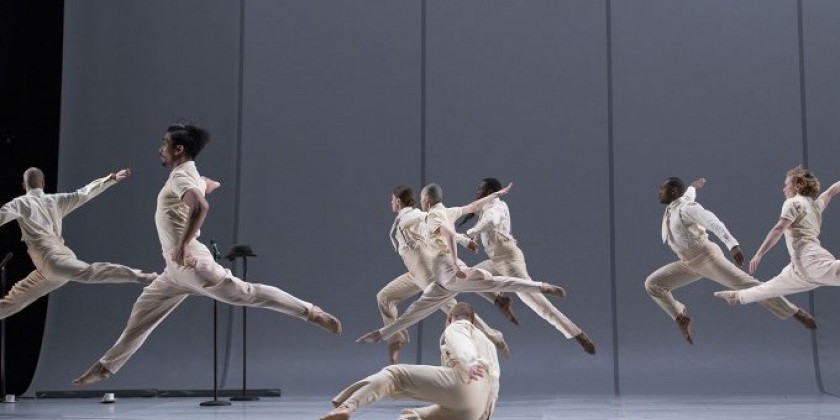 Company:
Bill T. Jones/Arnie Zane
"Memory, often strikes me as a kind of dumbness. It makes one's head heavy and giddy, as if one were not looking back down the receding perspectives of time but rather down on the earth from a great height, from one of those towers whose tops are lost to view in the clouds."
–W.G.Sebald, The Emigrants [World Premiere 2017]
Bill T. Jones with Associate Artistic Director, Janet Wong, and his company are creating the third and final installment of the Analogy Trilogy, Ambros: The Emigrant. This trilogy brings into light the different types of war we fight and, in particular, the war within ourselves. The trilogy is an investigation of memory, storytelling and form.
The idea for Analogy was inspired by Jones's re-reading W.G. Sebald's celebrated novel, The Emigrants and its Ambros Adelwarth section in particular. This narrative, through a quasi-fictionalized history, strives to suggest how an experience of trauma can go underground in the psyche of an individual and direct consciously and unconsciously the course of that individual's life. The central figure, Ambros Adelwarth, is a German valet/manservant who serves as companion to a privileged, dissipated, young scion of a wealthy Jewish family. This restrained and evocative narrative tracks Ambros' experience working at hotels, the glamorous travels with his charge, Cosmo, through Europe and the Middle East on the eve of WWI and then his life after Cosmo's descent into madness and death.
Composer and vocalist Nick Hallett has set passages of the story to music, and is joined by pianist Emily Manzo and all the members of the Bill T. Jones / Arnie Zane Company in the live performance of an original song cycle that partners with their movement, both as soloists and in a ghostly choir. The memory of Schubert Lieder heard throughout the Analogy Trilogy resonates through electric guitars, echoing into a moody, experimental soundscape. Jones continues his work with collaborators Bjorn Amelan (Décor), Janet Wong (Projection), Robert Wierzel (Lighting) and Liz Prince (Costumes).
For Jones and his team, Ambros is the end of a path of exploration, a culmination that could in fact be a beginning…
Commissioned by Dancers' Workshop and ADF with support from the Doris Duke/SHS Foundations Award for New Dance and the Reinhart Fund. Created in part with the support from the Made In Wickenburg Residency Program with funding from the R. H. Johnson Foundation, the National Endowment for the Arts, WESTAF and the Wellik Foundation.