Bloomfield, New Jersey: TAP 'N TIME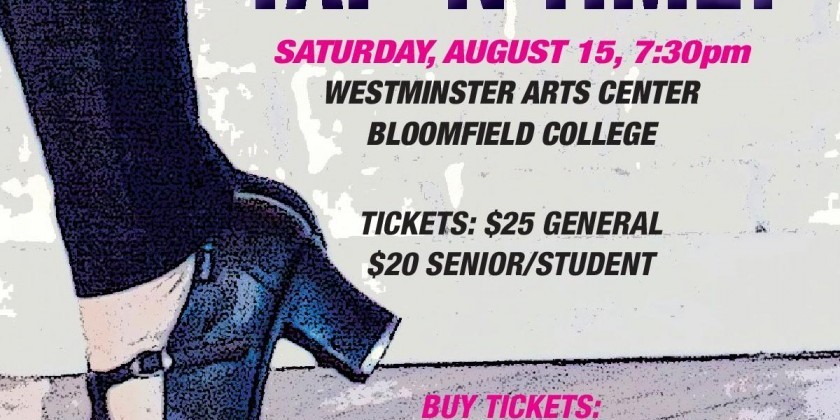 Company:
Jersey Tap Fest
TAP 'N TIME is Jersey Tap Fest's ever popular culminating performance, taking place Saturday, August 15th at 7:30pm. This rhythmic dance performance promises you an entertaining evening of song, rhythmic dance and astounding tapping feet with new short works by world-renowned tap dancers, Jason Samuels Smith (Bring In 'Da Noise, Bring In 'Da Funk), Caleb Teicher (Dorrance Dance) and Heather Cornell (Manhattan Tap) with interim performances by Boston Tap Company, Metro Youth Tap Ensemble, Capitol Tap and NJTAP2.
This feel-good, family-friendly, powerhouse percussive dance performance is guaranteed to bring audience members to their feet! Last year the show sold out quick, so be sure to get your tickets in advance to see the hottest tap dance show that New Jersey has to offer this summer!
Visit http://tapntime.bpt.me to purchase your tickets today. General admission, $20 Students/Seniors and $25 General.
This event is brought to you by Jersey Tap Fest, New Jersey's sole dance festival featuring world class tap faculty and extravaganza, now in its 6th year.
Ticket Link: http://tapntime.bpt.me
Company Website: http://www.JerseyTapFest.com
Facebook: http://www.facebook.com/JerseyTapFest
Instagram/Twitter: @JerseyTapFest
Hashtags: #TAPNTIME #JerseyTapFest #JTF2015
Email: JerseyTapFest@gmail.com
Phone: 973-932-0561