Contribute
Your support helps us cover dance in New York City and beyond! Donate now.
Bolshoi's "Marco Spada" in HD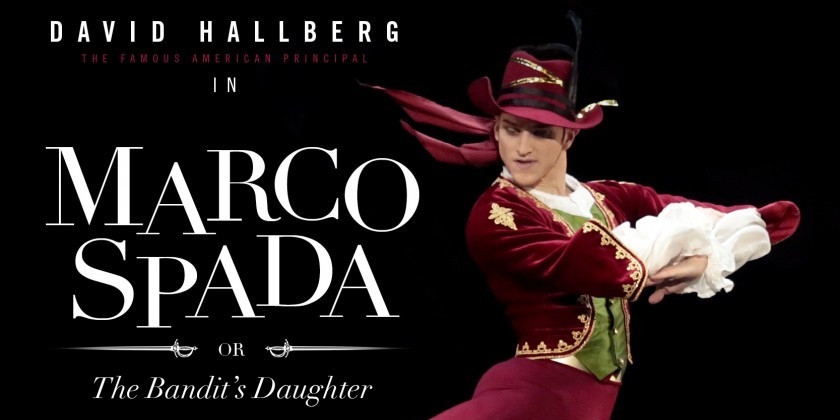 Company:
Pathe Live
BOLSHOI BALLET'S 'MARCO SPADA' IN HD STARRING DAVID HALLBERG PRESENTED IN NYC WITH SPECIAL GUESTS JOAN ACOCELLA AND DAVID VAUGHAN
Pathe Live presents the new Bolshoi Ballet production MARCO SPADA broadcast live from Moscow on Sunday, March 30th in more than 600 cinemas across the world (and near live in 250 cinemas). In the United States alone, over 250 cinemas will broadcast the ballet live.  In New York City, Marco Spada will be presented with a premiere screening at Village East Cinema (181-189 2nd Avenue at 12th Street) on April 12th at 12pm with special guests The New Yorker's Dance Critic Joan Acocella and Dance Historian David Vaughan, and an encore screening on April 15th at 7pm. 
Recreated specifically for the Bolshoi Ballet by French choreographer Pierre Lacotte, a major figure on the international dance scene and with music by Daniel-François-Esprit Auber, this "swashbuckling" ballet rarely presented on stage, premiered at the Bolshoi in November 2013. As it is an exclusive Bolshoi production for the next seven years, it will be impossible to see anywhere else.
The grandiose ballet is unique both on a technical and dramatic level: complex choreography, five lead roles created for five principals, several changes in scenery, the participation of nearly the whole Corps de ballet, and even the presence of animals on stage... With its new sets, its fully restored choreography, its scenes of pantomime and lovers misunderstandings, rebellion and devilish intrigue, MARCO SPADA is a fresh and joyful ballet not to be missed. The cast is led by Bolshoi Premier Dancer David Hallberg, the first and only American Principal to be invited to join the famed theatre, who was heralded as "brilliant" by The New York Times as Marco Spada, . 
Joining him is prima ballerina Evgenia Obraztsova as Marco Spada's daughter Angela, Bolshoi's newest rising star as Marquesa Sampietri, Olga Smirnova who dazzled critics during the company's recent London tour, and Premier Dancer Semyon Chudin as Angela's love interest, Prince Federici.  Joining us for the screening are two very special guests, The New Yorker's Dance Critic Joan Acocella and Dance Historian and Author David Vaughan, to introduce the ballet with a pre-show talk.
A writer for The New Yorker, Joan Acocella is one of today's leading voices on dance and literary criticism.  She has written for the publication since 1992 and became the magazine's dance critic in 1998. Her books include a 1993 biographical and critical study of choreographer Mark Morris, editor of "The Diary of Vaslav Nijinsky," and "Twenty-eight Artists and Two Saints," which won the Award in Literature from the American Academy of Arts and Letters.  She has written on dance, literature, and other arts for many publications, including the New York Times Book Review, Art in America, The New York Review of Books, Dance Magazine, Village Voice, and the Times Literary Supplement.
David Vaughan is a dance historian, author and critic.  Born in London, Vaughan came to the NYC in 1950 to study at the School of American Ballet, where he first met Merce Cunningham. Shortly after Cunningham opened his own studio, Vaughan became the company's archivist in 1976.  As an author, Vaughan has written "The Royal Ballet at Convent Garden," "Merce Cunningham: Fifty Years," and "Frederick Ashton and His Ballets," and is the co-editor of "The Encyclopedia of Dance and Ballet." In 2000 he received the Congress on Research in Dance Award for Outstanding Leadership in Dance Research, and in 2001 a Bessie Award for sustained achievement.

Pathé Live
www.pathelive.com
Bolshoi Ballet in the US Facebook
Bolshoi Ballet in the US Twitter