Brooklyn Arts Exchange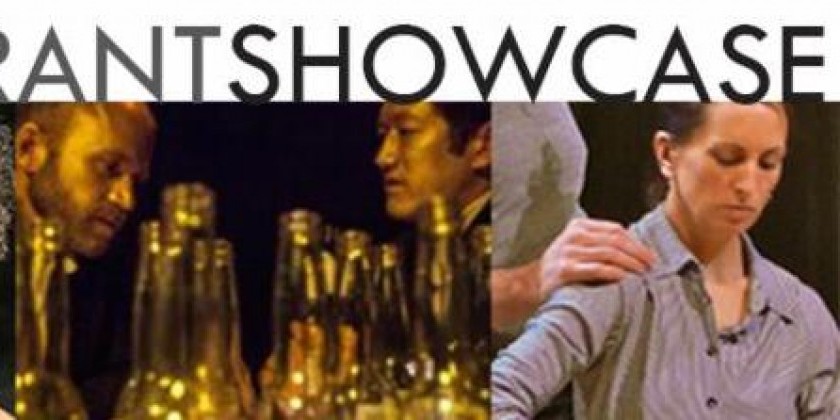 arts and artists in progress
BAX | Brooklyn Arts Exchange


is excited to announce the


OPEN STUDIO SERIES
Saturday & Sunday, November 17-18, 2012
FREE and OPEN to the public.
RSVP at https://web.ovationtix.com/trs/pr/918349.
Saturday, November 17th, 2012
2:00pm | Jess Barbagallo
(theater)
4:00pm | LOVE|FORTÉ, A Collective
(dance)
6:00pm | Mariangela Lopez
(dance)
Sunday, November 18th, 2012
1:00pm | RoseAnne Spradlin
(dance)
3:00pm | Jillian Peña
(dance)
5:00pm | Max Steele
(theater)
Featuring BAX's Artists-In-Residence, the Open Studio Series begins a shared journey through the creative process. The audience engages with the artists as they open the doors to their rehearsal practice. This journey continues with the Works-in Progress Series in January, and culminates in the Spring performances. This is a rare opportunity to follow a work and engage its creators from the early stages through to full productions.
We developed this series to further BAX's core mission of supporting arts and artists in progress. To us, the journey from the initial idea to the premiere of a work is as important as the work itself. We are inviting the public to see the work of our Artists-in-Residence as it is being created and developed.
Opening the doors to the various stages of a work's development and sharing the journey deepens the relationships between the work, the artist and the audience. Open Studio Showings include a moderated question-and-answer period where the audience's observations and the artist's intentions are explored.
ABOUT THE ARTISTS-IN-RESIDENCE
These exceptional artists are provided with an artistic home base for a one to two year period, giving them a tangible sense of permanence and place. Resident artists have the use of four spaces suitable for theater, dance and performance work and are offered up to 200 hours of free rehearsal space (per year), a stipend, formal presentations of new works and works in progress, and administrative and technical support. Opportunities are also available to curate, teach in the public schools, and to work with BAX's student population.
Jess Barbagallo
is a multidisciplinary theatre artist. She has performed with Big Dance Theater (
The Other Here
), Theatre of a Two-Headed Calf (
Panic
,
Drum of the Waves of Horikawa
,
It Cannot Be Called Our Mother But Our Graves
) and The Builders Association (
Jet Lag
,
House/Divided
). She is a founding member of Half Straddle (
The Knock-Out Blow
,
Sliding Whores
,
Nurses in New England
,
In the Pony Palace/Football
,
Away Uniform
), the Red Terror Squad (
Family Bed
) and the Dyke Division of 2HC (
Room for Cream
). Other credits include
Fiabe Italiane
(John Turturro),
An Oresteia
(Paul Lazar/Brian Kulick),
MilkMilkLemonade
(Josh Conkel/The Management),
A Marriage: 1
(Jake Margolin, Nick Vaughan, Jessica Almasy),
Little Edgar, Lamb of God
(Sibyl Kempson/Eric Dyer),
The Quiet Way
(Casey Llewellyn),
The Firebird
(Katy Pyle) and
Group Sex on the Living Room Floor
(Amanda Davidson). She has written the plays
Grey-Eyed Dogs
(Dixon Place Mondo Cane Commission, 2007),
I'll Meet You in Tijuana
(Soho Rep Writer/Director Lab, 2009/10),
Saturn Nights
(Incubator Arts Project, January 2011), and
Men's Creative Writing Group
(Playwriting Resident of the Invisible Dog Art Center, August 2011). Jess has directed and/or dramaturged projects for Laryssa Husiak, Julia May Jonas, and Eliza Bent. She has been a guest artist/teacher at Brown and New York University. Jess was named a 2011/2012 Queer Arts Mentorship Fellow to write an essay on queer/trans grieving and is the co-creator of GLBTQ film review site:
www.homoflix.wordpress.com
. She recently curated
Why I Make Live Art
(
When I'm Not Making the Others
), a symposium dedicated to investigating the problems of live art-making today. Video/Web:
Comrades of Time
(Andrea Geyer) and
Gay's Anatomy: Season 2
(Karina Mangu-Ward/Bobby Hodgson). Ongoing:
Without Me I'm Something or Karen Davis Does ...
(Poetry Project, Dixon Place, LaMama, Youtube and other assorted guerilla venues), a performance art project that follows the stand-up hijinks of fictional comedienne Karen Davis and alter ego Joe Ranono. MFA: Brooklyn College, Himan Brown Award recipient 2008 and 2009.
I am a Brooklyn based choreographer and performer, born in Caracas, Venezuela. Since 2001, I have created six independent works. My pieces has been presented in Venezuela, Mexico, France, Boston and multiple venues in New York City such as Dance New Amsterdam, Williamsburg Art Nexus, Dixon Place, Danspace Project, Movement Research at the Judson Church, P.S 122, Dance Theater Workshop, Tisch School of the Arts and MonkeyTown among others. My work is known for the use of multidisciplinary arts and for the participation of people from the communities where I create my performances. In 2004, after the presentation of
Wonders of Progress
I began to call my group Accidental Movement, hoping that this name would serve as a platform for the realization of my experimental works. My full evening project,
Outmigration
, was chosen by the
New York Times
for the "Urban Eye: The Best of New York Today-Weekend."
I was a 2009-11 Movement Research Artist in Residence. I hold a BFA from the Boston Conservatory (1999) and I am Certified Movement Analyst from the Laban Institute of Movement Studies (2001). Currently, I am on faculty at the Laban Institute of Movement Studies and Ballet Hispanico. I have also been a guest teaching artist at Dance New Amsterdam and Movement Research.
LOVE|FORTÉ, A COLLECTIVE
Nia Love
is an established choreographer who has created over 20 works of which have been performed and produced nationally and internationally. Ms. Love is the winner of (2001-2003) United States Fulbright Fellowship for lecturer and researcher in Dance Ethnology and lived in Ghana for several years. She trained and performed in Cuba with Alicia Alonzo's Ballet Nacional De Cuba, Japan with Min Tanaka in butoh, and with King Osei Tutu of Ghana, Kumase in traditional Court Dances. Ms. Love has served as Associate Director of
Bringing in Da Spirit
, a seven time award winning Documentary film from Wales to Burkina Faso. She has also served as Artist consultant to
Dancing Like Home
, a documentary on dance and culture from Casamance, Senegal, West Africa. Ms. Love has served as an Artist-in-Residence at Dance Theatre Workshop (DTW), teaching artist at Dance New Amsterdam (DNA) and completed her third term as Director of the dance program at PS/MS 95 in the Bronx.
Marjani Fortè
was a touring and teaching member of Urban Bush Women Dance Co. of 5 years, and is now an independent choreographer and co-founder of LOVE|FORTÉ A COLLECTIVE. Fortè has taught master classes and workshops across the U.S. and beyond- including Germany, England, Colombia, Brazil, and Venezuela. She has presented choreographic works for Bronx Academy of Arts and Dance, New Orleans McKenna Museum, DNA Raw Material, and DanceNOW at Joe's Pub. Fortè premiered
EGO
at Dance Theatre Workshop as a 2010 Fresh Tracks Resident Artist while concluding a choreographic residency and lecture series at Loyola Marymount University. Fortè was recently named a Movement Research Artist-In-Residence 2011/13, premiered
Here...
for Danspace PLATFORMS: Parallels in March 2012, and
EGO
for HarlemStage's E-Moves in April 2012. She is currently faculty at Dance New Amsterdam (DNA) 2012. Her work stems from being born in and having engaged with culturally rich, vibrant, historic, and politically charged communities.
The creative marriage of Nia Love and Marjani Fortè,
LOVE|FORTÉ A COLLECTIVE
is a research/process, performance, and teaching geared collective, with a commitment to social and politically conscious art making that connects the human experience through generations. We have developed work and a teaching methodology that reflects our identity as artists of successive generations, reflecting an Africanist approach to learning and evolution. We're interested in re-defining the Performance Experience, through a commitment to the PROCESS of art making via choreographic and Improvisational-based Performance, and an equal valuing of Research and Embodied Memory as profound sources in the creative process. LOVE|FORTÉ embraces a spectrum of performance venues and spaces i.e. theatre, installation/gallery, and site-specific spaces. Current and recent activities include site-specific investigation as a part of our pluralistic training for young artists in dance (Dance Without Walls), WOW Café, DanceNOW at Joe's Pub performance, Judson Church, and No Longer Empty Exhibit/Site-Specific.
JILLIAN PEÑA
I am a dance and video artist based in Brooklyn. My work is primarily concerned with confusion and desire between self and other, focusing on the most complicated relationship we all have: that of the self to the self. I make dances that sometimes include people dancing, sometimes include you dancing, and sometimes hope that dance can exist without dance, by being moved by something.
I am inspired by psychoanalysis, queer theory, pop media, and spirituality. I have been presented internationally, including at Dance Theater Workshop and The Kitchen in New York, Akademie der Kunste Berlin, Centre for Contemporary Arts Glasgow, International Festival of Contemporary Art Slovenia, and Mix Brazil Sao Paulo. I have an MFA from the School of the Art Institute of Chicago, where I was a fellowship recipient, and a BA from Hollins University. I am a Jack Kent Cooke Graduate Scholar and a Practice-based MPhil candidate in Fine Art at Goldsmiths College, University of London. My video work is distributed by Video Data Bank. I was a 2009 Movement Research Artist-in-Residence, a 2009 DanceWeb Fellow at Impulstanz in Vienna, a 2010 Artist-in-Residence at Archauz in Århus, Denmark, and a 2011 Artist-in-Residence at the National Dance Center of Bucharest, Romania.

ROSEANNE SPRADLIN
RoseAnne Spradlin
, New York City-based choreographer, has become known for her raw, luminous vision and provocative performance works. Spradlin's work explores the phenomenon of 'embodiment,' and addresses issues of gender, body form and sexuality. The 'body' in her work is a body in transition and in transformation - a body disintegrating and reintegrating under the 'stress' of performance. Spradlin's newest work,
beginning of something
, premiered at The Chocolate Factory in Long Island City, Queens, in May 2011. "What's going on here?" wrote critic Elizabeth Zimmer, reviewing the work. "Spradlin, one of the bravest choreographers of her generation, seems to be testing the possibilities, letting us witness, up close, the transformation of conventionally pretty young things into powerful icons." Critic Gia Kourlas wrote, "...even when focusing the eye on a bare breast or a quivering thigh, it's what throbs beneath the surface that matters." Spradlin received a 2011 BUILD company grant from the New York Foundation for the Arts; other recent honors include a 2009 Artist Award from the Doris Duke Creative Exploration Fund, a 2007 Guggenheim Fellowship in Choreography, a 2007 Individual Artist Grant from the Foundation for Contemporary Arts in New York City and a three-year Lambent Fellowship in Performing Arts given by the Tides Foundation in 2006. In 2003, Spradlin received a New York Dance and Performance Award (BESSIE) for her 2002 work
under/world
. Spradlin received Choreography Fellowships from the New York Foundation for the Arts in 1998 and 2006 and was also named an Artist-in-Residence with Movement Research in 1998, 2006 and 2012. Spradlin teaches in New York City and internationally; she has taught workshops in Austria, Belgium, France, Greece, Germany, Great Britain and on the east and west coasts of the United States. She performed her evening-length solo
Ends of Mercy
in London in 1999 and her quartet
Survive Cycle
at the ImPulsTanz festival in Vienna in 2007.
MAX STEELE
I grew up in California and began writing zines and making performance art in the context of punk music when I was a teenager, often performing at houses, outdoor generator-powered shows, and at traditional punk clubs. I went to Sarah Lawrence College in Yonkers, where I studied Fiction and Art History. After moving to New York in 2006, I began self-publishing the fiction zine
Scorcher
, which served as both a text as well as the basis for performances. I also began making solo performance art work around this time, and began presenting it at venues throughout New York such as Dixon Place, the New Museum, Deitch Projects, and the Queens Museum.
Founded in 1991, BAX/Brooklyn Arts Exchange is a is a multi-faceted community performing arts center located in Park Slope, Brooklyn offering an annual presenting season, artist services, and educational programs for youth and adults. BAX receives support from city, state and national public and private foundations. Our programs have been featured in several Brooklyn, NYC, and national publications, celebrating our continued support of artists of all ages.



The Artists-in-Residence Program is supported by The National Endowment for the Arts, The New York State Council on the Arts, the NYC Department of Cultural Affairs, The New York Community Trust, Mertz Gilmore Foundation, The Andrew W. Mellon Foundation, Foundation for Contemporary Arts, and The Jerome Foundation.