Brooklyn Ballet's 2014 season: Vectors, Marys & Snow‏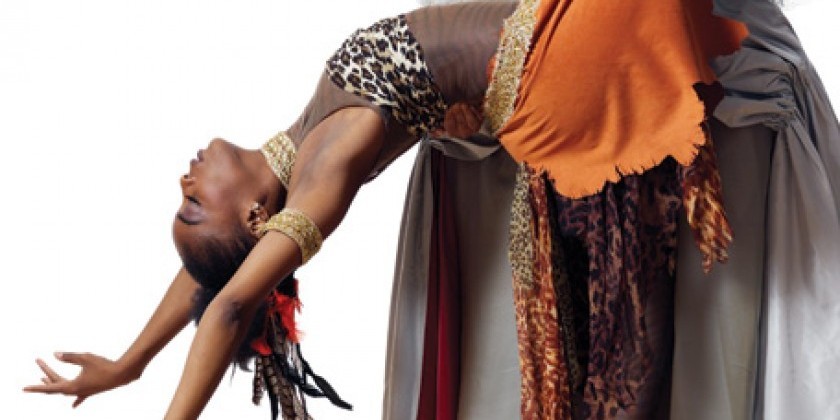 Company:
Brooklyn Ballet

Brooklyn Ballet 2014 Season
World Premieres, Live Music and Sneak Peek of  The Brooklyn Nutcracker
Collaborations include New Musicians at Each Show 
Specially Crafted Motion-Sensor Costumes made by NYC Resistor

VECTORS, MARYS, AND SNOW  
April 3-13
Actors Fund Arts Center
Downtown Brooklyn


Brooklyn, NY, February 27, 2014.  Brooklyn Ballet's 2014 spring season, Vectors, Marys and Snow, will present eclectic dancing, live music and collaborations as well as a sneak peek from The Brooklyn Nutcracker. Performances are April 4, 5, 11, 12 at 8pm and April 6 and 13 at 4pm. A special pre-performance event begins at 6:30pm on opening night, Thursday April 3. All performances take place at the Actors Fund Arts Center, 160 Schermerhorn Street.

Ballet is at the center of unusual happenings in the world premiere of Quilt/One Night Stand, a trans-atlantic collaboration with Brooklyn Ballet's first resident choreographer Julia K. Gleich. Quilt/One Night Stand creates itself anew each performance through the use of a mathematical concept of vectors explored by the dancers to discover new movement. A different musician/composer will perform at each performance. (see full line-up below)

On its way to its own unique Nutcracker, the company previews Artistic Director Lynn Parkerson's Snow plus Drosselmeyer 1.0 featuring Mike "Supreme" Fields. Snow features six dancers from Brooklyn Ballet's company and six dancers from Brooklyn Ballet's youth ensemble in costumes by YMX by Yellowman. Both Nutcracker excerpts utilize motion-sensor lights embedded into the costumes, digitally created by NYC Resistor.

Parkerson says "I can't wait to see the dancers responding to the incredible line-up of musicians performing in Quilt/One Night Stand. From baroque to beatbox to jazz to improvised soundscapes--every night a different musician sets the tone. And where else will you find motion-sensor tutus!"

The program also includes Gleich's The Solitude, to an original composition by Malcolm Parson, and Parkerson's world premier 3 Marys to music by Nicola Matteis (b. 1650). The Solitude, for three women and two men, explores the themes of aloneness and togetherness in an abstract time/space continuum. 3 Marys is inspired by the resurgence of Marion worship during the Counter Reformation. Three women dancers, whose gestures are influenced by American Sign Language, represent a Baroque Mary, a black Madonna and a spirit Mary. Julius Abrahams, keyboard, Wen Yang, viola da gamba, and Jude Ziliak, violin, play the Matteis score.

Vectors, Marys and Snow will be performed at
The Actors Fund Arts Center
160 Schermerhorn Street (between Hoyt and Smith) in downtown Brooklyn
April 3, 4, 5, 11, 12 at 8pm
April 6 and 13 at 4pm

Special Events
Pre-Performance Opening Night Reception
Thursday, April 3rd at 6:30pm at The Actors Fund Arts Center
Free Beer Fridays!
Friday, April 4th and Friday, April 11th, enjoy a complimentary beer courtesy of Brooklyn Ballet

Children's Matinees
Sunday, April 6th & Sunday April 13th

Tickets available online at brooklynballet.org
General                 $25.00
Student/Senior    $15.00
Child (under 12)   $10.00

Founding Artistic Director & Choreographer
Lynn Parkerson

Resident Choreographer
Julia K. Gleich

Dancers
Michael Crawford                                      
James "J-Floats" Fable                      
Catherine Green                                         
Paunika Jones                                            
Miku Kawamura                                        
Felipe Panamá
Abbey Roesner
Elisabet Rubio
Iza Szylinaka
Sarah Taylor
Oshi Wanigasekera                         
                 
Brooklyn Ballet Youth Ensemble:

Collaborators
Thomas Baird, Mike "Supreme" Fields
choreography
Patricia Forelle, NYC Resistor, YMX by Yellowman
costumes
Malcolm Parson
composer

Musicians
Julius Abrahams, Josh Henderson, Jude Ziliak, Wen Yang, Shelley Hirsch (4/4), Andrei Matorin (4/5), Baba Israel (4/6), Andrew Drury (4/11), Russ Lossing (4/12), Jen Baker (4/13)