Brooklyn Music School Announces Registration for Music + Dance Discovery Day (FREE)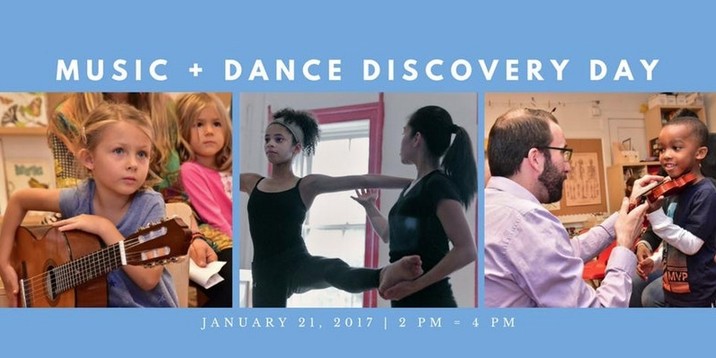 Brooklyn Music School Announces
Registration for Music + Dance Discovery Day
Sunday, January 21, 2018 from 2 p.m. - 4 p.m.
Available for Ages 1-15
FREE
 

Brooklyn Music School (BMS) announces registration for Music + Dance Discovery Day on Sunday, January 21, 2018 from 2 p.m. - 4 p.m. Registration is free. Register at https://www.eventbrite.com/e/music-dance-and-discovery-day-at-bms-free-tickets-41972224052.
 
Get out of the cold this month and join for a fun afternoon exploring some of the wonderful music and dance offerings available at the Brooklyn Music School. Free classes offered in: 

- Musical Pathways (early musicianship) (ages 1 - 4) 
- Guitar (age 5 & up) 
- Jazz Dance (ages 6 & up)
- Contemporary Dance (ages 8 & up) 

Schedule: 
2 PM - 3 PM Early Musicianship 
2 PM - 3 PM Jazz Dance
3 PM - 4 PM Guitar
3 PM - 4 PM Contemporary Dance
 
Please feel free to contact Brooklyn Music School with any questions at 718-638-5660 or via email contactus@brooklynmusicschool.org
 
The Brooklyn Music School views music and performance as the birthright of all people, an essential way that human beings connect with others and explore their creativity. The study of music has been demonstrated to enhance academic learning and helps to develop discipline and confidence that will serve children well throughout their lives. As part of the vision of reinventing the community music school for the 21st Century, BMS is dedicated to:
* Making high quality musical instruction approachable and affordable to a wide range of students,
* Creating frequent opportunities for performance for our students and cultural enrichment for our community,
* Representing a wide range of musical traditions, including European, African, Middle Eastern, and American to represent the diversity of Brooklyn's musical talent, and
* Offering a warm and welcoming space for families and individuals to explore new talents and make lasting friendships.
 
For more information, visit www.brooklynmusicschool.org.