Advertise With Us
Make an impression — place an ad on The Dance Enthusiast and receive thousands of eyes on your work every week. Learn more. 
Contribute
Your support helps us cover dance in New York City and beyond! Donate now.
CHICAGO: Hubbard Street Dance never stops dancing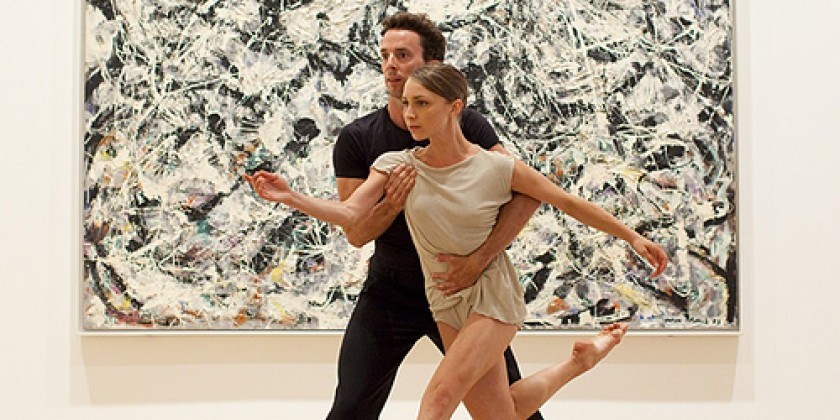 Company:
Hubbard Street Dance Chicago
We never stop dancing.
November 1–December 13, 2013 at the Hubbard Street Dance Center Instructor Anna Long leads the Lou Conte Dance Studio's first-ever session in Gaga dance technique, developed at Israel's Batsheva Dance Company and quickly gaining influence and popularity worldwide. Classes Fridays at noon last 105 minutes and are $15 each. hubbardstreetdance.com/lcds
November 4, 2013 at Everest On the 40th floor of One Financial Place in Chicago, Hubbard Street holds its third annual TASTE, an exclusive evening of fine and rare wines presented by Hart Davis Hart Wine Company and award-winning restaurant Everest. hubbardstreetdance.com/taste
November 5–10, 2013 in three cities in Germany Presented by Norddeutsche Konzertdirektion, Hubbard Street performs in Bonn, Neuss und Schweinfurt. grevesmuehl.de
November 14, 2013 at the Art Institute of Chicago Hubbard Street enters its fifth year of joint programming with the Art Institute, with an event themed on the museum's world-renowned collection of paintings by Old Masters. artic.edu/aic
November 23, 2013 in Ottawa, Ontario Canada's National Arts Centre presents the Canadian premiere of One Thousand Pieces in Southam Hall. nac-can.ca
December 5, 2013 at the Art Institute of Chicago Hubbard Street's joint programming with the Art Institute of Chicago continues at the museum with a second presentation, free with admission. artic.edu/aic
December 7 + 8, 2013 at the Hubbard Street Dance Center BeMoved Methodology: Level One Workshop takes place as part of the wellness program's Instructor Certification Program. bemoved-dance.com
December 12–15, 2013 at the Harris Theater for Music and Dance
Back by popular demand, our first standalone production, created for the combined ensembles of Hubbard Street's main company and Hubbard Street 2, opened our Landmark 35th Anniversary Season to critical acclaim (aA˜A…aA˜A…aA˜A…aA˜A…, Chicago Tribune). A singular vision in the blue tones of Marc Chagall's America Windows, One Thousand Pieces features lighting by Michael Korsch, and sets and costumes by German designer Thomas Mika. hubbardstreetdance.com/winter
December 16–20, 2013 at the Hubbard Street Dance Center Building on the success of its pre-professional, Summer and Teen Intensive training programs in Chicago and Iowa City, Hubbard Street offers its first Winter Choreographic Workshop, for dancers ages 18 and older. hubbardstreetdance.com

January 12, 2014 in New York City Hubbard Street 2 performs By the skin of my teeth by 2012 National Choreographic Competition winner Gregory Dolbashian, as part of "Dance Gotham" at New York University's Skirball Center for the Performing Arts. focusdance.us
January 12–February 23, 2013 in 11 U.S. cities, coast to coast Tomorrow's world-class artists audition in Pittsburgh, San Francisco, Los Angeles, Phoenix, Austin, Towson, Iowa City, Chicago, New York City, Seattle and Miami, for Hubbard Street's 2013 Summer Intensive. hubbardstreetdance.com/summerintensive
February 1, 2014 in Bloomington, Illinois Hubbard Street 2 premieres new works by 2013 National Choreographic Competition winners Loni Landon and Alex Soares at the Bloomington Center for the Performing Arts. cityblm.org
February 1, 2014 at the Hubbard Street Dance Center The Lou Conte Dance Studio — where it all began on Hubbard and LaSalle Streets in 1974 — celebrates the 40th anniversary of its first public classes with an all-day celebration. Stay tuned for further details. hubbardstreetdance.com/lcds
Facebook.com/HubbardStreetDance • Twitter.com/HubbardStreet
Pinterest.com/HubbardStDance • Instagram.com/HubbardStreet
Spotify.com/user/HubbardStDance • YouTube.com/user/HubbardStreetDance