Contribute
Your support helps us cover dance in New York City and beyond! Donate now.
CHICAGO: Hubbard Street + The Second City announces "The Art of Falling"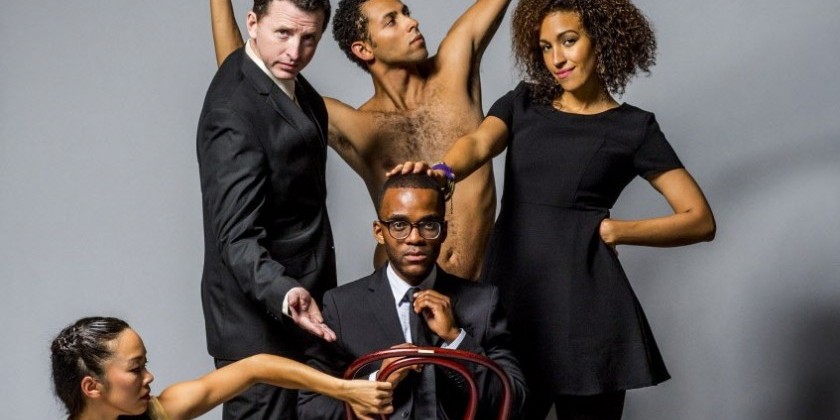 Company:
Hubbard Street Dance Chicago
Hubbard Street + The Second City present the world premiere of The Art of Falling

Collaboratively devised production kicks off Season 37 at Hubbard Street
October 15–19 at the Harris Theater for Music and Dance

CHICAGO – Hubbard Street Artistic Director Glenn Edgerton; Andrew Alexander, CEO/Executive Producer of The Second City, Inc.; and Kelly Leonard, Executive Vice President of The Second City are excited to present the world premiere of The Art of Falling, an unprecedented and collaboratively devised production first announced in February 2014 at The Second City.
Helmed by Jeff Award–winning director Billy Bungeroth (The Second City Guide to the Opera) and employing the largest creative team in Hubbard Street's 37-year history, The Art of Falling runs October 15–19, 2014 at the Harris Theater for Music and Dance in Millennium Park, launching Hubbard Street's 2014–15 subscription season. (Visit hubbardstreetdance.com/secondcity.)
Hubbard Street and The Second City's joint venture is written by Tim Mason with Carisa Barreca, T.J. Jagodowski, Kate James and the casts of The Second City; and choreographed by Hubbard Street Resident Choreographer Alejandro Cerrudo, Lucas Crandall, Jonathan Fredrickson, Hubbard Street 2 Director Terence Marling and Robyn Mineko Williams. The ensemble includes dancers from Hubbard Street's 18-member main company and Hubbard Street 2, Carisa Barreca, Joey Bland, Tim Mason, Tawny Newsome, Rashawn Scott and Travis Turner. Musical direction, original music and sound design is by Julie B. Nichols; costumes are by Jeff Award–winning designer Branimira Ivanova; set designs are by veteran of TV and theater Martin Andrew; lighting is by Michael Korsch (designer of Cerrudo's One Thousand Pieces, Little mortal jump and The Impossible); and properties design is by Tierra G. Novy. Nate DuFort is producer and Jeremy Smith associate producer of The Art of Falling.

Says Glenn Edgerton: "Everyone's asked me to define this collaboration and my answer is, quite simply, 'You have to see the premiere.' I can say it will include some touching moments, some profound moments — and a lot of truth, which underlies all humor. I'm proud that, here at Hubbard Street, we're open enough, willing enough, and have a company ready to embrace a project like this. It's been thrilling to watch Billy Bungeroth and our incredible creative team put it all together."
Says Kelly Leonard: "The improvisation that Hubbard Street practices and the improvisation that The Second City practices is the reason that we're able to accomplish this project at all. The Art of Falling is also, quintessentially, a Chicago thing. There's an aspect of civic pride in collaboration. Chicago is 'The City That Works.' It's been fun, it's been enlightening — and it doesn't end here. Our hope is that we've started a conversation that can continue. We hope The Art of Falling inspires other organizations to find new and interesting ways to collaborate."
Says Andrew Alexander: "As a producer, one of the most important tasks is casting and ensuring that you have the right people in the room. I can't imagine a better group of people to be tasked with this epic and unique collaboration. From the director to the choreographers to the writers to the performers, the amount of talent involved in this collaboration is seismic."
Says Billy Bungeroth: "We live in a city that is just brimming with incredible artists. I've really felt like I've gotten to encompass the huge range of talent here in Chicago, which was something Glenn Edgerton said right when we first started this collaboration: 'Let's look at who's in Chicago. Let's look at what's right here in front of us.'"
Hubbard Street + The Second City present The Art of Falling at the Harris Theater for Music and Dance in Millennium Park, 205 E. Randolph St. in Chicago, October 15–19, 2014.
The performance schedule is as follows:
• Wednesday    October 15 at 7:30 pm   (preview performance)
• Thursday        October 16 at 7:30 pm 
• Friday             October 17 at 8 pm                  
• Saturday         October 18 at 8 pm                  
• Sunday           October 19 at 3 pm                  
Single ticket prices start at just $25 and are available now at hubbardstreetdance.com/fall or by phone at 312-850-9744. Hubbard Street Ticket Office hours are Monday–Friday, 10am–4pm.
The Art of Falling was commissioned by the Harris Theater for Music and Dance in Millennium Park, with support from Sandy and Jack Guthman through the Imagine Campaign. It is sponsored by Richard L. Rodes; R. Penny Rodes de Mott; GoodSmith, Gregg & Unruh, LLP; The Walter E. Heller Foundation; Wessex 504 Corporation; and Choreographer's Circle Members Meg and Tim Callahan, Sidney and Sondra Berman Epstein, Caryn Jacobs and Dan Cedarbaum, and Sallyan Windt. The Art of Falling is partially supported by a grant from the Illinois Arts Council Agency.

Hubbard Street's 2014–15 season continues December 4–14, 2014 at the Museum of Contemporary Art Chicago's Edlis Neeson Theater with "Princess Grace Awards: New Works," featuring three ascendant contemporary choreographers: 2013 MacArthur Fellow Kyle Abraham, RUBBERBANDance Group founder and artistic director Victor Quijada, and Hubbard Street alumna Robyn Mineko Williams. All three artists have received Princess Grace Awards in Choreography; Abraham's Counterpoint, called "flat-out beautiful" by the Chicago Tribune, was a Chicago Dancing Festival commission and received its world premiere on August 20. Major support for "Princess Grace Awards: New Works" is provided by the Princess Grace Foundation–USA.
Hubbard Street returns to the Harris Theater for the Spring Series, March 12–15, 2015, themed on gender identities and relationships, and featuring the company's first performances of work by Kidd Pivot founder and artistic director Crystal Pite. A Picture of You Falling, from Pite's 2010 evening-length work, The You Show, receives its Hubbard Street premiere alongside Cloudless (2013) by Alejandro Cerrudo, called "perfection in its unification of choreography, music and lighting" by Germany's Main Post; and two contrasting ensemble works by Czech–born, Holland-based dancemaker Jirí Kylián: Sarabande (1990) for six men, and Falling Angels (1989) for eight "powerhouse women" (Chicago Sun-Times).

Season 37 at Hubbard Street concludes with a unique program marking the sixth year of Alejandro Cerrudo's prolific and successful choreographic residency. Hubbard Street's All-Cerrudo Celebration runs June 11–14, 2015 at the Harris Theater, featuring his 14th world premiere for the company and additional repertory to be announced.
Season 37 subscriptions to Hubbard Street's Chicago performances are $75–$302 and remain available online at hubbardstreetdance.com/subscribe, or by phone at 312-850-9744.
About Hubbard Street

Hubbard Street Dance Chicago, under the artistic leadership of Glenn Edgerton, celebrates its 37th season in 2014 and 2015. Among the world's top contemporary dance companies and a global cultural ambassador, Hubbard Street demonstrates fluency in a wide range of techniques and forms, and deep comprehension of abstract artistry and emotional nuance. The company is critically acclaimed for its exuberant and innovative repertoire, featuring works by master American and international choreographers. Hubbard Street's artists hail from four countries and 12 U.S. states, and comprise a superlative ensemble of virtuosity and versatility. Since its founding by Lou Conte in 1977, Hubbard Street has grown through the establishment of multiple platforms. Each is dedicated to the support and advancement of dance as an art form, as a practice, and as a method for generating and sustaining communities of all kinds.
Hubbard Street 2, directed by Terence Marling, cultivates young professional dancers, identifies next-generation choreographers, and performs domestically and abroad, in service of arts education, collaboration, experimentation and audience development.
Extensive Youth, Education and Community Programs, directed by Kathryn Humphreys, are models in the field of arts education, linking the performing company's creative mission to the lives of students and families. Hubbard Street also initiated the first dance-based program in the Midwest to help alleviate suffering caused by Parkinson's disease. Youth Dance Program classes at the Hubbard Street Dance Center include Creative Movement and progressive study of technique, open to young dancers ages 18 months to 16 years.
At the Lou Conte Dance Studio, directed by founding Hubbard Street Dancer Claire Bataille, workshops and master classes allow access to expertise, while a broad variety of weekly classes offer training at all levels in jazz, ballet, modern, tap, African, hip-hop, yoga, Pilates® and Zumba®.
Visit hubbardstreetdance.com to learn more.
About The Second City

Rooted in the improvisational games of Viola Spolin, The Second City opened in Chicago in December 1959 and began developing its entirely unique way of creating and performing comedy. Founded by Spolin's son, Paul Sills, along with Howard Alk and Bernie Sahlins, The Second City was experimental and unconventional in its approaches to both theater and comedy, railing against conformist culture with scenes that spoke to a younger generation. Broadway successes for Mike Nichols and Elaine May — members of The Second City's predecessor, The Compass Players — put attention on the fledgling company. Alumni such as Alan Arkin, Barbara Harris, Robert Klein, David Steinberg and Fred Willard cemented the theater's reputation for developing multiple generations of comedic voices. The original October 1975 cast of NBC's Saturday Night Live included alumni John Belushi, Dan Aykroyd and Gilda Radner, and The Second City became internationally recognized. The Second City's sister theater in Canada developed its own sketch comedy series, SCTV, hailed as one of the greatest of all time with an all-star cast including Martin Short, Andrea Martin, Catherine O'Hara, John Candy, Eugene Levy, Dave Thomas, Joe Flaherty and Rick Moranis. By the mid-1980s, The Second City began a new era as Second City Toronto proprietors Andrew Alexander and Len Stuart bought out Bernie Sahlins' interest in The Second City Chicago and set in motion a new era of innovation for the company.
Today, The Second City continues to produce premier comic talent, its imprint felt across the entertainment industry, as represented by alumni Mike Myers, Steve Carell, Stephen Colbert, Tina Fey and many others. The organization has diversified as it's grown, launching Second City Training Centers in Chicago, Toronto and Los Angeles; four touring companies performing Second City revues across North America and abroad; Second City Communications, an industry leader in bringing improv-based methodologies to the corporate sector; and a growing commitment to producing innovative, original content for film, television and the digital realm.
Visit secondcity.com to learn more.
Photo: Hubbard Street Dance Chicago and The Second City  |  © Todd Rosenberg