Contribute
Your support helps us cover dance in New York City and beyond! Donate now.
CHICAGO, IL: hcl and CDF partner on "Cultural Conversations" about Dance and Dramaturgy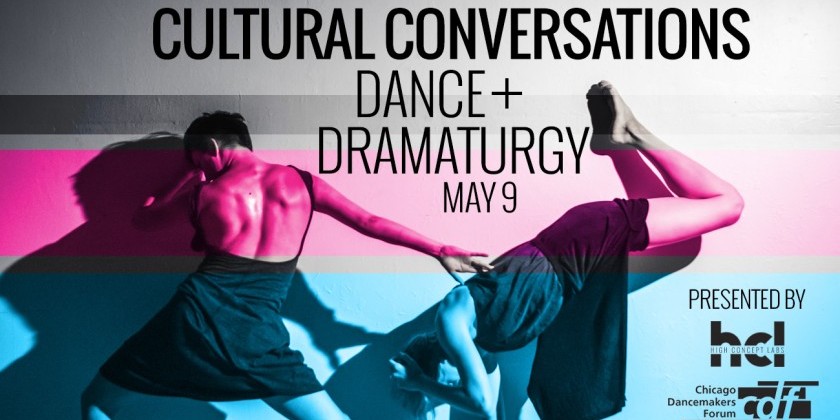 Company:
High Concept Labs (hcl) and Chicago Dancemakers Forum (CDF)
High Concept Labs (hcl) and Chicago Dancemakers Forum (CDF) partner on a public event about dramaturgy and contemporary dancemaking
"Cultural Conversations: Dance + Dramaturgy" to take place at Mana Contemporary Chicago on May 9
CHICAGO – High Concept Labs (hcl) and Chicago Dancemakers Forum (CDF) partner on a public event about dramaturgy and contemporary dancemaking. CDF and hcl invite creators, dramaturges, performers, students, and audience members, to engage in dialogue about theory and practice of dramaturgy, the choreographic process and the dancing body. 
The day is designed to heighten awareness of dramaturgy as a practice for the creation of new dances and to connect artists with one another in an environment conducive to making new friends, stimulating collaborative partnerships and new ways of working. Audience experience is also informed through the programs.
11am-12:30pm Panel One: Dramaturgy and the Dancing Body
Artistic teams Reggie Wilson and Susan Manning; Carrie Hanson and Michael Kramer; and Lin Hixson, Matthew Goulish and Bryan Saner will participate in a panel discussion focusing on choreographic process, dramaturgy and the body. Artists will offer informal "case studies" sharing the particulars of their shared creative processes on a given work or long term collaboration. The artists will discuss and demonstrate, with the live moving body and with other materials, the process, ways of working, challenges, and successes that they have participated in together. 
12:30-2pm Table Talk + Dramaturgy Blind Date
The second part of the day will be a lunch and table talk. Concurrently  an open rehearsal "blind date" with choreographer Darrell Jones and  dramaturge Kat Zukaitis culminating in a focal live presentation of dramaturgical process at 1:30pm. 
2-3:30pm Panel Two: Cross-Generational Collaboration
A final panel will feature the cross-generational collaboration of the artistic team Lydia Bell and Eiko Otake.
Details regarding the May 9 event are as follows:
Cultural Conversations: Dance + Dramaturgy
High Concept Labs
2233 S Throop St
Chicago, IL 60608
(Located in Mana Contemporary Chicago; enter on Cermak Rd)
Saturday, May 9
11:00am
FREE
For more information on this event, please visit http://bit.ly/1yVP8Co
Register online at Eventbrite: http://bit.ly/1E5RCEi
About Chicago Dancemakers Forum
CDF strengthens the field of dance in Chicago overall by supporting deep investigation, bold risk-taking, and artistic rigor. CDF provides multi-layered support for Chicago choreographers through its prestigious Lab Artists program, public workshops, events, and residencies, all with strong emphasis on artistic and professional development. The CDF Lab Artist Program makes $15,000 cash grants to choreographers annually. Grants are combined with  mentorship throughout the research, development and performance of a newly choreographed work. 

About High Concept Labs
High Concept Labs is an arts service organization dedicated to supporting working 
artists and engaging the Chicago community with arts and culture. Partnering with artists at 
every step of the creative process, hcl offers high quality custom support services including 
administrative assistance, audience development, production support and space use. hcl also curates and hosts artist showcases, presents special community events, and facilitates 
educational arts partnerships. With a vibrant cycle of programs and process support, High 
Concept Labs grows community alongside culture and fosters new audiences for the arts.
Participants:
Reggie Wilson: Choreographer, Artistic Director, Fist & Heel Performance Group; Inaugural Doris Duke Artist; Joyce Foundation Award.
Susan Manning: Dramaturge; Professor of English, Theater and Performance Studies, Northwestern University; Dance Perspectives Foundation Award; Congress on Research in Dance Award; Studs Terkel Award.
Carrie Hanson: Choreographer, Artistic Director, The Seldoms; National Dance Project Award; National Performance Network Creation Fund Award.
Michael Kramer: Dramaturge; Editor, Design Publications and Media at MCA; Assistant Professor, Northwestern University; Director, Chicago Dance History Project.
Philip Elson: Dancer, The Seldoms.
Lin Hixson: Choreographer; Director, Every house as a door; Professor of Performance, School of the Art Institute of Chicago; Honorary Doctorate, Dartington College; United States Artists Ziporyn Fellow (with Matthew Goulish).
Matthew Goulish: Dramaturge, Every house has a door; Adjunct Professor of Writing, School of the Art Institute of Chicago; United States Artists Ziporyn Fellow (with Lin Hixson).
Bryan Saner: Dancer; Adjunct Professor of Interdisciplinary Arts, Columbia College Chicago.
Darrell Jones: Choreographer; Professor, Dance Department, Dance Center of Columbia College Chicago; Bessie Award.
Kat Zukaitis: Freelance dramaturge. 
Lydia Bell: Performance Curator; Director of Programming at Artis.
Eiko Otake: Movement-based multidisciplinary performing artist; Eiko and Koma; Founding fellow, Center for Creative Research; Double Guggenheim Fellow; United States Artist Fellow; MacArthur Fellow.