COLLEGES SHINE THROUGH PERFORMANCE AT "DANCING THROUGH COLLEGE AND BEYOND"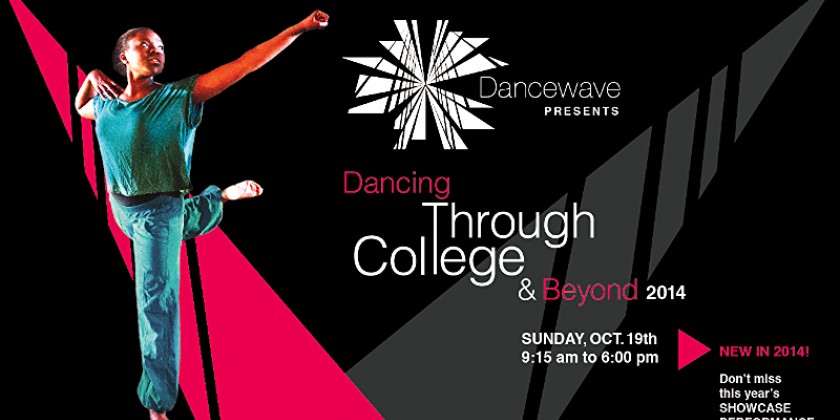 Company:
Dancewave
COLLEGES SHINE THROUGH PERFORMANCE AT
DANCING THROUGH COLLEGE AND BEYOND
Sunday, October 19, 2014
Marymount Manhattan College
221 East 71st St, NY, NY 10021
A FREE College Resource Fair for High School juniors and seniors featuring dance professionals as guest speakers including Dance Critic, Wendy Perron, along with over 30 nationwide college dance programs such as Juilliard, California Institute of the Arts, Ohio State University, New World School of the Arts, Rutgers University and many more!

 
New York, NY - On October 19th, Dancewave will welcome 350 high school students to the fifth annual Dancing Through College and Beyond event at Marymount Manhattan College. This free, full-day college resource fair includes discussion panels with distinguished college dance department chairs, movement classes taught by prominent dance faculty, and a college fair where students network with representatives from over 35 college dance departments. Panel discussions provide practical tips for submitting applications, requesting financial aid, and auditioning. 

UPDATED: This year, Dancing Through College and Beyond event will wrap up with a College Showcase Performance featuring seven diverse college dance departments, whose work will highlight the unique nature of their programs.  Renowned writer and dance critic Wendy Perron will lead a 4:30 pm chat before the performance. $15 tickets will be available at the door. Information about $10 pre-sale tickets available by email: dancingthroughcollege@dancewave.org.
 
Pre-Registration Required: This event is free but pre-registration is required for students, parents and teachers. Registration is now open at: https://www.eventbrite.com/e/dancewave-presentsdancing-through-college-and-beyond-2014-tickets-12565657219
 
For additional information or questions: Email at dancingthroughcollege@dancewave.org.
About Dancewave
45 4th Avenue, Brooklyn NY 11217
Dancewave is a dance center that inspires students to express themselves authentically through an innovative model of dance education. Our unique model combines rigorous training with artistic integrity, and access for all, in a supportive environment. Students are mentored by accomplished dance professionals, which allows for personal growth as well as superior dance education. Dancers have the opportunity to join our pre-professional dance companies, where they gain technical proficiency and self-confidence through training, rehearsals, and performances.
Often, in our community, students do not have a creative outlet in which to express themselves or showcase their talents. Through Dancewave, those students have the opportunity to flourish. Dancewave also gives dancers exposure to college dance programs through master classes, roundtable discussions with college department heads, and performances at Long Island University's Kumble Theatre.