COMMON DANCES Community Gathering and Picnic Party Performance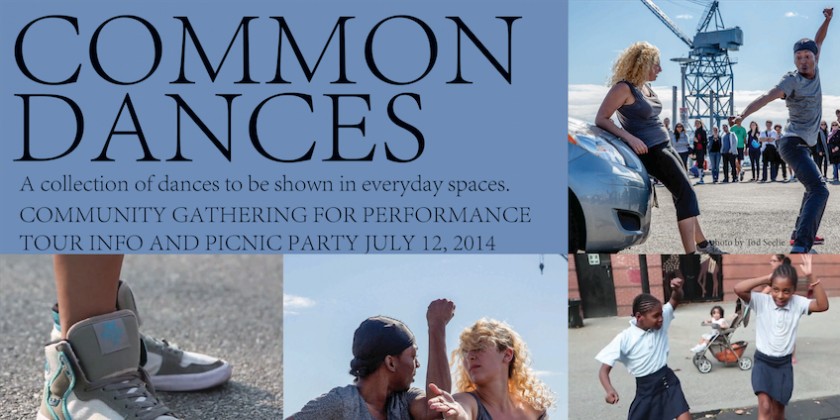 Company:
Shannon Hummel/Cora Dance
COMMON DANCES consists of a collection of short works to be performed in common spaces throughout Red Hook, Brooklyn. Each work will take place in spaces where dance is not commonly seen, among people who generally lack access to live performance. Participants range in age from 8 to mid-60s including hip hop dancers from Red Hook to professional dancers of Shannon Hummel/Cora Dance to Cora's performing youth company in work that deals with universal themes such as love, loss, forgiveness, loneliness, all in small packages.

This performance will also include the first showing of LAWN, which includes the full performing cast as well as community members. (Community members wishing to participate can call and leave a message at the Cora studio at (718) 858-2520).

The first phase of COMMON DANCES will premiere on July 12, 2014. Viewers are asked to bring a blanket or chair to the community gathering and potluck, and following the series of 15 short dances, audience will be asked to share thoughts and to offer ideas of where the works should ultimately be shown in the neighborhood. The company is specifically asking Red Hook and surrounding area businesses, community members, and people who know interesting spaces in Red Hook to guide the company to find the most interesting spaces for these works to exist for its Phase 3 2015 incarnation, which will take up the streets, businesses, nooks, and unusual spaces all over Red Hook that make this neighborhood such a unique home. Phase 2 will premiere this July and August through New York Restoration Project and BAM as part of their "Arts In the Gardens" initiative, as well as Winter 2015 at BAM Fisher as part of the company's 2015 season of performances (the company is part of the BAM/DeVos Institute of Arts Management Professional Development Program). Phase 3 will premiere Summer/Fall 2015 in Red Hook, Brooklyn.


JULY 12, 2014
ADMISSION BY DONATION
$20 SUGGESTED OR PAY-WHAT-YOU-CAN
Reservations available at commondances.brownpapertickets.com

ON THE LAWN AT 14 COLES STREET
between Hamilton and Columbia Street
RED HOOK, BROOKLYN
8PM
Rain date: July 13