Call for Applications by Oct 31: Jacob's Pillow Inside/Out 2016 performance series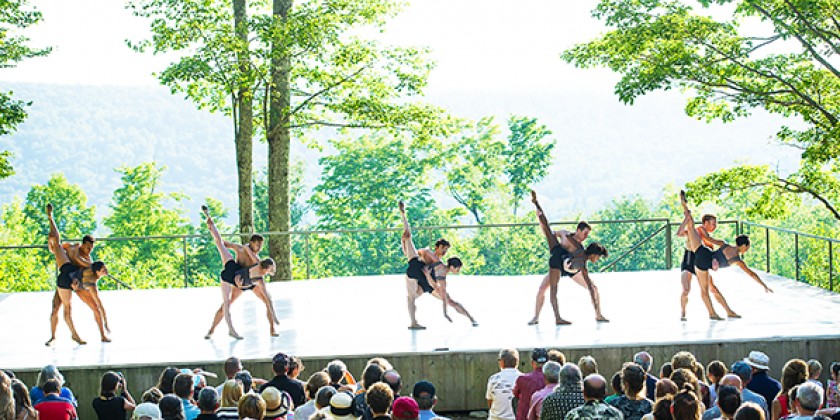 Company:
Jacob's Pillow
CALL FOR APPLICATIONS: JACOB'S PILLOW DANCE FESTIVAL 2016
INSIDE/OUT PERFORMANCE SERIES
DEADLINE: OCTOBER 31, 2015
What:              Jacob's Pillow, a National Historic Landmark, home to America's longest-running dance festival, and recipient of the National Medal of Arts, is now accepting applications for the 2016 Festival's Inside/Out free performance series. The deadline to apply is October 31, 2015.
Inside/Out performances occur every Wednesday, Thursday, Friday, and Saturday from 6:15–7pm throughout the annual Festival. Performances take place at the Marcia & Seymour Simon Performance Space on the outdoor Henry J. Leir Stage, a setting that is described by The New Yorker as "a breathtaking outdoor stage overlooking the lush Berkshire hills."
The Inside/Out series is free and open to the public, featuring a variety of styles and genres, from contemporary dance theatre to ballet to hip-hop and culturally specific forms. It is a venue geared especially toward educating audiences about dance in a relatively informal way, and giving the opportunity to all people, regardless of their financial means, to experience dance.
To apply and to find out more please visit: http://www.jacobspillow.org/about/insideout-participants-artist-submissions.php
Who:               The Inside/Out performance series includes both emerging and established dance companies in a variety of genres from across the United States. Festival 2015 Inside/Out artists included hip-hop company Illstyle & Peace Productions; tap dance artist and musician Nicholas Van Young's SoundMovement Dance Co.; former Martha Graham Dance Company principal dancer Samuel Pott's Nimbus Dance Works; Kùlú Mèlé African Dance & Drum Ensemble; and the Ensemble Español Spanish Dance Theater, among many others.
When:             Applications are accepted on a rolling basis until October 31, 2015 for the 2016 Festival, June 22, 2014–August 28, 2016.
Where:            Jacob's Pillow Dance Festival, 358 George Carter Road, Becket, MA 01223. 
ABOUT THE PILLOW
Jacob's Pillow, celebrating its 84th Festival in 2016, is a National Historic Landmark, recipient of the National Medal of Arts, and home to America's longest-running international dance festival. Each Festival includes more than 50 national and international dance companies and 350 free and ticketed performances, talks, tours, classes, exhibits, and events. The School at Jacob's Pillow, one of the most prestigious professional dance training centers in the U.S., encompasses the diverse disciplines of Ballet, Cultural Traditions, Contemporary, and Musical Theatre Dance, as well as an Intern Program in various disciplines of arts administration, design, video, and production. The Pillow's extensive Archives, open year-round to the public, chronicle more than a century of dance in photographs, programs, books, costumes, audiotapes, and videos. Year-round Community Programs enrich the lives of children and adults through public classes, residencies in area schools, and an extensive schedule of free public events. Through Jacob's Pillow Curriculum in Motion®, a nationally-recognized program, Artist Educators work with Berkshire County teachers and students grades K-12, transforming curricula such as biology, literature, and history into kinesthetic and creative learning experiences. Creative Development Residencies, in which dance companies are invited to live and work at the Pillow and enjoy unlimited studio time; choreography commissions; and the annual $25,000 Jacob's Pillow Dance Award all support visionary dance artists and choreographers. The Pillow's digital initiatives are aimed at expanding global audiences for dance and offers the opportunity to experience dance and Jacob's Pillow from anywhere in the world via online interactive exhibits, global video networks, and social media. An important part of the Pillow's digital presence, Jacob's Pillow Dance Interactive is a curated online video collection of dance highlights from 1936 to today. On March 2, 2011, President Obama honored Jacob's Pillow with a National Medal of Arts, the highest arts award given by the United States Government, making the Pillow the first dance presenting organization to receive this prestigious award. For more information, visit www.jacobspillow.org.
[Photo: Christopher Duggan]