Calling Youth Performers: Perform in "Jersey City Nutcracker 2014" (ages 4+ eligible)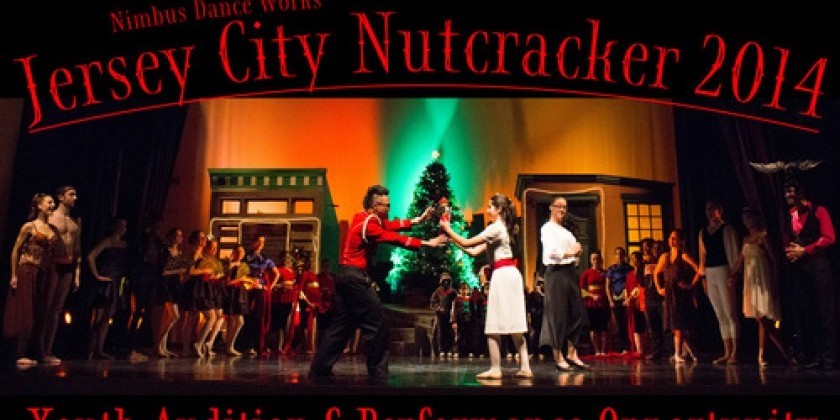 Company:
Nimbus Dance Works
Calling Youth Performers:
•  Perform in Jersey City Nutcracker 2014 (ages 4+ eligible)
•  Audition September 28th for Lead Youth Roles: Maria & Christopher plus new Waltz of the Flowers section (ages 10+ eligible)
 

Nimbus Dance Works' Jersey City Nutcracker retells the timeless holiday classic with local flavor!  Set to Tchaikovsky's renowned orchestral score, Nimbus reinvisions to the tale in today's Jersey City. With B-boys and B-girls, eccentric oddballs, a "bridge 'n' tunnel" date night, along with a classic Sugar Plum Fairy and fearsome Rat King, the production delights audiences young and old. Goldman Sachs is the Title Sponsor of Jersey City Nutcracker 2014.

Youth Performers learn choreography from professional company dancers and then share the stage with the pros in this fully-staged production complete with professional lighting, sets and costumes. Jersey City Nutcracker is one of Jersey City's most widely attended annual performing arts events - become part of the magic!

Performances: 12/19-12/21; Rehearsals: Schedule varies depending on casting/section.

Rehearsals begin early October.

No audition necessary to participate. Participation by discretion of Nimbus Dance Works artistic staff. Find out more and register at www.nimbusdanceworks.org.
Audition for the following roles will be held at The School of Nimbus Dance Works on 
Sunday September 28th @1pm 
209 3rd St.
Jersey City, N.J 07302
Audition Roles:
Christopher 
Maria
Chinese
Spanish
Waltz of the Flowers